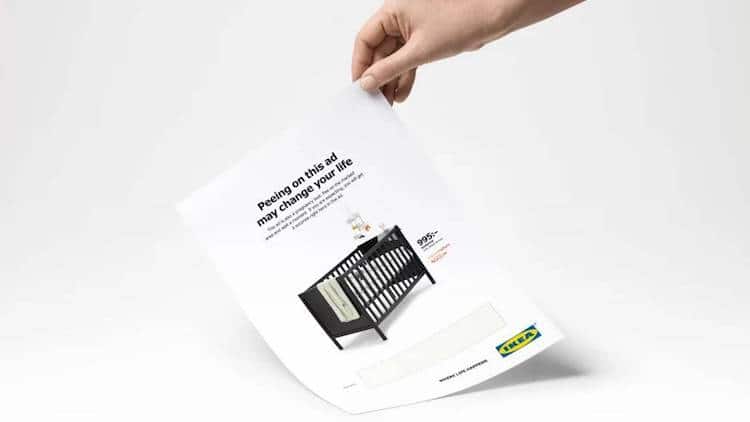 When it comes to advertising their products, IKEA does not shy away from creative marketing. Often thinking outside the box, past IKEA ads are practical, like helping anyone cook a tasty dinner or to dress as Jon Snow. They've recently debuted another one of these promotions; this one promises to change someone's life forever—and that's not an exaggeration. IKEA's newest print collateral, developed by the agency Åkestam Holst, encourages women that "peeing on this ad" could reveal that they are with child.
Certainly unconventional but incredibly clever, the advertisement features a solitary photo of a Sundvik crib with a price tag attached. Following the paper's instructions, if an expectant mother actually pees on it, a new price will reveal itself: 50% off, as long as the woman signs up for the IKEA Family discount. (There's no need for them to hand a urine-soaked sheet of paper to the cashier.)
Åkestam Holst collaborated with Mercene Labs, which creates industrial surface coatings, to bring their advertisement to life. The result is a small box that contains the pregnancy test, so anyone who tries this at home needs to take careful aim. Learn more in the video below.
IKEA always has creative ways to advertise, and this one is no different. To get a 50% discount on a crib, expectant mothers are encouraged to pee on the print ad.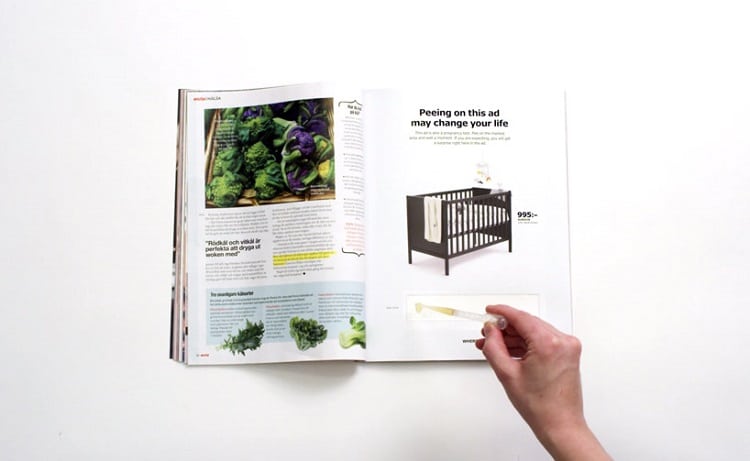 Learn more about the creative IKEA ad in this video:
Åkestam Holst: Website
h/t: [designboom, Co.Design]
All images via IKEA.
Related Articles:
IKEA Designs New Furniture that Snaps Together in Minutes, No Tools Required
Cable Car Transformed into Luxury Room Suspended Above the French Alps
Interview: People Are "Hacking" IKEA Products into One-Of-A-Kind Decor