Edie Simms is a stand-up citizen of St. Louis, Missouri. She has volunteered for the past few years at the Five Star Senior Center, creating and donating handmade eyeglass cases, pillows, and scarves for the center's residents. So why in the world was such a wonderful woman like Simms arrested by the St. Louis Police Department last Friday? Because she asked for it… literally.Like most people, the 102-year-old has kept a running bucket list of all the things she wants to do before she dies. However, her list had one very unusual item that was yet to be done—get arrested and ride in a police car. One of the volunteers at the Senior Center happened to have a friend who was a police officer, and passed the request along. It wasn't long before the police department offered Simms the opportunity to check this unusual wish off her bucket list by sending a police cruiser to put on a show for the senior residents. Simms was overjoyed at the chance to not only ride in the speedy sirening mobile, but to also wear handcuffs for the first time. She showed them off proudly, holding them up to the windows so all could see.

Once she was inside the Senior Center, Simms played bingo with residents and gave everybody some of her homemade goodies. It was a special day for everyone, even the police officers. "We love doing [these types of things] and we get more out of it than the seniors do," Sgt. John McLaughlin of the St. Louis Police Department told KPLR 11. More importantly, Simms can now cross off one more item on her list of "things experienced" in this life, proving that you're never too old to keep trying new things as long as you enjoy the ride—handcuffs and all.
Simms was such a good criminal—she was even given an honorary St. Louis Police cap.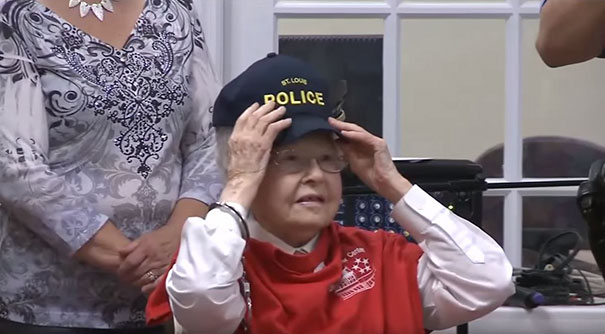 via [Bored Panda, Reddit]
All images via ABC News.