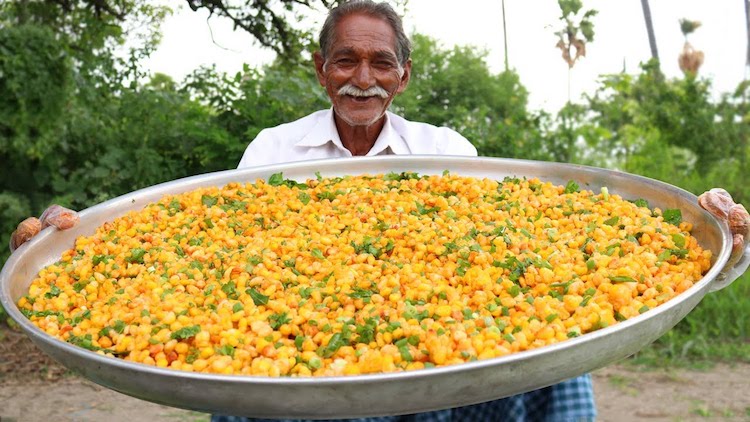 If you haven't already heard of Grandpa Kitchen, he's a beloved Indian YouTuber called Narayana Reddy who devoted his life to making epic meals for the orphans of his hometown in Hyderabad, in India's southern Telangana state. Sadly, the kindhearted recently passed away at the age of 73, breaking the hearts of many in his community and online.
Reddy accumulated over 6 million YouTube subscribers in just 2 years, and it's clear to see why. His heartwarming videos show him preparing and cooking massive, mouth-watering meals outdoors for his entire family and the neighboring orphans. From a gigantic 2,000 scrambled egg dish to mountains of handmade French fries, his lovingly prepared feasts not only look delicious on camera, but they feed his entire community. In fact, Reddy's kindness is captured in his signature motto which he says at the beginning of his videos: "Loving, caring, sharing: this is my family." At the end of each video, the food is shared out to less-fortunate children who are captured excitedly eating his nutritional treats.
Reddy's grandnephew, Srikanth Reddy, recently confirmed to online fans that his great uncle had been suffering from a recurring lung infection. Shortly after, Reddy's death was announced on October 30, 2019, with an emotional tribute video that broadcast clips from his funeral. Despite the sad news, his good deeds won't be forgotten and his initiative will live on through his family members. "We will continue his work," reveals Srikanth, adding that his great uncle was delighted with the positive reaction to his videos. "We would show him the comments and explain what they said," says Srikanth. "He was very happy when saw them."
Reddy's efforts go beyond his hometown—thanks to his 1,000+ supporters on Patreon, the surviving Grandpa Kitchen team are able to continue his legacy. "We entertain people by cooking food and donate the proceeds to charities," they say. "Our goal is to provide basic necessities like food, clothing, school supplies and birthday gifts to the orphans."
You can become a Grandpa Kitchen patron to support this worthy cause, and watch more of Reddy's heartwarming videos on YouTube.
Beloved YouTuber Grandpa Kitchen recently passed away at the age of 73.
He was famous online for cooking epic meals for his family and neighboring orphans.
Watch him lovingly prepare thousands of French fries for less-fortunate kids.
Reddy's death was recently announced with this emotional tribute video.
Grandpa Kitchen: Facebook | YouTube | Patreon
h/t: [Bored Panda]
All images via Grandpa Kitchen.
Related Articles:
Interview: Kids Around the World Photographed Surrounded by Their Weekly Diet
Illustrated Online Cookbook Features Over 6,600 International Recipes for Free
Unique Travel Startup Allows You to Cook and Dine with Locals Around the World
'The Restaurant of Order Mistakes' Only Staffs Waiters with Dementia, So Every Order is a Surprise