Can crochet help change the world? Twelve-year-old Jonah Larson believes that it can. Having first learned the craft at the age of five, he has crocheted thousands of pieces since then. His work ranges from scarves to amigurumi dolls to blankets with messages that include phrases like "Black Lives Matter" and "Stay Home." After creating the pieces, Larson sells his work and donates the proceeds to Roots Ethiopia, which is an organization that partners with communities to turn "local ideas into lasting change."
Larson was adopted from an Ethiopian orphanage as an infant and recognizes the power of giving back. "Raising money for Roots Ethiopia has been amazing," he tells My Modern Met. "I have now built a library and a science lab for the kids in the area where I was born—with the help of all of those who donated!"
While Larson uses the craft as a charitable endeavor, it goes hand in hand with his undeniable passion for it. "My favorite thing to crochet… is everything!" He says. "Many of my crochet friends like to focus on making specific items like afghans or hats." Larson, however, enjoys trying new designs and challenging himself to crochet things he's never done before. "I love to mix it up and make all different things from doilies made with thread to large afghans made with super chunky yarn. If I had to choose one item though, it would be afghans! I love seeing an afghan over the backs of couches."
Larson is helping others to find joy in crochet every day. He has taught some of his classmates the techniques and inspires others through his popular Instagram account. In addition, he just released his second book titled Giving Back Crochet. "My new book is a pattern book filled with patterns that are easy to make and would make wonderful donations to charities," Lason explains. "I believe most crocheters have always made items to give to others. It's just part of being a fiber artist."
You can purchase his work, including Giving Back Crochet, on his website, Jonah's Hands.
Twelve-year-old Jonah Larson is a crochet expert who uses his talents to give back.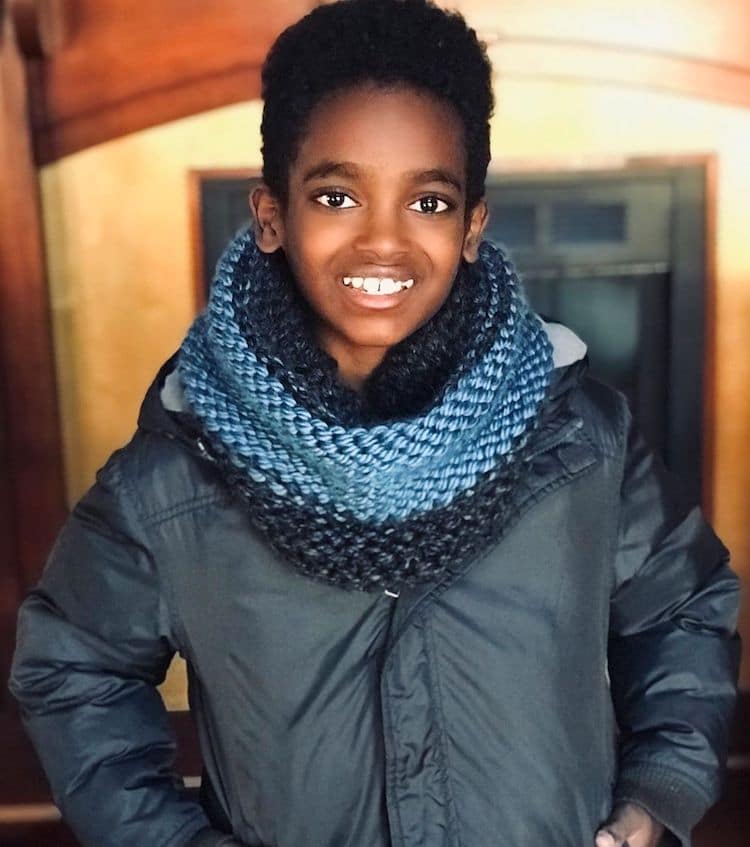 Larson was adopted from an Ethiopian orphanage and uses proceeds from the sale of his work to support the Roots Ethiopia charity.
Jonah Larson: Website | Instagram | Facebook | YouTube
My Modern Met granted permission to feature photos by Jonah Larson.
Related Articles:
How to Crochet: Learn the Basics of This Time-Honored Handicraft
94-Year-Old Woman Crochets Thousands of Hats for Those in Need
Grandpa with Vitiligo Crochets Dolls with Same Skin Condition to Give Kids Self-Esteem