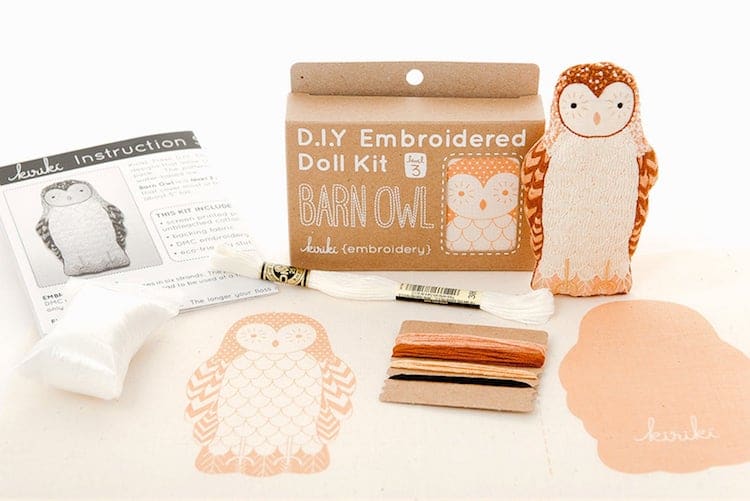 There are many artists and designers bringing back the age-old craft of embroidery; however, Kiriki Press stands out for its adorable all-inclusive kits that allow anyone to get started. Founded by printmaking graduate Michelle Galletta, this Canadian brand specializes in animal-inspired doll patterns, such as the majestic barn owl and noble wolf.
Kiriki Press' pet embroidery kits are offered at a range of skill levels, making them the perfect gift for any crafter in your life. Level 1 sets use simple stitches that are ideal for beginners. Level 2 dolls like the well-dressed llama and charming fox, require a combination of basic and intermediate stitches. Then, for the more experienced embroiderers, there are Level 3 figurines, which use a variety of complex stitches to complete the kit. The efforts are well worth it, however, when you see the delightful faces of advanced characters such as the hedgehog and raccoon.
All Kiriki Press embroidery doll kits include a screen-printed pattern on cotton, backing fabric, a range of embroidery floss, eco-friendly stuffing, and step-by-step instructions. You can shop these all-inclusive animal embroidery kits in My Modern Met Store.
These darling embroidery kits by Kiriki Press help you create your very own animal dolls!
Barn Owl Embroidery Kit (Level 3)
Wolf Embroidery Kit (Level 3)
Llama Embroidery Kit (Level 2)
Hedgehog Embroidery Kit (Level 3)
Raccoon Embroidery Kit (Level 3)
Fox Embroidery Kit (Level 2)
Kiriki Press: Website | Facebook | Instagram
Related Articles:
Learn About the Illustrative Embroidery of Sarah K. Benning in This Gorgeous Book
Embroidery Temporary Tattoos Let You Cover Your Skin in Stitched Flowers
DIY Hot Air Ballon Embroidery Kit Will Help You Hone Your Craft with Flying Colors
Follow My Modern Met Store: Facebook | Instagram | Pinterest | Twitter
Subscribe to My Modern Met Store newsletter for updates!