We're happy to share that Liz Climo, one of our favorite artists, has just released a brand-new book titled Lobster Is the Best Medicine! Climo, who is popular for her charmingly witty comics starring a quirky assortment of talking creatures, has expanded her animal kingdom in her latest collection of illustrations. Lobster Is the Best Medicine contains 25 of Climo's web comics and 75 never-before-seen cartoons devoted to the theme of friendship. Filled with funny tales about everyday life drawn in the artist's adorable style, the book is a guaranteed treat for friends old and new.
We were lucky enough to ask Liz a few questions about Lobster Is the Best Medicine and her creative process. Scroll down for that exclusive interview, presented here with a few book-exclusive comics as well as some of her latest work.
Lobster Is the Best Medicine can be purchased from Amazon, Barnes & Noble, Book Depository, and other retailers.
Above: Lobster Is the Best Medicine exclusive / Courtesy Liz Climo
Lobster Is the Best Medicine exclusive / Courtesy Liz Climo
---
Lobster Is the Best Medicine exclusive / Courtesy Liz Climo
---
---
---
---
---
---
---
---
---
---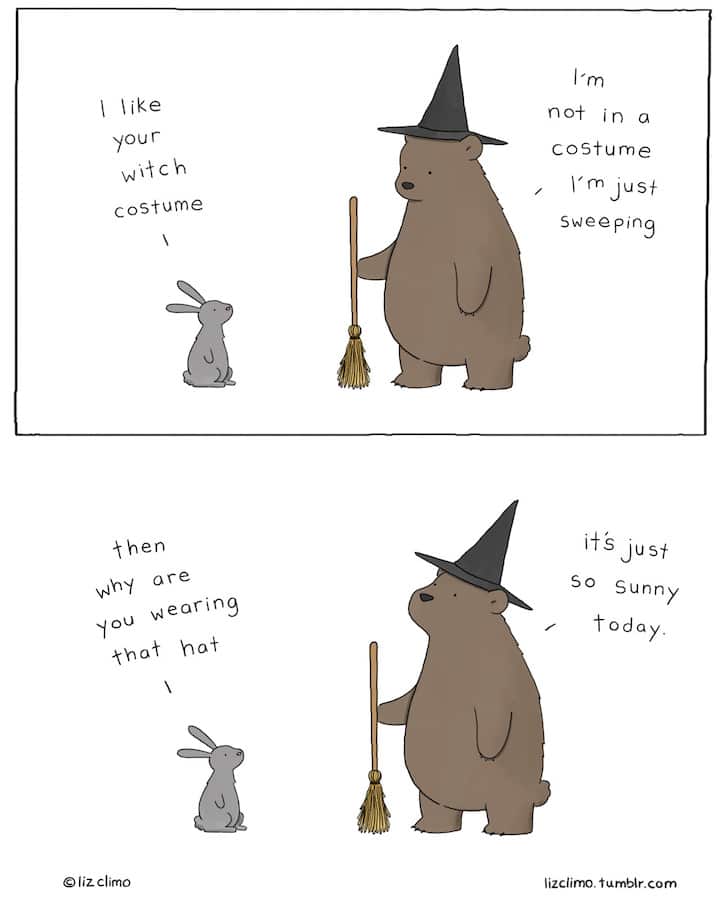 ---
---
---
How long have you been working on Lobster Is the Best Medicine, and how has that process been?
I started working on Lobster last summer and worked until the delivery date in December 2014. The majority of the comics in the book are brand new, so it was admittedly a bit daunting working with a deadline when I'm used to doing my comics just for fun. But once I started, I had a really great time coming up with comics about friendship. It's always fun working with a theme!
What made you choose the theme "friendship" for the book?
Since my comics usually involve just two or three characters, they often center around relationships in some way by default. I wanted to explore that a little bit more, and make a book that is entirely good-natured and light, and hopefully something that everyone can enjoy even on their worst days. I've noticed on my Facebook and Instagram pages, people will often tag their friends under my posts and comment, "I thought this would make you laugh" or "This reminded me of you," etc. I hope this book connects people in the same way.
Your book contains several never-before-seen characters. Can you explain how you create new characters? Do they each have a distinct personality, and if so, how do you develop that?
A few of them have distinct personalities–the clumsy and dopey bear, the wry rabbit, the generally cheerful and naive alligator, the compassionate lizard, etc. I tend to keep their personalities a bit broad and general, which hopefully makes them relatable. None of them started out with personalities, but they seemed developed on their own over time.
Your comics are always such a wonderful blend of warm humor and wit. What's your inspiration when it comes to creating funny scenes and dialogue?
Thanks! I'm inspired in different ways, usually while I'm just out and about running errands or hanging out with friends. But I try really hard to find the most simple and effective way to make the joke work. Sometimes I agonize over the right wording or characters to use in a particular comic. When I feel like it's working, I know right away. Until then, I'll put it aside and come back to it later.
You're an animator for The Simpsons by day and a web comic artist by night. Do you keep those two worlds separate, or do they feed into each other?
They do feed into each other, in a way. I grew up watching The Simpsons and it definitely shaped my sense of humor. The show is sharp and witty, but manages to maintain its heart, which I appreciate and hopefully am able to emulate. But as far as work is concerned, my day job and my comics are pretty different. I'm very happy to have both, and they create a nice balance in my life.
Any exciting new projects you'd like to work on in the future?
I think it would be really fun to do an animated show. But mostly, I just want to keep drawing these characters and see where they take me next.
Liz Climo: Tumblr | Facebook | Twitter
Lobster Is the Best Medicine: Running Press | Amazon | Barnes & Noble | Book Depository
My Modern Met granted permission to use images by Liz Climo.