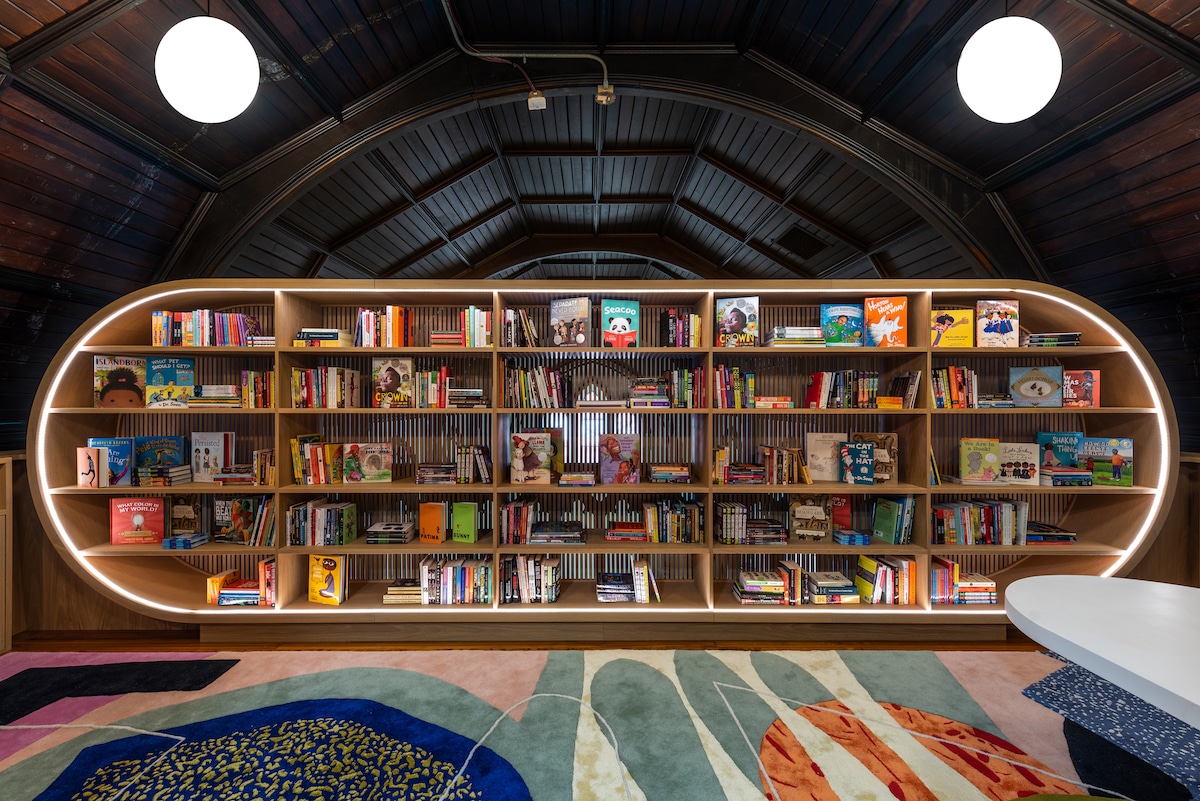 Nestled in the Bronx, the new children's library at Concourse House looks like a cool, modern hideaway that you'd never want to leave. Under the watchful eye of Michael K Chen Architecture (MKCA), a dark and underused mezzanine has become a colorful space for storytime. It's an important growth in the Concourse House's educational programming and its ability to help children transition into a bright future.
In operation since 1991, Concourse House is a much-needed space for women with young children who are looking to transition out of homelessness. In providing these families with a safe, stable environment and giving them access to social services, Concourse House is able to assist them comfortably shift to living in permanent homes. As it's essential for the children to continue to learn and grow in a nurturing environment while at Concourse House, the children's library plays a vital role in their development.
"The love of books and of reading is something that defined my own childhood, and that of everyone on our team," said MKCA principal Michael Chen. "The space for imagination and for reflection that books afford is such a gift, especially for kids who don't currently have a permanent home, or might not have a space of their own. It's a privilege to work with Concourse House to make the library a reality for such a deserving group of children."
With this in mind, MKCA made great use of the space, providing an environment where the children's imaginations can flourish. Breaking from the idea of an institutional space, the Concourse House children's library is filled with color and warmth. A rounded shelving unit tucked into the back of the niche provides a protective barrier between the hideaway and the rest of the vaulted space and creates cozy atmosphere. The large, plush carpet gives a pop of color and carries through the geometric shapes found in the shelving, while soft pastel-colored stools provide plenty of seating for staff-led readings and events.
Using the small space wisely, MKCA included two round tables that are integrated into the shelving, giving the children a much-needed workspace within the library. The paneling includes integrated LED lights to illuminate the space, as well as a black-painted glass erasable writing surface for the kids to express their creativity.
The Concourse House children's library was a true group effort—1,200 children's books from Sisters Uptown Bookstore in Washington Heights line the shelves, with the project made possible through the generosity of Julie and Kate Yamin and other private donations. For their part, MKCA donated all design and architecture services pro-bono and helped solicit donations from designers, contractors, and fabricators.
MKCA transformed an unused space in a dark mezzanine into a colorful children's library.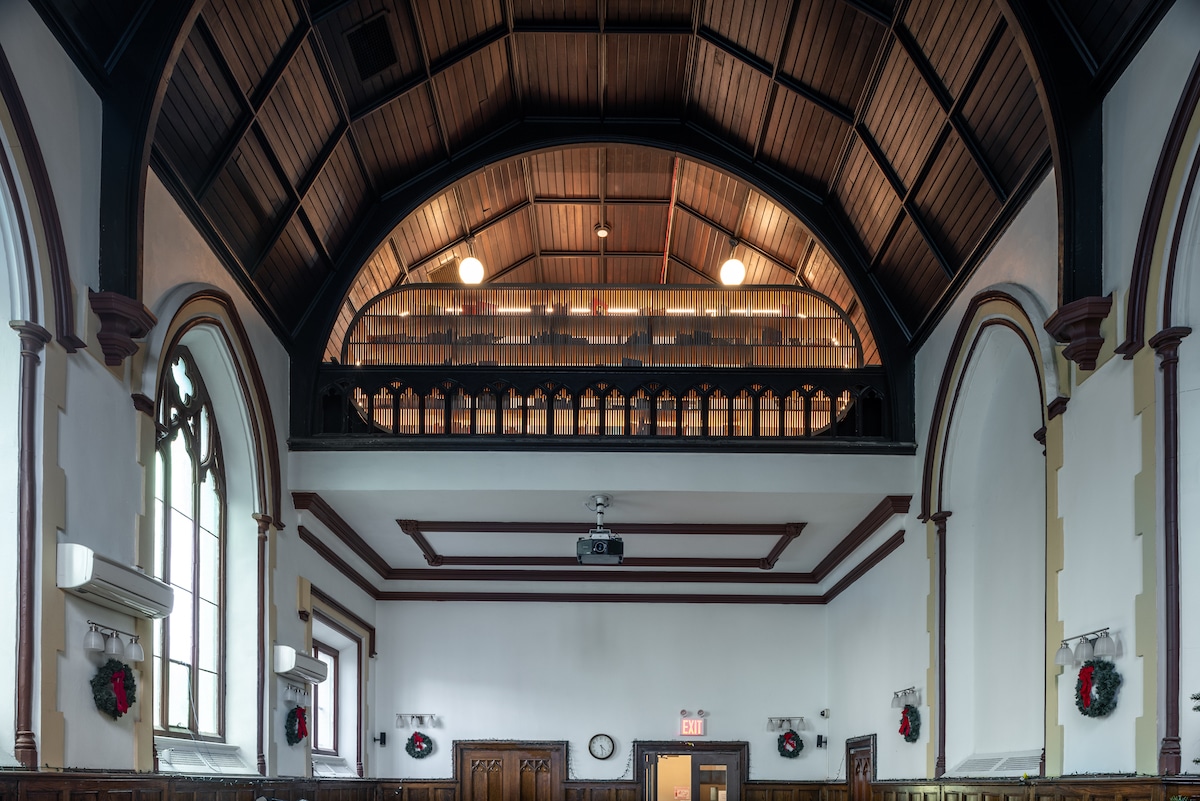 The new library at Concourse House in the Bronx is particularly meaningful given the organization's mission.
For nearly 30 years, Concourse House has helped women with young children transition out of homelessness.
The library will provide kids a safe, creative environment for reading and learning.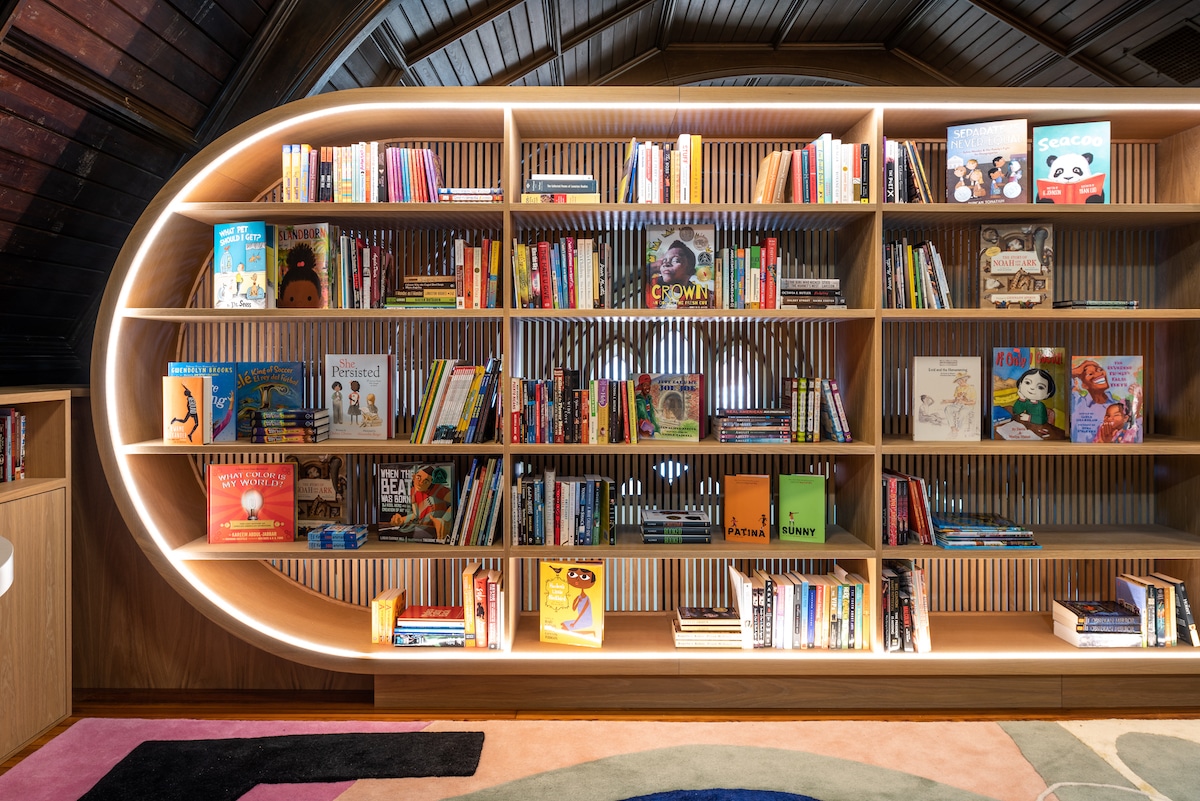 Photos by Alan Tansey. My Modern Met granted permission to use photos by MKCA.
Related Articles

: