While Calgary, Canada-based photographer Neil Zeller has photographed everything from cityscapes to remote mountains to corporate events, his heart ultimately belongs to the night sky and its myriad of breathtaking wonders. Twinkling stars, bright hints of the Milky Way, and the otherworldly glow of auroras stretch above silhouetted landscapes and manmade landmarks in his stunning images. With a fresh and spectacular view of the northern lights in each photo, Zeller's shots are dazzling reminders of the beauty and mysteries of the cosmos.
"Photography is where I cleanse my spirit, nourish my soul, and am truly happy," Zeller writes on his website. "I see the world around me in 46 boxes. My eyes capture wide angles, interesting corners, beams of light, and faraway things. My goal is to capture in my camera, the story my eyes could never tell you."
We had the chance to ask the photographer a few questions about his passion for his craft, especially when it comes to shooting auroras rippling overhead in the night sky. Scroll down to read that exclusive interview.
How did you first get into photography?
I have always loved taking pictures, and for years I was like all of us, happily snapping away at everything that was in front of me. I wasn't very good, but I loved it nonetheless. It was in early 2012 when we moved into an inner city neighborhood in Calgary, that I started to notice the amazing skyline and architecture in Calgary. There was a moment where I decided I wanted to take better photos and really started to learn how the camera worked in its manual mode. This enabled me to capture all of my favorite city subjects in new ways.
In October of 2012, I started shooting Calgary's Peace Bridge. My work quickly gained a following and I sold a few prints and was asked to take part in a number of really cool events as the official photographer. These great opportunities started me thinking I might have the ability to make a living at photography. For all of my life I had been in various corporate sales positions, so I had the foundation to build a startup business, but I was worried that I wouldn't get enough business.
I gave notice at my previous job that I was making the jump into photography full time on June 30, 2013, and from that time I've made a living shooting corporate and fine art photography. It's been an incredible amount of hard work along with some tough times, but overall it's been a wonderful choice and I have no regrets!
Why do you photograph?
I photograph because I love to show people what I am seeing exactly how I am feeling and seeing it. Shooting and editing my photos to a point where I am recreating how I felt in the moment of taking the photo is my greatest joy. To be able to share that with my viewers so that they feel the same way is incredible.
I try to shoot with feeling in all my projects, from my own art photography to the seemingly most mundane corporate shoots. If I can tell the story of whatever it is I am asked to tell, then I have succeeded.
You shoot a wide range of images, from landscapes to city scenes to astrophotography. Do you prefer one type of photography over the others?
My favorite subject to shoot is the night sky. It's my hobby within my business. How many careers can you say that you go home after work and do more of what you did for work, for fun?
To capture the night sky and all its wonder is almost meditative to me. When shooting out in the dark, mostly all alone, you have to slow down and methodically set your camera, focus, and choose your composition. It's not like any other photography where you are more reactive to the location, the people or events, but out in the night, you have total control over how, when, and where you capture whatever it is you are shooting.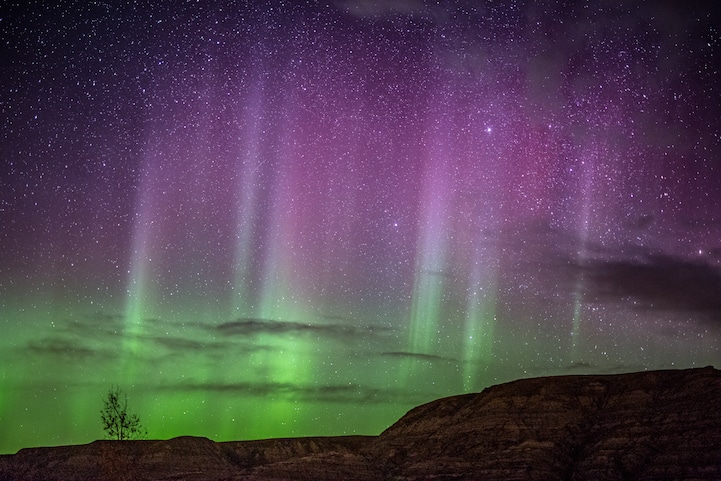 Many of your photos are of auroras in the night sky. What do you find so captivating about these scenes?
I find the aurora borealis so captivating because each photo you take is unique. No one will ever have that photo that you just took. There could be someone standing right next to you shooting in the same direction, but their interpretation will be different from yours. Using long-exposure techniques that are normally required for aurora photography, combined with the fact you are typically out in the dead of night, you can show people a world that they wouldn't ever see in their normal lives. It takes a stubborn willingness to get out in the dark of night, with a lack of sleep, and no guarantees that the lights will show up. The personal rewards are enormous. Anyone who has not only seen, but captured an amazing aurora photo can attest that chasing and capturing the lights gets in your blood and is almost impossible to shake.
What are some guiding principles you try to follow in your work, whether visually or conceptually?
My guiding principle in photography is "Be Positive, Always." This mantra guides me in all my work, and in how I shoot. Having this attitude attracts positive people to my work, and as a result I am working with some of the coolest corporate and private clients in and around Calgary. Additionally, I am always happy to share what I know with anyone who genuinely wants to learn. I started teaching my style in formal classes and workshops in early 2013 and now have monthly workshops and destination photo trips around Western Canada.
Do you have any tips for aspiring photographers?
My advice to aspiring photographers is to learn everything they can about business. To start a photography business is more than just taking amazing photos. It's all the things that make up any great business, and if you don't take care of them all, you are destined to struggle.
Secondly, be yourself. Shoot the subjects you like to shoot!
Thirdly, don't compare yourself to others. It is said that comparison is the thief of happiness. You can have many inspirations, but only compare yourself to your past you. Work on getting better every day, and make yourself proud.
Neil Zeller: Website | Facebook | Instagram | Twitter
My Modern Met granted permission to use photos by Neil Zeller.