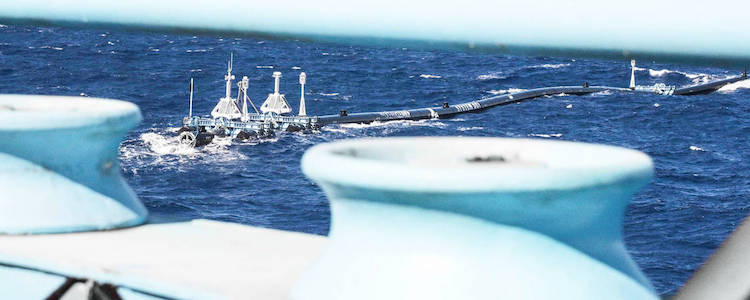 Boyan Slat's dream of cleaning up the ocean is becoming a reality. The young inventor's system is on its way to the Great Pacific Garbage Patch, beating the odds and silencing skeptics. In early September, The Ocean Cleanup launched System 001 from San Francisco, making its way into the Pacific Ocean for testing.
Luckily, according to The Ocean Cleanup, the device passed its tests with flying colors. The 1,968-foot tube, which has a 10-foot tapered skirt attached to it, was able to pass all five checkpoints needed in order to proceed. This included good speed through water, ability to reorient when the wind and wave directions change, and completing the trial with no significant damage. While the skirt appears to have sustain damage during transport, it was decided that the incident would not impact the overall effectiveness of the device.
"Deployment to the patch was never certain though; we would not tow this 600-meter (1,968-foot) device an extra 850 nautical miles, if we believed it would disproportionately outweigh the benefits of it being there," wrote Slat. "This is why, every step of the way, the Rotterdam team maintained communication with the offshore crew to carefully prepare for this decision."
Happy with what they saw, The Ocean Cleanup team made the move toward the Great Pacific Garbage Patch. It will take two to three weeks to arrive and in the meantime, the crew will continue testing System 001 for efficiency in capturing plastic, the effect it will have on marine life, and any other issues that may arise when the device is in deep water.
Now that the trials are complete, we can only look forward to the coming months, when we'll receive news on how the system is performing. One thing is certain, The Ocean Cleanup has already made incredible strides thanks to their diligence and dedication to rid the ocean of plastic.
Learn more about The Ocean Cleanup's successful trials in the Pacific Ocean.
The Ocean Cleanup: Website | Facebook | Instagram | Twitter | YouTube
h/t: [treehugger]
All images via The Ocean Cleanup.
Related Articles

:

20-Year-Old Inventor Designs the World's First Ocean-Cleaning System

"Boy Genius" Is Now a Young Man With a Plan to Remove All Plastic From Oceans by 2050

Brilliant 'National Geographic' Cover Is Getting High Praise as One of Its Best Ever

Floating Park in Rotterdam Is Made Entirely of Recycled Plastic Harvested From River