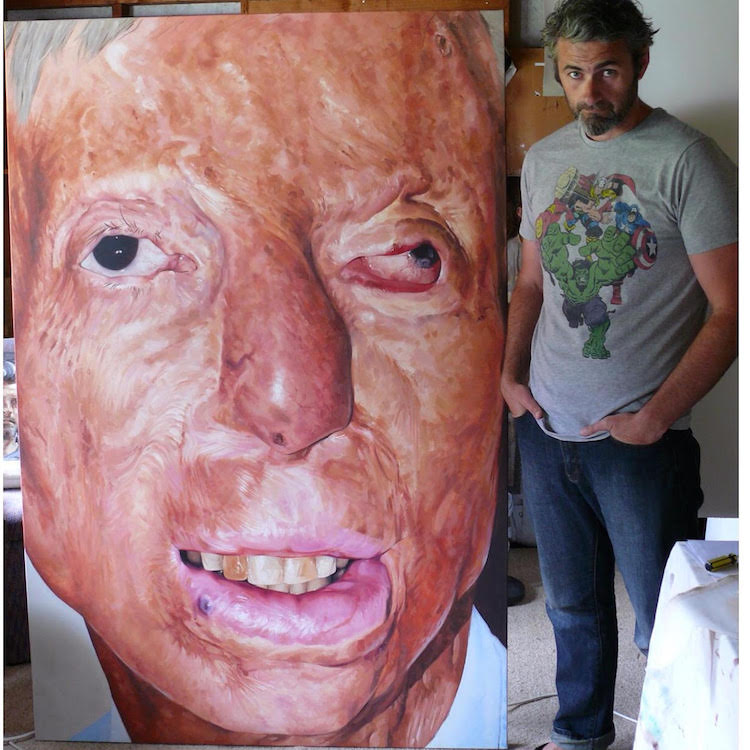 Self-taught artist Stephen Martyn Welch specializes in portrait painting and extends his skills to include everyone. His series Everyone Deserves a Portrait, is a raw look at people who are often overlooked when it comes to fine art portraiture.
Raised by a single mother in a small town in New Zealand after his father passed at a young age, Welch spent his childhood living in his own fantasy world. Strangely enough, he even failed his art class, as he was too busy drawing what he preferred instead of what was assigned. Art played a constant role in his life, though, as he continued to make time for his passion during a stint in the army, and jobs in bars and retail before turning to art full-time in 2005.
Welch now finds himself an acclaimed artist, known for his ability to transmit the spirit and character of the sitter onto canvas. We had the opportunity to speak with Welch and to delve into his incredible series Everyone Deserves a Portrait. He shares a bit about his work process, and what brought him to use his art to shed light on people often overlooked in society.
What drew you to figurative painting and portraiture?
Originally, comics. Strange what our early influences are, but hand on heart up until I was about 8 or 9 years old comics were it. Then, I walked into a toy/comic store and saw a poster of this scene of brutal struggle against insurmountable odds—Frank Frazetta's The Destroyer. And that was it. If I was going to paint, it was people. But, I had a lot to learn about painting, so I studied on my own time, artists like Frazetta, Bouguereau, Caravaggio, Jenny Saville, and Lucien Freud. Then I found the only painter that makes me nervous—John Singer Sargent.
How do you move from concept to finished work?
I sit and watch people, really that's it. I'll see something about the nature of a person, and a process starts to kick in, questions, the "why, what, who, how" just to start with. I'll approach them with a ready made speech of who I am, what I'm trying to do, give them my card and wait for a call. I run at a 15% success rate.
Or, I'm out for a hike or run, and my mind wanders, and an idea will happen. From there I'll outsource the idea to a person. For instance, Alan the burns survivor. I thought one day how other people look at a burn victim, so I contacted a local burns unit at a hospital, and got some info on a chap that could help me.
We met, and over a couple of days we talked and went out. Now, I didn't watch Alan—I watched the general public looking at Alan. Most will see him, look away, another quick look, and then make an effort NOT to look. So, I painted a cropped version of Alan's face at 6 feet by 4 1/2 feet. You couldn't look away, and if you wanted to go right up next to the painting and have a really good look you could, because I think a lot of us do, but can't for many reasons.
The work itself varies from alla prima to a very structured system—a large grid section drawing and working from photos. I'm not into "you have to paint this way or that way." Paint whatever, and however, you want.
How did Everyone Deserves a Portrait come about?
While I was painting away, there was a bigger issue going on in my life. I had a son who was born severely disabled and living in the world with the disabled it gave me the insight to see people struggling with insurmountable odds of their own.
So portraits it was then. I was on the special school board, I knew all the families and their struggles, and you know there are people out there that have it real hard but they don't give up. Some of these kids and adults that have a disability put me to shame with their pride, their outlook, their ability to enrich lives and also make you proud to be a parent.
But in saying that, there are times of utter despair, loneliness, pain and ultimately heartache and loss. Which is life, but for citizens that have a disability, it's amplified. Everyone Deserves a Portrait is not only about citizens with a disfigurement or a disability, it's about citizens that really aren't heard. The ones that don't have a voice or 2.4 million followers on Instagram. It's a simple idea that resonates with many of us. I'm lucky through hard work I can convey these people in the medium of paint.
How do you select your models for that particular project?
That can be the hardest part of my work. Finding them and convincing them to work with me. Lots of emails, letters, travel. Travel is hard, finding the funds to travel across the country to meet, stay, and interview these more than deserving people is tricky at the best of times.
See the works aren't for sale and never will be. I had a couple of offers from overseas collectors, including a really well-known rock star, and I just said not for sale—they are not mine. I don't own them. Sure, I've made these. but they were never mine. They are a permanent collection that, when I'm finished, I'd like to gift to a museum or a gallery for the public to see art about the public.
What is their reaction when seeing the finished portrait?
The reaction I get is so varied. Some laugh, some their hand goes straight to cover their mouth—that's a nervousness trait—some are embarrassed that I've taken so much time on them, others just cry. And then that makes me cry…..
You know I'm not good at anything really, I don't read or write that well—thank Mother Earth for spell check. I'm not a good common sense kinda guy, and I'm a daydreamer, but I can paint, and I want the people I paint to see that I see them. So, whatever the response is, and it's a truly honest response, I just have to accept it. Only one person has lost it and was quite angry, but we later learned that they were really in a bad place in their life and I nailed that in the painting.
Why do you think it's important to portray people who normally aren't seen in fine art portraiture?
These are just citizens like you and me who have feelings, worth, favorite colors, love to dance to Taylor Swift or drink Jack Daniels and listen to the band Tool. The people I paint are just people, too. I get that question a lot, "why did you paint that intersex person or two gay male lovers making love, or that homeless guy, or someone that doesn't have a face?" And the next big question after that is "Who is going to buy that and hang it in their house?"
I'm sure if I turned my hand to painting the rich and famous, the pretty and the beautiful I'd be making a truckload of money, yet they can't afford me. That sounds so stupid considering I'm broke. I'm always in the red, never made money from painting the people I have to paint, but I've changed lives and that's worth everything. That's important to me.
What do you hope viewers take away from your work?
Time, it's more important than we realize. Time is forever ticking, forever running out. Just to have time for others. Only takes 2 seconds to say, "Hey, how are you going?" I know we have heard from many others, take the time to know your neighbor, or a distant work colleague or just the person who makes your coffee.
You're having a shit day standing in line waiting for that coffee getting pissed off that it's taking too long, but the person making it doesn't want to be there because their mother is dying in a hospital that they can't afford the bills for. Time, it's all about taking a bit of time for others.
Anything else you'd like to share?
What I'd like to have is an open invitation Everyone Deserves a Portrait show where painters submit work for a joint exhibition of people from around the world to be held at the UN in New York to show we have the time for others. Anyone with a spare couple of million that really wants to make a difference in the arts and people's lives…contact me. (Hey, it's worth a shot!)
Stephen Martyn Welch: Website | Facebook | Instagram
My Modern Met granted permission to use photos by Stephen Martyn Welch.