Canadian architect turned photographer David Burdeny presents a collection of images showcasing the stunning and elaborate Moscow and St. Petersburg Metro system in A Bright Future- New Works from Russia. The photographer spent two weeks shooting the aesthetically amazing stations and, as far as he's aware, remains the only photographer in the world to have been granted permission to shoot at these locations after they had been emptied of passengers. It took over a year for the photographer to gain permission to pursue this project, and he was forced to rent the stations by the hour and shoot only after midnight. (We've previously featured a series of images that focused on the ornate lighting fixtures found in the Moscow Metro system, but Burdeny's collection of photos capture the full brilliance of these opulent stations, devoid of any distractions–namely, commuters.)
Not only a stunning display of architecture, the Moscow and St. Petersburg Metro dates back to 1935, and was one of the USSR's most extensive architectural projects. Built under the command of Stalin as a form of Communist propaganda, the stations were designed to embody "radiance." Stalin directed his architects to create structures that forced citizens to look up to fully admire them, similar to how one is forced to look up to regard the sun–an act of worship that Stalin thought then extended onto himself. With sweeping high ceilings and grandiose chandeliers reflecting off marble walls, the Moscow stations have been compared to "artificial underground suns" and were meant as a reminder of all Stalin had delivered to his people, despite their sacrifices.
All of Burdeny's photographs were shot with a Cambo medium format technical camera and are currently on display at the Jennifer Kostuik Gallery in Vancouver through November 8, 2015.
Above: Taganskaya Metro Station, Moscow, Russia, 2015
Elektrozavodskaya Station, Moscow, Russia, 2015 David Burdeny
Novolobodskaya Station, Moscow, Russia, 2014
Komsomolskaya, Metro Station, Moscow, Russia, 2015
Kiyevsskaya Metro Station (east), Moscow, Russia, 2015
Avoto Metro Station, St. Petersburg, Russia, 2014
Sokol Metro Station, Moscow, Russia, 2015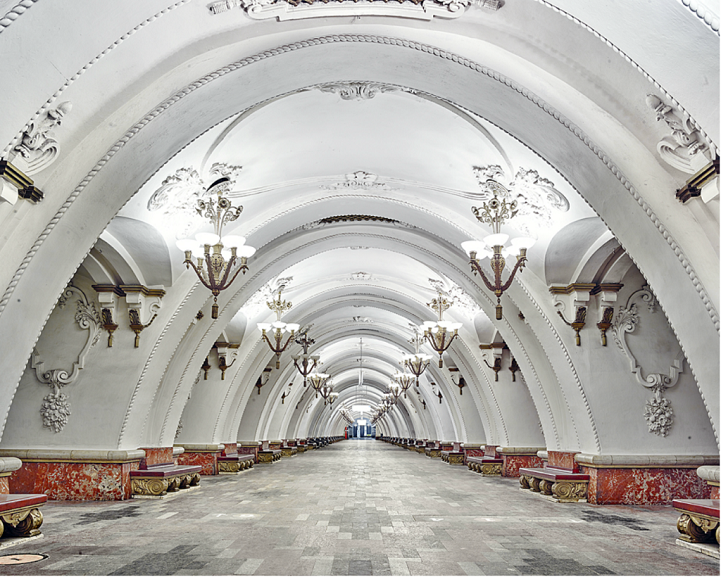 Arbatskaya, Metro Station, Moscow, Russia, 2015
David Burdeny: Website
via [HyperAllergic]