Inspired by the lush forests and volcanoes of his home in Indonesia, photographer Mikael Aldo creates stunningly emotive images that highlight the beautiful side of darkness. In 2015, he embarked on a 366 photo project and took one picture every day for a year, quickly honing his skills by adapting his creative style into cinematic images rich with story. Mikael's ability to perfectly pair moody landscapes with the emotion of his subjects creates a well-balanced portfolio of powerful images. We were grateful for the opportunity to catch up with Mikael for a Behind The Lens look into his photography!
Your interest in photography started at the young age of 14, can you tell us a bit about your journey into photography?
It all started with me furtively using my brother's camera without actually knowing how it works. I was fascinated by the shape and the sound it made when the shutter clicked. It made me wonder what one can do or make with it, so I started taking pictures of everything—books, flowers, film rolls, and other things that inspired me. I began taking portraits of my friends two years later, and started exploring the realm of arts and portraiture from there.
What are some of your interests?
I enjoy reading fiction nowadays. Some days I would just love to sit by the window of a train gazing at the endless view of rice fields.
What have been the challenges and highlights of undertaking a 366 photo project?
I had just started photography and was clueless in which direction I wanted to go. This project gave me an insight on what I love to capture and what I don't like shooting by consistently taking pictures everyday. What was hard for me was that I wanted to create images that I was passionate about every single day. But from my experience ideas and inspiration weren't always ready to be shot. Instead, I had to look for them sometimes, which made this project last a bit longer than a year. Despite all that, it's an effective way of practicing, I think.
You once challenged yourself by hiking a volcano and building upon your Mourning Child series. Can you tell us a bit about the experience and about your series?
Volcano climbing wasn't something that I would normally do. I had very little knowledge of the mountains, but I had a sense of curiosity. A great one, perhaps. So I gave this journey a shot, without much care of where or how or what. And I didn't travel light. Thoughts and doubts haunted me along the way. This became crucial to the process. This series became a mere reflection of what I was dealing with, yet it left a mark that will always remind me of the reason I create.
Your photos are often self-portraits, how do you get the perfect shot?
By not limiting to what I had in mind when dreaming up the concept. When I do that, I tend to create exactly as I imagine. And without that freedom the picture often turned out to be boring, or even too-staged. This is not what I'm aiming for in my photography, including in my self-portraits.
From conceptualizing to post processes, how much planning goes into a shoot?
I usually start by making rough sketches of the idea before moving on to making important notes. Having plan A and plan B for the shoot itself can sometimes be essential. I always have to be prepared for the unexpected.
How do you light your photos? Do you use artificial or natural light?
Mostly natural light. But I love to experiment with lighting setups in the studio every now and then. For me, the best time to shoot without any artificial lighting is either early in the morning, or late in the afternoon. But it's always different for every shoot.
Do you have a favorite shooting location?
Yes, that would be Mount Semeru. I just love how it includes so many different terrains from rain forests to foggy lakes to warm savannas and finally black sand. I remember being struck by different ideas the first time I hiked the mountain. It's the kind of place that I would like to surround myself with for as long as I could.
How would you define your style?
Somewhere between the lines of mythical and dramatic, I would say.
Your photos have a very cinematic and dark quality, is there an overall message you would like your photos convey?
By imagining an idea moving, as if it was a film, I am able to connect one element to the others. That is where the cinematic aspect came from.
What challenges have you faced while creating?
It's always been the same, most of the time: how to make the idea possible; how to accomplish a fantasy; and how to convey the message. These points have become critical whenever I create, without which creating would be pointless.
What's a must have in your gear bag?
Other than a DSLR camera and a lens, a flashlight always comes in handy whenever I need to light my subject.
How much post-processing goes into a completed photo?
It's always different for every image, from only adjusting the contrast, brightness, and colors, to a more complex process that could take hours or even days. Usually personal projects take more time since I rarely put a deadline on it.
What are your plans for the future? Do you have any upcoming projects?
I do! And those are the ones that I'm excited about but I can't say much about it right now.
Do you have any advice for aspiring photographers?
Hold on to what you already believe in, it reflects in every photograph you take. If you haven't found it yet, keep looking. It is never too late in a journey to discover yourself.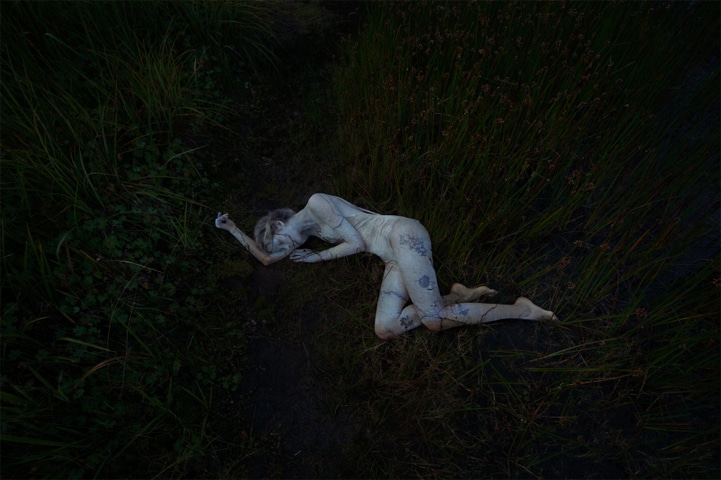 Thank you so much Mikael! If you would like to see more of this creative photographer's work, check out his website!
Are you a photographer? Would you like to be interviewed for the Behind The Lens series? Leave your links in the comments below!