Artist Ted Pim is putting a contemporary spin on classical Baroque painting. Dark, eerie backgrounds and decadently rich florals are just two of Pim's techniques that evoke works of great masters like Caravaggio and Rubens. Unlike his predecessors, however, this gifted artist doesn't leave his carefully rendered figures unblemished. It is his seemingly random and chaotic abstract touches that conjure immediate dynamism—ultimately making his paintings unforgettable.
After over two years in the making, the Belfast-born artist is debuting a 25-piece solo exhibition at The Salon—a gallery owned by acclaimed casting director John Papsidera and producer Valoree Papsidera—in the heart of LA's art district. The show, entitled Empire Lines, is a series of complementary paintings that express Pim's love of classical art and illustrate his take on their iconic imagery. At the collection's center is a grand battle painting that served as the inspiration for its counterparts, and took Pim four years to complete. Among the other works exhibited are portraits of theatrical female figures as well as several botanical still lifes. Empire Lines is currently on view at The Salon in Los Angeles until December 13, 2019.
We had a chance to speak with Ted Pim about Empire Lines and what goes into creating his sensational paintings. Read on for My Modern Met's exclusive interview.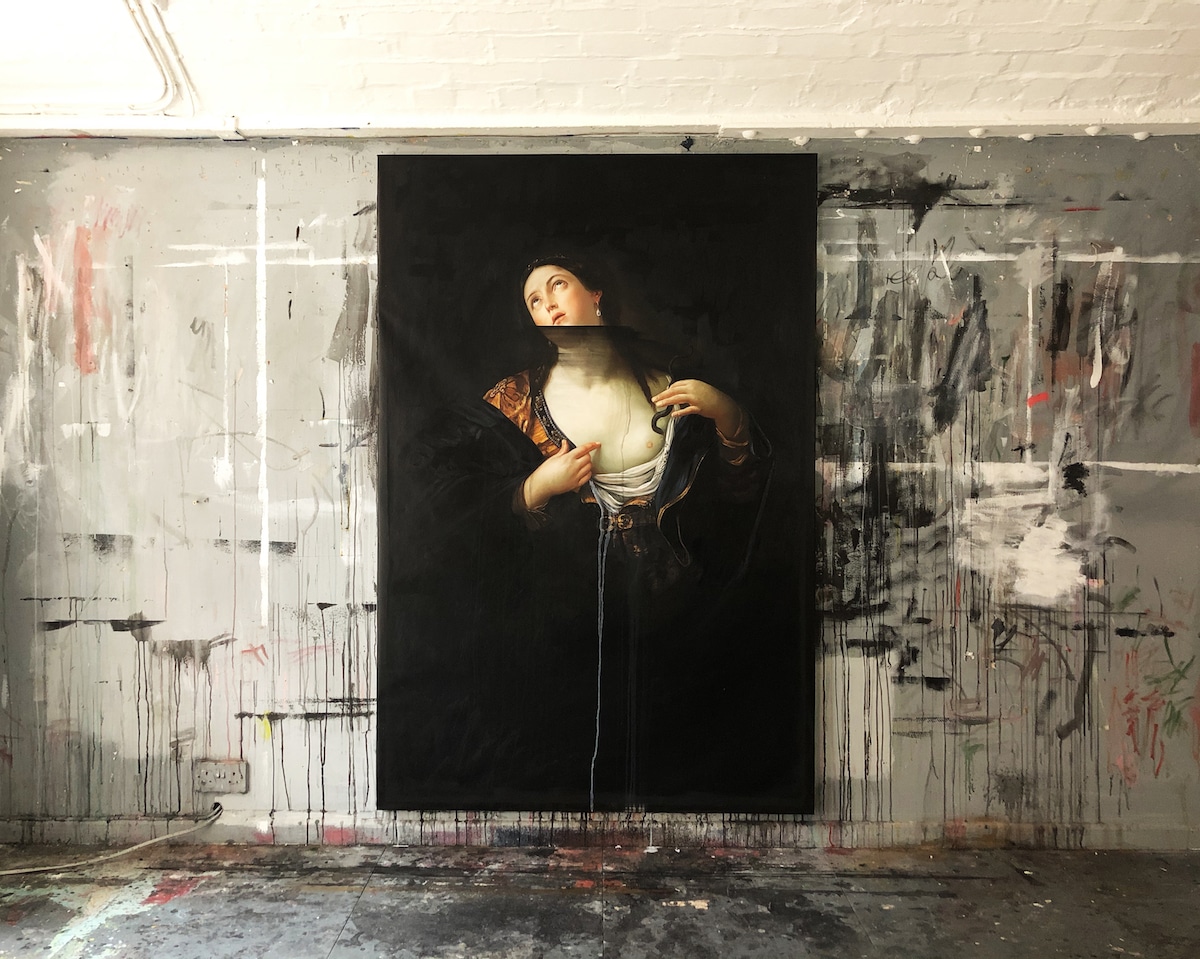 How did you start making art?
It's something that I have done since I was a kid. I look at my 2.5-year-old on how she gets excited when she comes to my studio to start painting and I see myself in her. I guess I've never really lost that excitement. I studied art through school and then university. When picking universities you could put down 10 choices for different courses and different cities and I put one choice down—The Art College in Belfast to study Fine Art. If I wasn't accepted I would have had no backup and not really sure what I would have done. Things happen for a reason and I've never looked back.
What do you try to achieve or express in each of your paintings?
My paintings are full of meaning and symbolism and I never really explain each painting—I prefer to let the viewer tell me what they see in the painting. In my paintings I try to create something beautiful in a destructive manner, someone once said to me "imperfect is perfect" and it's a small phrase I think about when in full flow.
How has your artistic practice changed over time?
I have started painting in a looser manner towards the end of the painting process. I like to tread the fine line between creation and destruction. After spending so long and having so much control painting a portrait, I dip a thick brush into black etching ink and apply it across the face. It's hard to explain, but I enjoy the feeling of trying to control the destructive element of the etching ink. It's a process that is detrimental and I've ruined a lot of good paintings using this process. For my last show in LA, I showed my family the work before I shipped it, and I told them that they weren't finished as I needed to apply the abstracted elements and they thought I was mad to do this, as they looked finished in their eyes. But I feel there's no part of me in the painting without getting the thrill of controlling the ink, it's like this part of the process brings me closer to the painting.
What is your most important artist tool? Is there something you can't live without in your studio?
It's probably my dog, Murphy the Flat-Coated Retriever. I think if I didn't have him I'd be lost and probably lose my mind a bit sitting in my studio alone, soaked in self-doubt all day. He reminds me when it's lunch, we go to the beach every day (rain, hail, or shine) and he reminds me when it's time to go as it's his dinner time. I feel that if he wasn't there, I would be working stupid hours and spend a lot more time in the studio and probably burn myself out. It's good to step away from a painting for a while as I tend to get lost in the detail.
Is there an artwork you are most proud of?
I feel that my most recent and probably largest painting Empire Lines is the painting I am most proud of. It's a battle scene and I based the whole show around this painting, I started it 4 years ago and have worked on it here and there and finished it on the day of the opening, November 16, 2019. Every painting I did for the show was influenced by it as it was hanging in my studio for so long.
Which artists, or works of art in particular, inspire you?
I got to Jenny Saville's work for the first time in person at The Broad in LA and it blew my mind. I loved how loose it was, the composition and color, everything about her work blew my mind. I'm also a big lover of Francis Bacon, he's probably been the biggest influence on my art career. There's a painting in the Ulster Museum in Belfast and I go every few months to visit it. It's incredibly dark and beautiful and it's two characteristics I always try to have in my paintings when I finish them.
How do you know when a work is finished?
I feel that my paintings are never finished and I can always add to them. It's essential that I have a deadline to work towards as I could work on a painting forever and not finish it. I suppose when I put them in their crate and wave them off that is them finished. When I see it in my collector's home I usually think how good it looks and it's a real moment of pride. As I said before, I get lost in the detail and sometimes need a break from the painting to really appreciate it.
What is the best thing about being an artist?
Getting to drive to the studio in the morning looking at everyone going into their offices thinking how glad I am that I'm not working that life again.
Empire Lines is currently on view at The Salon in Los Angeles until December 13, 2019.
My Modern Met granted permission to feature photos by Ted Pim.
Related Articles: