A few years ago, Portland photographer Kati Dimoff developed a passion for found film. Every time she passed a thrift shop, she'd pop inside to see if any of the vintage cameras had undeveloped film inside. And while she's had some good finds over the years, her latest adventure is something special.
In late May she purchased a 1936 Argus C2 for $20 from a local Goodwill. The camera contained damaged Kodachrome slide film, and while she wasn't sure what would come out in processing, she dropped it at a Portland lab that specializes in developing old, expired film.
When she received the package back, there was a note inside that read: "Is this from the Mt. St. Helens eruption?" Indeed, it appears that the black and white images show plumes of ash from the 1980 eruption, which is called the most disastrous in United States history. "It looks like whoever took them shot a few from Highway 30 near the Longview Bridge," Dimoff explained, "and then they must have moved over to a neighborhood view when the ash cloud was really large."
And this is where the story gets really interesting. In a quest to discover the story behind the photographs, Dimoff shares the Mt. St. Helens photos, along with a picture of a family in a backyard from the same roll, with The Oregonian newspaper in hopes that someone would step forward to claim the film. This led her to Mel Purvis.
Purvis, who now lives with his wife in Bend, Oregon, was looking through a story that a friend had sent him on Facebook when a familiar image flashed by. "I almost fell out of my chair," he told The Oregonian. "That's me."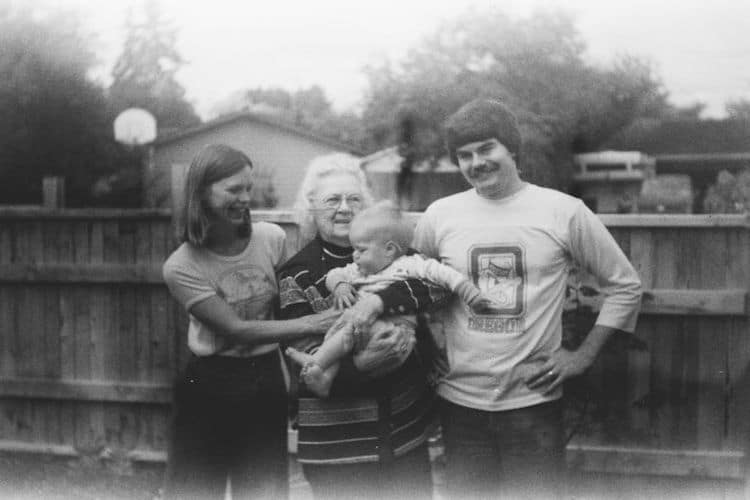 The family photo, which was taken in 1980, shows Purvis and his wife Karen with their then 1-year-old son Tristan, who passed away in 2009, and Purvis' grandmother, Faye Gardner. Gardner had come to visit the family, and after attending a football game they snapped the photo with her camera. She passed in 1981 and Purvis is unsure how her camera found its way to the Goodwill.
Since stepping forward, Purvis and Dimoff have been in touch, with Dimoff telling the newspaper that she planned to send the camera and film back to its rightful owner. "I'm a very sentimental person, and I love old photographs," said Dimoff. "This chance happening has been really special."
Photographer Kati Dimoff loves developing found film from thrift shop cameras. In late May she discovered a series of photographs showing the 1980 Mt. St. Helens eruption.
h/t: [The Oregonian, Gizmodo]
All images via Kati Dimoff.
Related Articles

:

Photographer Discovers 1,200 Rolls of Unprocessed Film From the 1950's

Find the Girls on the Negatives: Searching for the Origins of Stunning Photos Found in a Thrift Store

Newly Discovered 31 Rolls of Film Shot by an Unknown Soldier During WWII

Couple Finds Envelope of Photos in Barcelona Flea Market, Spends 16 Years Identifying Photographer