With every passing year, more and more art is being sold online as opposed to in standard settings. Even galleries themselves, traditionally a haven of in-person sales, are seeing more and more online business. In fact, some young galleries report that more than half their sales come online, meaning they've never met most of their collectors.
From high-priced fine art to niche crafts, more and more art lovers are getting used to purchasing art online. The creative arts have seen a slower push than some industries with online sales, but that's changed over the past eight years. And many artists are skipping galleries altogether, deciding to take their work directly online and cutting out the middleman.
With a huge variety of options available for every genre of art, the choices can be overwhelming. There are independent artists who have had huge success marketing their work on social media, taking advantage of platforms like Facebook or Instagram to entice buyers. But what if you aren't really to go fully independent? Or what if you still like the idea of getting some support when you need it? There are plenty of online platforms that can help you expose your work to potential buyers while providing varying levels of technical and marketing support.
We've decided to help narrow down the field, explaining the ins and outs of the best channels for selling art online. That way, you can sit back and focus on creating a great website and marketing your art for the world to see.
Don't understand how to sell art online? Or where you should start? Don't worry, we've got you covered. Scroll down for our suggestions of popular platforms to list your artwork.
Yes, you can make money selling art online! Here are some of the best places to virtually sell your art.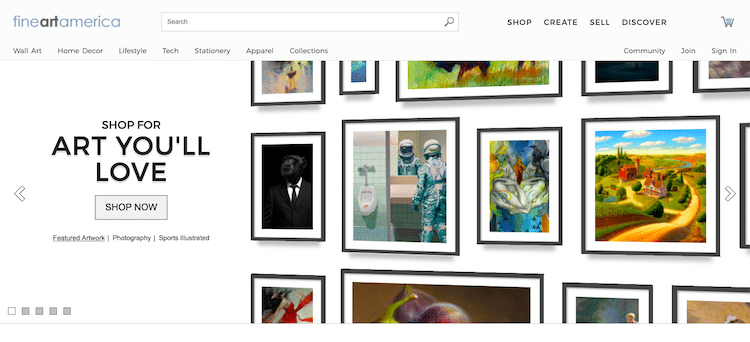 Fine Art America
Fine Art America is the world's largest online art marketplace and print-on-demand technology company. They've been helping artists sell wall art, tapestries, home decor, apparel, and other products since 2006 and are home to hundreds of thousands of artists, photographers, graphic designers, illustrators, and global brands.
With just a few clicks, artists can upload their images to FineArtAmerica.com, set their prices for hundreds of different print-on-demand products, and then instantly sell those products to a global audience of online, mobile, and real-world buyers. Fine Art America fulfills each order on behalf of the artists. Each product is manufactured at one of FAA's 16 global production facilities and delivered "ready-to-hang" with a 30-day money-back guarantee.
In addition to providing an online marketplace, Fine Art America supplies artists and photographers with sales and marketing tools to help simplify and accelerate their careers. These tools allow artists to set up branded web stores, sell prints through Shopify, create e-newsletters, sell through augmented reality, and more.
ArtPal
Representing over 222,000 artists, ArtPal is a unique online gallery that is 100% free. Artists can choose to either sell their own items or use ArtPal's print-on-demand features, giving them flexibility in how they allow people to buy art. It also means that artists can sell original artwork and prints side-by-side.
With no membership fees or commissions, and unlimited space to sell art, ArtPal takes the hassle out of selling while allowing you more time to be creative. ArtPal also has vast resources for artists to help them market their artwork, price items correctly, and how to set attainable goals for their careers. This makes it a valuable resource for any artist looking to sharpen their business skills.
It just takes a few minutes to set up a free online gallery, making ArtPal a great gateway into online art sales.
UGallery
UGallery believes that browsing their online selection of art should be akin to spending a leisurely afternoon visiting your local galleries IRL. Founded in 2006, they take their curation seriously and want to avoid the internet's seemingly endless outlets for artwork. Instead, they pick each artist and every piece they exhibit, making all artwork exclusive to UGallery. They encourage emerging and mid-career artists to apply to show their pieces. If selected, anything sold will be split 50/50, and the artist ships the work in a custom box (provided by UGallery) from their studio.
Singulart
Singulart is an incredible platform that gets the work of artists and designers in front of over 3 million collectors. Nationally and internationally recognized artists are invited to submit their portfolios, which will be reviewed by Singulart's curatorial team.
Singulart stands out among other platforms because its artists are continually promoted through newsletters, digital marketing strategies, editorial content, and social media. And they aren't just an online platform. They also have a brick-and-mortar gallery in Berlin, which another opening in Stuttgart set to open shortly.
Artists on Singulart's platform won't have to worry about shipping; they take care of everything. They also offer clients the possibility to commission artwork from their roster of artists, which can open up even more opportunities to sell work.
Etsy
Since its inception in 2005, Etsy has been the go-to online marketplace for handcrafted and vintage items. Its motto "Shop for anything from creative people anywhere," sums it up. A budding fashion designer looking to easily sell clothing online? An artisan making handcrafted furniture or sculptural jewelry? This is the place for you. Etsy charges a nominal listing and transaction fee but makes it a breeze to open your own online store.
They also provide a huge number of resources to their sellers, from handbooks on SEO, branding, and marketing to practical information on taking the stress out of bookkeeping. There's definitely a reason that the site has over 4 million active sellers worldwide.
If you're looking for advice on how to succeed on Etsy, check out our interview with successful shop owners.
eBay
Many artists find success with eBay with no restrictions on the medium. A quick look at eBay's art category shows the wealth of what's available. In the business since 1995, eBay is a trusted name in online sales and provides a huge amount of support to its sellers. Their How to Sell guides offer a step-by-step look at what artists can do to make sure they are displaying their artwork in the best light, giving it a better chance to sell.

Minted
Photographers, illustrators, and graphic designers will want to check out Minted, which is a top resource for wedding invitations, custom Christmas cards, and much more. Artists are selected via Design Competitions, which are voted on by the public. In addition to receiving their own Minted storefront, winners can win a cash prize and earn a commission on their designs.
Society6
Looking to sell art reproductions or get your creativity printed on a wide variety of products? Society6 makes it extremely easy for you to upload artwork and photography and make them available as everything from art prints to tote bags to iPhone cases. As the artist, you retain all rights to your artwork and Society6 takes care of all order fulfillment, meaning you don't have to worry about any packaging or shipping. They even allow you to set your own royalty agreement on art prints and stretched canvases, with set fees in place for the other items they have for sale. If you want something quick and easy or ever dreamed of seeing your illustrations on apparel and home goods, Society6 is the way to go.
Zazzle
Zazzle is the best of both worlds, giving you the option to become a maker (to sell products) or a designer (to sell art). Artists, graphic designers, and photographers simply upload their artwork, making it available to print on demand, either as a piece of wall art or on a variety of products. Setting up a shop is free and you are able to set your own royalty percentage in order to earn what you please. Zazzle takes care of the rest.

Redbubble
Founded in Australia in 2006, Redbubble is another print-on-demand service that allows artists to upload artwork to be printed on a huge variety of products, as well as reproduction prints. Redbubble allows artists to set their own profit margins, meaning you can organize your earnings as you like. From stationery and stickers to women's apparel, and with in-depth traffic analytics for your shop, Redbubble is a fantastic option for artists seeking a print-on-demand partner.
Artfinder
Based in London and Miami, Artfinder has a mix of UK, American, and global artists. In order to join, there is a selection process. Artists are asked to submit their best work and a short statement to be reviewed. Once accepted, it's as easy as setting up your free storefront. Artfinder takes a 33% to 40% commission on sales. Artfinder only allows original artwork—no posters or reproduction prints—and focuses on painting, photography, digital art, collage, sculpture, drawing, and printmaking.
Artplode
Don't want to give up a commission on your art? Artplode may be for you. Launched in 2014, the site works with artists, galleries, dealers, and collectors and specializes in original art and limited edition prints and photographs. Instead of taking a commission when an artwork is sold, Artplode simply asks a flat listing fee for each piece. For an additional fee, they can even set you up with art consultants who can help you market your art to the right collectors and assist in pricing. Artists are also able to decide if they'd like to absorb the cost of shipping or pass the cost directly on to the buyer.
Saatchi Art
When looking for a place to sell your art online, having one of the most respected names in the business on your side isn't a bad idea. Saatchi Art was founded by Charles Saatchi's company, and though sold in 2014, still carries the prestigious name. Artists are able to set up a free shop for their original artwork, with pieces ranging from under $500 to over $10,000. The site takes a 35% commission from sales but arranges the shipping and even sends a courier to pick up the artwork—you just need to package it. In exchange, artists are offered exposure to Saatchi's huge audience, which includes over 1.1 million social media followers and a printed catalog that goes out to over 1 million households.
Turning Art
Getting your art hung in a commercial setting can not only give you great visibility—but is quite lucrative. Turning Art specializes in curating art for businesses, hotels, designers, and major institutions. By applying to be part of their network of artists, creatives will see their original artwork proposed to commercial clients and can even be pitched for commission work. Artist are paid 60% of revenue when an original piece of purchased or 25% of the retail purchase price when art is rented. Commission fees are negotiated between the artist and Turning Art prior to the start of the project.
Want to take the full plunge into e-commerce? We've got just the solution.
Shopify
Now that you've got a great, stylish website, maybe you just want to skip third-party vendors altogether and create your own online shop. Shopify is a great choice in creating your own eCommerce site, for its ease of use and flexibility. Designed correctly, customers won't even be able to tell they are using Shopify, assuring a pleasing shopping experience. Ready to get started? Take a look at our handy, step-by-step guide on how to create a store on Shopify to sell your creative goods.
If you are represented by a gallery, check and see if they are taking advantage of online sales.
Artnet
Artnet has leveraged partnerships with major auction houses and galleries, combined with news and event listings, to become a point of reference for contemporary art collectors. Working as an online display case for galleries, artists represented by partner galleries can request that galleries place their work on Artnet. Their work will be viewable via the gallery's listing or an artist listing that shows news, events, auction results, and artwork available.
Artsy
"Artsy's mission is to make all the world's art accessible to anyone with an Internet connection." Like Artnet, Artsy isn't open to individual artists but is worth looking into seeing if your gallery is open to listing your artwork on the site. The venture-funded online gallery caters to the contemporary art world, with live auction bidding, information about art fairs and exhibitions, as well as gallery listings.
Partner galleries are able to list artwork by their represented artists, showcasing their work to a wide audience of potential collectors.
Frequently Asked Questions
Is it worth selling art online?
Yes. Online platforms have commissions that are typically cheaper than brick-and-mortar galleries.
How can a beginner sell art online?
If you are new to selling your art online, select a platform that will provide you with plenty of visibility and support. Etsy and FineArtAmerica are two good options. You'll also want to brush up on your marketing skills so you can promote your work online.
What do I need to do to get started?
Take a look at some of the many platforms available to sell art and see which one works for you. After signing up, prepare an inventory of your artwork. This includes taking quality images of your art (or hiring someone to do it for you), setting up your pricing, gathering materials for shipping if needed, and putting together marketing materials so that your fans will know that you've set up shop.
This article has been edited and updated.
Related Articles:
How to Get Started Teaching Online Creative Classes
7 Tips to Help Make Your Next Creative Project Go Viral
6 Professional Networking Tips to Further Your Creative Career
New App Makes It Easy to Set Up an Online Shop and Sell Your Creative Products