Cats are often viewed as loners who relish their alone time, so you'd hardly expect them to be in cahoots with other felines. But when you pick up a set of the wooden Cat Pile game, you'll see that it turns the notion on its head—or back, or tail. Created by the Taiwan brand Comma, the felines—posed in a variety of ways—are meant to be stacked in seemingly endless combinations, with the ultimate goal that they form a pyramid-like shape.
Cat Pile is often associated with the classic game Jenga, although Comma's creation is played in reverse. Jenga is started with the tower fully assembled and challenges you to disassemble (and reassemble) it brick-by-brick without toppling over. Cat Pile, in contrast, instructs you to start at the base and juggle the wooden teak pieces atop one another. No matter how precarious they may seem, the last person to successfully stack a kitty without it falling will be crowned the winner. When you're done with the game, the cats double as modern home decor and make a fun accessory for your desk.
One set of Cat Pile includes six kittens that measure approximately two inches tall by three inches wide by a half-inch thick. Each set has its own colorful sticker on the packaging. There are two colors—pink and blue—now available in My Modern Met Store. We also have a verision of Cat Pile which has smaller pieces for sale as well.
Taiwan brand Comma has created a fun cat stacking game akin to Jenga.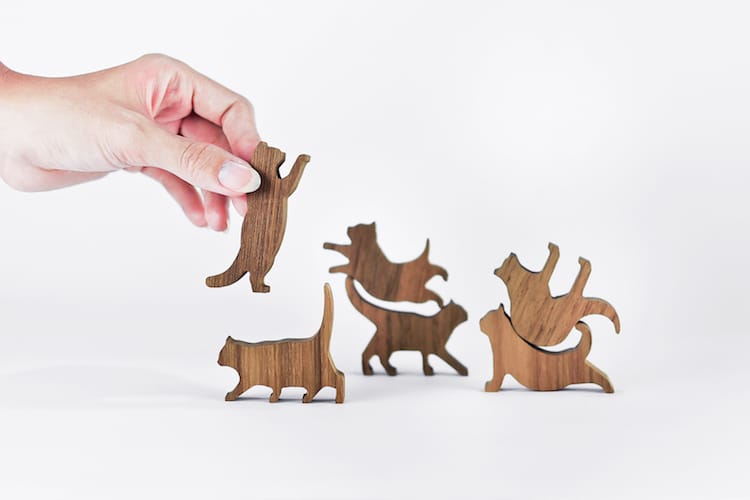 The wooden Cat Pile comes in two colors (as indicated by the box): pink and blue.
Pink
Blue
Comma: Website | Facebook | Store
All image via Comma.
Related Articles:
Quidditch Pong is a Harry Potter-Inspired Drinking Game
35+ Fun Gifts for the Creative People in Your Life
Stylish Pac-Man Suit Has the Classic 1980s Arcade Game Printed All Over It
Have a Whale of a Good Time Carrying These Quirky Fish-Shaped Bags