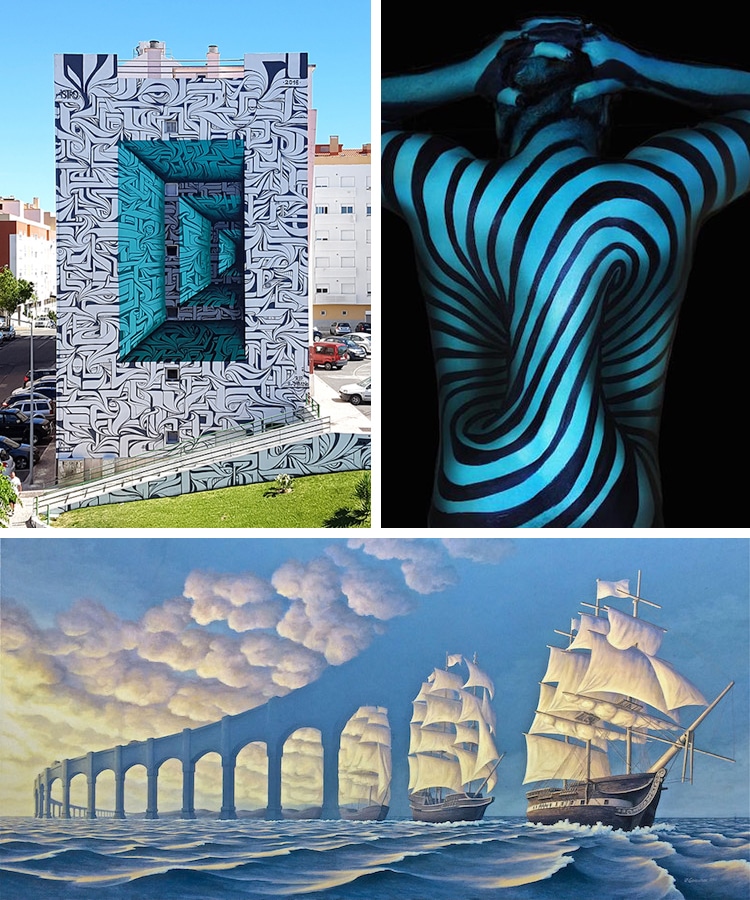 Art has the ability to amaze and inspire, and few artworks do this better than those that fool the eye. These types of art—aptly referred to as illusion art—easily trick the viewer into believing what they think they see. For instance, seeing what you believe to be a 3D object when it's actually a cleverly shaded and colored 2D drawing. (If you've been following My Modern Met, you'll notice we've featured several artists throughout the years who paint three-dimensional subjects on a flat surface to make it look like they're popping off the page and into real life.)
Throughout the ages, we've come to understand the illusionistic nature of art itself; how things like darkened edges and shadows represent roundness and volume. The most intriguing facet of illusion art, however, is also known as optical illusions. Through painting, sculpture, and design, this style of visual manipulation can make you believe that stationary lines are moving or that an entire building has disappeared.
Illusion Art History
So, how did modern illusion art get its start? Its roots are in kinetic art, which is a genre that creates movement "perceivable by the viewer." Op Art is an offshoot of it, in which this movement is produced through optical illusions. The 1950s was its heyday, but that wasn't the first we had seen of these sorts of mind-bending works. Rubin's vase is one of the most famous examples of this. It was created in 1915 by Danish psychologist Edgar Rubin and is still popular today.
Contemporary forms of illusion art are as varied as the tools used to create them. Whether it's perfectly-painted body art or surreal children's book illustrations, each of these pieces use some form of visual trickery. They'll make you look twice—once out of disbelief and another to figure out how the artist worked their magic.
Take a look at how illusion art manifests itself today—from illustrations to street art to body art.
Body Painting
Natalie Fletcher
In an homage to Op Art, Natalie Fletcher uses black contour lines to imply movement along the skin. Clad in vibrant colors, it looks like parts of her model's bodies are caving in.
Read more: Incredible Body Painting Turns Torsos into Mind-Bending Optical Illusions
Gesine Marwedel
Combining contortion with body painting, Gesine Marwedel produces illusions that transform people in to animals. Set against a black background, they at first appear as traditional paintings. But, take a longer look and you'll see that these are humans.
Read more: Human Figures Transformed Into Amazing Optical Illusion Body Art
Hikaru Cho (aka Chooo-san)
Hikaru Cho's body painting skills play serious tricks on the eye, making it difficult for the viewer to discern whether Photoshop is involved. She often plays with the idea of secret layers to people. By adding surreal visual prompts like a half-unzipped zipper on the back or a cracked exterior shell of a head, she hints at the multiple layers and hidden truths each person conceals.
Read more: More Amazing Hyperrealistic Body Paintings by Hikaru Cho
Luca Luce
To say that Luca Luce hand-paints his illusions is saying more than you may think. He not only hand-paints, but he also paints hands. Using his own hand as his canvas, this creative artist makes it look like his palm has a life of its own.
Read more: Artist Creates Mind-Bending Optical Illusions on the Palm of His Hand
Street Art
1010 and Astro
While JR uses prints, street artists 1010 and Astro paint their illusions onto buildings. Each of them has a different style but are of similar concept; it looks like they've revealed portals to another world.
Read more: Street Artist Spray-Paints Colorful Optical Illusion Murals on Buildings
Patrick Commecy
French street artist Patrick Commecy puts his eye for illusion to good use by turning rundown, mundane, and fairly unattractive buildings around France a much-needed makeover. Commecy and his team of artists use trompe-l'œil to bring city walls to life with illusive paintings of much more lively and vibrant façades.
Read more: Artist Paints Vibrant, Realistic Frescoes Over Old Building Facades
JR
French street artist JR is known for his giant photographic prints, but he should add "magician" to his talents. Using that same artistic approach, he made the iconic Louvre Pyramid seemingly disappear into the façade of the Musée du Louvre.
Read more: Street Artist JR Makes the Louvre "Disappear" with Creative Optical Illusion
Sidewalk Chalk Drawings
Nikolaj Arndt
Although sidewalk drawings could technically fall in the "street art" category, the chalk murals are stand outs in the realm of illusion art. Nikolaj Arndt transforms the pavement into dynamic three dimensional drawings that allow viewers to interact with them. Their creative poses add an improvisational element to them.
Read more: 3D Sidewalk Murals Invite Pedestrians to Interact with the Illusive Art
Planet Streetpainting
When viewed from just the right angle, Planet Streetpainting has produced an amusing mashup of LEGO figures and the iconic Terracotta Army. The team's precision is beyond impressive—especially when you see their piece from another vantage point (below).
Read more: Incredible Making of the 3D LEGO Chalk Drawing
Makeup Art
Mimi Choi
Makeup artist Mimi Choi doesn't just apply lipstick and eyeliner, she completely transforms her own face into surreal illusions. "My main goal each time I do a new look is to beat myself from yesterday because I'm the biggest critic and competition to myself," she says. "It's gotten really hard to impress myself these days but it motivates me to keep trying and doing better."
Read more: Makeup Artist Paints an Incredible 3D Snake Slithering Across Her Lips
Dain Yoon
Like Mimi Choi, makeup artist Dain Yoon takes a surreal approach to makeup. She experiments with color, form, filtered effects, and camouflage. Her portfolio boasts a growing collection of self-portraits—with an extra nose here and a few extra eyes there. She deconstructs the human face and plays with the viewer's mind a bit.
Read more: Artist Transforms Herself Into Mind Bending Optical Illusions Without Photoshop
Tattoo Art
Jesse Rix
For a much more personal and permanent form of art, Jesse Rix offers willing clients a number of optical illusion tattoos. Each one varies from the next, though many look like portals to another dimension. As a common visual theme, Rix incorporates celestial and geometric motifs.
Read more: Artist's Optical Illusion Tattoos Look Like They're Hiding Entire Worlds Beneath