Warren Keelan spends most of his days in or around the ocean, using his camera to interpret the beauty that he sees. The New South Wales-based photographer has always found the water mesmerizing because of its ever-changing forms and unpredictable, raw moments. Through his pictures, he pays homage to the ocean's polarizing characteristics by showcasing its many personalities–from tranquil waters to jagged, forceful waves.
Keelan often takes a fine art approach to his photographs. With the right timing and compositional framing, he captures waves that resemble a stroke of paint being pulled along the surface of a colorful canvas–like an abstract painting. Sometimes, these elements are bold and eye-catching, while in other instances, they're softer with diffused patches of blues and greens. "For me," Keelan says, "the challenge is creating an image that hopefully tells a story or leaves an impression."
We were privileged to ask Keelan a couple of questions about capturing these stunning waves. Scroll down to read our brief interview with him.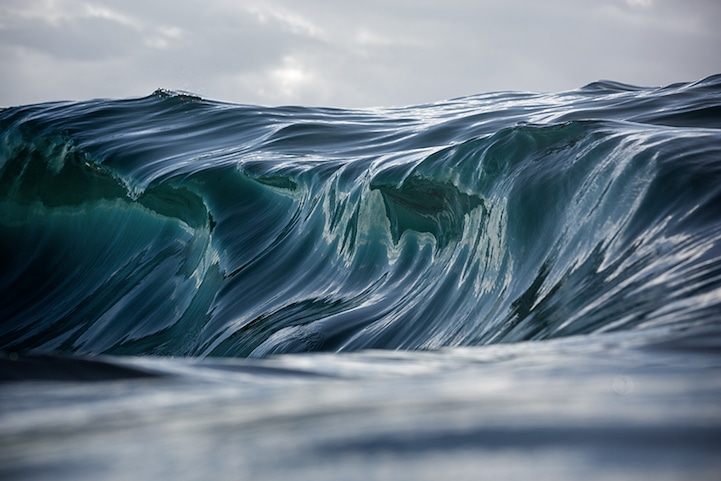 What was your most memorable experience when capturing the wave photos?
It would be hard to narrow it down to one individual experience, rather it's just the feeling you get whilst being out in the ocean when it's alive. Immersing yourself in that kind of energy is something I can only describe by the images I make and take home with me. Swimming out into the dark sea with my camera, waiting for the sun to rise to illuminate the waves and paint the sky above is an amazing experience I get to revisit over and over. It's completely addictive. If I can turn one of my thoughts or visions into a picture, I feel a huge sense of personal reward.
What was the most frightening encounter?
Jumping off the rocks into a dark wild ocean before sunrise is always unsettling to say the least. It increases the adrenaline tenfold as you don't really know what's lurking below the surface. I know what could be down there, I just try not to think about it. I've seen a few shadows and shapes moving around, along with the odd fin or two breaching the surface over the years, but that's all part of the rush I guess. They say you should be more worried about the sharks you don't see, rather than the ones you do, right?
Warren Keelan: Website | Facebook | Instagram
My Modern Met granted permission to use photos by Warren Keelan.