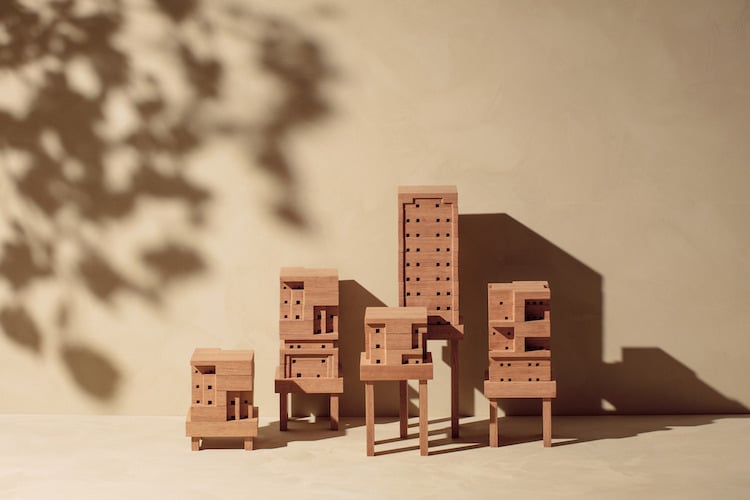 We humans owe a great deal of gratitude to bees. A third of what we eat is the direct result of the tiny insects' commendable work ethic. About 80% of all worldwide pollination is due to the tireless efforts of the tiny but fierce workforce. Unfortunately, in the process of building our homes and cultivating our gardens, we have delivered a heavy blow to the livelihood of these fuzzy pollinators. The loss of environment due to climate change and pesticides has also accelerated a pathway towards extinction for bees. Luckily, IKEA has an innovation hub­ called SPACE10 to correct course.
In collaboration with design studio Bakken & Bæck and designer Tanita Klein, SPACE10 has started the Bee Home project—an online hive designer where users can download designs for free. Additionally, no tools are needed to construct the homes. The site also features an interactive map where you can locate other Bee Home designs around the globe.
One of the project's main goals is to offer people certain creative liberties in designing bee homes and giving back to our small comrades. "With a design that is flexible and accessible through open-source design principles," the creatives behind the project explain, "everyone, everywhere is empowered to design and fabricate their own Bee Home locally."
You might be wondering why would bees need a home? Well, a single bee can fly miles a day, at 15 miles per hour, with wings moving at 11,400 times a minute. All of that movement is pretty exhausting for such a dedicated worker; more places of rest and safety could help lighten the load. And, really, the keyword here is safety. These miniature structures are designed to offer a bit of shelter for bees to protect them from nature's elements, which includes the harm of moisture interfering with their pollination process.
These Bee Homes are particularly helpful for solitary bees, who do not live in hives. "Solitary bees are great pollinators: a single solitary bee could provide as much pollination as 120 honeybees," SPACE10 explains. "Every female solitary bee is a queen. And since every queen gets 20 to 30 offspring, a single Bee Home could give life to hundreds of solitary bees ready to ensure the survival of flowers, trees, animals and us humans."
Perhaps best of all, these Bee Homes require next to no maintenance. Once you design your Bee Home, you can download the design files for free and share them with a makerspace. After you receive the physical Bee Home, you can put it in place with flowers planted around it and leave it be for the next three years.
"I want people to design a dream home for bees that provides the perfect environment for their offspring, while at the same time being incredibly easy to design, assemble, and place," says Klein. "This project really exemplifies how design can do good for both people and their environment."
IKEA is proudly supporting a research and design lab (SPACE10) aiming to improve nature and human life, one mini Bee Home at a time.
This project, aptly titled Bee Home, lets anyone design their own structure meant to serve as a tiny shelter space for bees.
You can get your design files for free and share them with a makerspace who will then create the Bee Home for you.
All that's left to do is place it in nature.
Bee Home: Website
SPACE10: Website | Instagram
Bakken & Bæck: Website | Instagram
Tanita Klein: Website | Instagram
h/t: [Bored Panda]
All images via SPACE10.
Related Articles

:

Bees Create Heart-Shaped Hive, Prove They're Nature's Best Architects

Beetle-Inspired Coffee Table Features Fold-Out "Wings"

Honey Bees Become Unconventional Collaborators by Completing This Artist's Embroidery

Holland Turns Over 300 Bus Stops into Green Roof Ecosystems for Bees