Designed by French architect Jacques Rougerie, the 170 feet (51m) tall SeaOrbiter will be the first vertical skyscraper ship of its kind. Two-thirds of the spectacular vessel is underwater, perfect for accommodating a team of 18-22 researchers who will be able to spend 24 hours a day underwater.
Researchers will use the facilities for a variety of purposes, including studying marine biology and climate change, looking for shipwrecks, and even utilizing pressurized environments to simulate being in space for astronauts. To top it off, the craft is completely sustainable with its power coming from solar, wind and waves.
"One of the first users will be the science community," says Rougerie. "It's designed to explore the ocean in a new way, mainly spending time under the sea, giving people the opportunity to live under the sea for a very long time, to observe, to undertake research missions, like marine biology, oceanography and climate issues."
After over 30 years of research into marine architecture, the $52.7 million SeaOrbiter project has its funding secured and construction is slated to begin by the end of the year.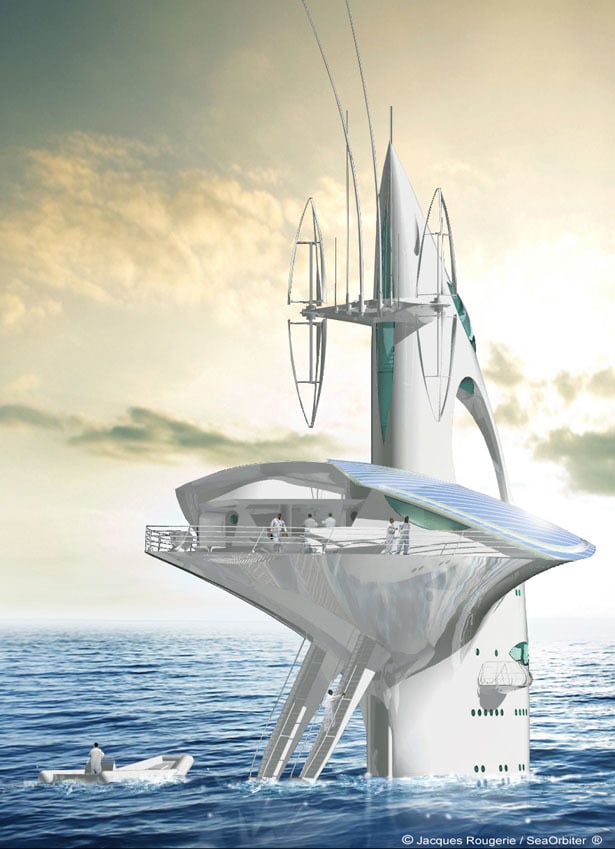 SeaOrbiter website
via [Dezeen], [Inhabitat]