In Fayetteville, Arkansas, Jessica McClard has created a powerful testament to positive karma and community in the form of a small cupboard. Funded via a $250 micro-grant from Thrivent Finacial, The Little Free Pantry sits in front of the town's Good Shepherd Lutheran Church, across from a school and low-income housing, to provide a place for locals to both give and receive donations of food and other household goods. From peanut butter to diapers, the turnover of contents is both fast and frequent, occurring at least six times a day. Thanks to a mix of consistent contributors, one-off visitors, and many strangers whom McClard herself has never met, most items last a mere 40 minutes.
The Pantry has no rigid rules: access is allowed to all at every hour. McClard just checks in once a day to ensure that things are running smoothly. When asked about concerns of stealing or vandalism, she explains that the opposite effects have happened: people have not only provided the pantry's contents, but also decorated the area with flags on Memorial Day and pinned up posters about free meal services and more. The lack of regulation causes unpredictability that means it's not a perfect system, as far as providing for those with specific needs; however, the Little Free Pantry's popularity and near constant activity elucidate its helpful and heartwarming power. It's affords a leap of faith in humanity in the form of simple steps, as well as an accessible balm for food insecurity through the support of fellow community members.
To continue the karmic cycle, the Pantry has inspired countless others who have sought McClard's advice to replicate the program in their own neighborhoods. Multiple people reach out to her every day, and copycats thus far include Ardmore, Oklahoma's The Blessing Box, South Fayetteville, Arkansas' Christ's Church Little Free Pantry, and New Castle, Pennsylvania's New Castle Little Free Pantry. The concept is enticing for multiple reasons, McClard asserts: "I think people want to give in ways that are manageable and tangible. It's really hard to know how to address food insecurity, but you can pick up a couple of cans at the grocery store, and put them into a pantry, and feel like you're doing something…I also think the Pantry breaks down the barriers between a service provider and client that you see in traditional food pantries." There's no paperwork necessary and no questions asked, and the space is inviting for all, whether benefactor or beneficiary, so "everyone goes up to the pantry the same way."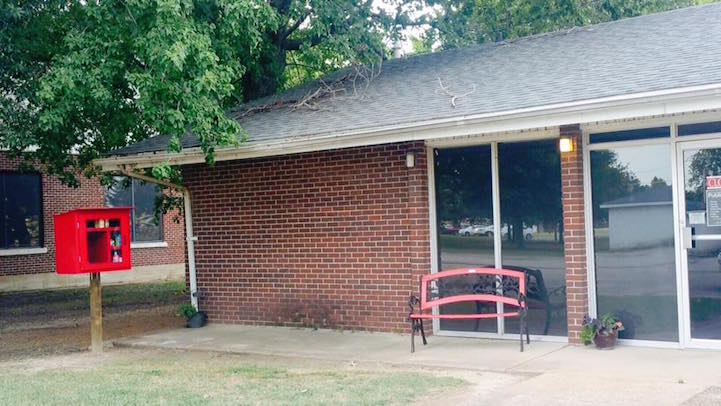 The Little Free Pantry: Website | Facebook
via [Bored Panda, Huffington Post, Shareable]
All images via The Little Free Pantry.