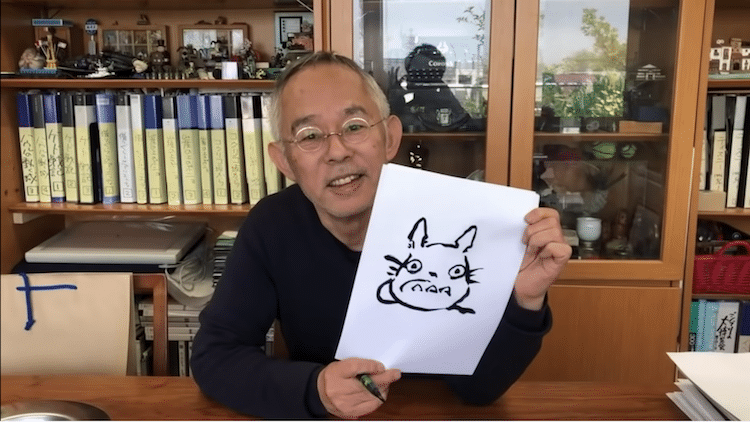 Studio Ghibli has stepped up during the coronavirus pandemic by providing accessible and whimsical resources for people around the world. In addition to offering twelve free web conference backgrounds for those working from home and a virtual tour of the still-closed Ghibli Museum, the Japanese animation studio has released a quick and easy tutorial on how to draw one of their most beloved characters, Totoro.
Studio Ghibli producer Toshio Suzuki—who worked on Kiki's Delivery Service (1989), Princess Mononoke (1997), as well as My Neighbor Totoro (1988)—stars in the short YouTube video, which is part of Aichi Prefecture's "Smile Project Channel" to keep children positive during the lockdown. Suzuki uses a soft brush pen to draw the raccoon-like anime character in quick and simple strokes. In the video, he emphasizes that "the most important" element in portraying Totoro is placing its large, round eyes far apart. Suzuki encourages everyone to pick up a pen and try their hand at drawing while they are spending more time at home.
Scroll down to find the video tutorial by Studio Ghibli producer Toshio Suzuki.
A producer from Studio Ghibli has shared a video tutorial of how to draw the beloved character Totoro from the 1988 animated movie My Neighbor Totoro.
Studio Ghibli: Website
h/t: [SoraNews24]
All images via Studio Toshio Suzuki.
Related Articles:
Studio Ghibli Releases Free Zoom Backgrounds for You to Use While Video Conferencing
You Can Now Take a Virtual Tour Around the Studio Ghibli Museum
Artist Fills Her Sketchbooks With Vibrant Landscape Paintings Inspired by Studio Ghibli Films