Since he first picked up a camera four years ago, student, designer, and photographer Alex Depue has assembled an eclectic portfolio of images ranging from surreal photo manipulations to candid portraits to breathtaking landscapes. Unconfined to any particular genre or style of shooting, the 21-year-old freely follows his instinct and imagination when it comes to photography, resulting in a diverse mix of pictures that represent Depue's artistic expression and experimentation.
Even with a wide range of techniques and subject matter, most of Depue's images are connected by certain common threads–exploration, nature, the freedom of youth. Growing up in Southern California, Depue acquired a taste for adventure and the great outdoors early on, which is reflected in his work. People are rendered tiny figures in sun-drenched fields or in the shadow of an abandoned building; long, winding roads suggest endless road trips under starry skies; even a photo manipulation of a rocket ship blasting off from the tip of a match evokes the liberation of fleeing to an unknown land. Light and airy like a fresh summer breeze, Depue's photos will inspire wanderlust and a longing for the Californian sun in any viewer.
We had the chance to ask the photographer a few questions about his creative passion. Check out that exclusive interview, below.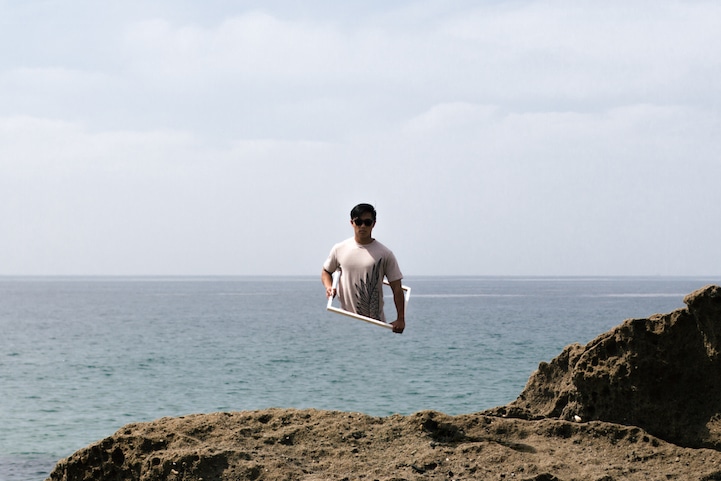 How did you first get into photography?
In 2011 my father passed down to me an outdated and once-broken DSLR camera for my 17th birthday. I wasn't very interested in photography at the time, but I spent countless hours figuring out how to use the camera and discovering what it was fully capable of capturing. After experimenting with the camera as a tool for my creativity, I realized that it was the artistic medium I had waited 17 years to discover.
You shoot an interesting blend of people, places, and conceptual photography. Do you have a preference among these, or are you more into experimenting with style, technique, and subject matter?
I would say that I have a niche for experimental photography. It allows me to express myself creatively as an artist, whether that's through manipulating a photo or not, while it also keeps me passionate as a photographer who often gets tired of doing the same thing. Photography for me is a creative way to capture moments of my life and the camera is the tool that allows me to do so. The photos you may find on my Instagram or website are the direct combination of those two things.
How has your upbringing in Southern California influenced your photography?
It's hard not to give credit to Southern California for where I am today with my photography. I've been spending my entire life exploring the many beaches, the snow-covered mountains, and the immense city of Los Angeles, which has influenced my passion for adventure. After discovering photography, it became clear to me that I feel the most comfortable and satisfied when I am exploring in the great outdoors. Living where I do grants me easy access to so much beautiful nature, which makes me wonder if I would've picked up photography if I had lived somewhere else.
How have your experiences been outside of California?
I have just returned from my backpacking trip in Europe recently and I can say that it was an experience of a lifetime. I love to explore new places, and by bringing my camera with me on this trip, I was able to capture the beauty of how I saw these cities and sights for the first time with my own eyes.
Alex Depue: Website | Instagram
My Modern Met granted permission to use photos by Alex Depue.