Cellphone use is a staple of modern living; but, around the world, it's becoming all too apparent that people are consumed by their mobile devices, even while taking a stroll outside. Some cities in China and Europe have designed "texter sidewalks" just to clear pedestrian traffic jams. If you're not in one of those uniquely designed spaces, though, seeing groups of people with their heads down is an all-too-familiar sight.
Illustrator Andrew Rae was performing his daily weave through the phone-immersed crowds when an idea occurred to him. "I started thinking of the phones as if they're little pets or creatures and people are tickling their bellies to keep them happy," he says. "I mentioned this to my friend Ruskin one day when we were out with our two-year-olds and he liked the idea."
Andrew Rae's illustration practice—which spans editorial, publishing, advertising, animation, and murals—is driven by his love of fantasy creatures. To realize the Phone Buddies project, however, Rae contacted his friend Ruskin Kyle, who is a London-based photographer. Kyle started phase one of Phone Buddies by taking to the streets of London and photographing the phone-absorbed people he found. Subsequently, Rae was supposed to draw over Kyle's photographs based on the original idea. However, Rae said, "The phones were too small in the shot, and I couldn't get it to look like the people were holding the little creatures."
After taking time to mull over the project, Andrew Rae was then inspired by an interview with Edward Snowden and the idea of the NSA monitoring us through our cellphones. "Instead of replacing the phones," Rae explains, "I'd draw objects or creatures coming out of the phones and looking back at us. The different styles of the photograph and the drawing would make sense together, as the phone screen is like a portal where the real world and the digital world meet." Soon, Rae had drawn and colored all types of fantastical beasts emerging from people's smartphone screens. To keep the subject of the photograph anonymous, Rae consciously designed the monsters to cover their faces. The result is whimsically poignant, as viewers literally see people being drawn into the world of their cellphones, and completely unaware of their surroundings.
Andrew Rae's eccentric illustrations make Phone Buddies a visual delight, but a darker observation of technology in modern society is also undeniable.
London-based illustrator Andrew Rae draws fantastical monsters emerging from the screens of people's cellphones.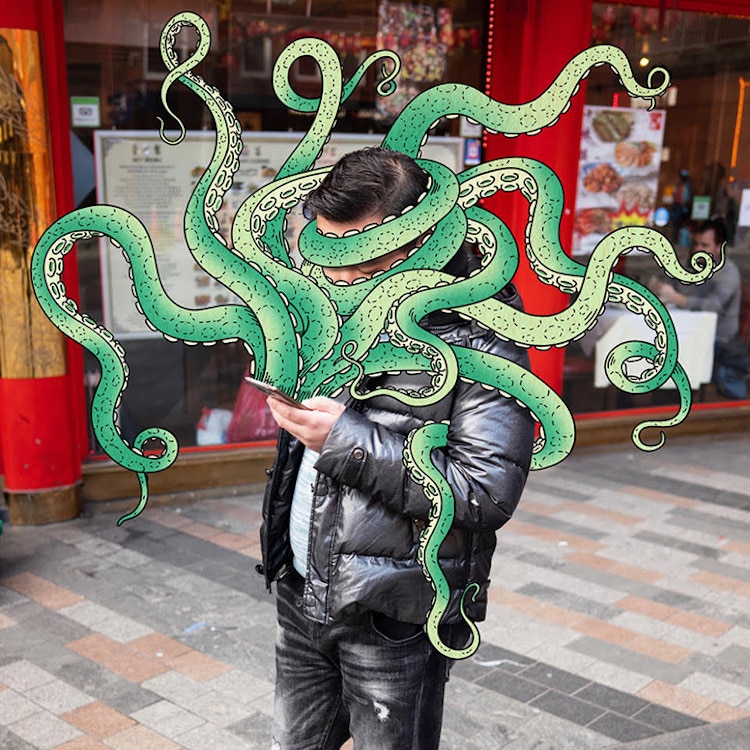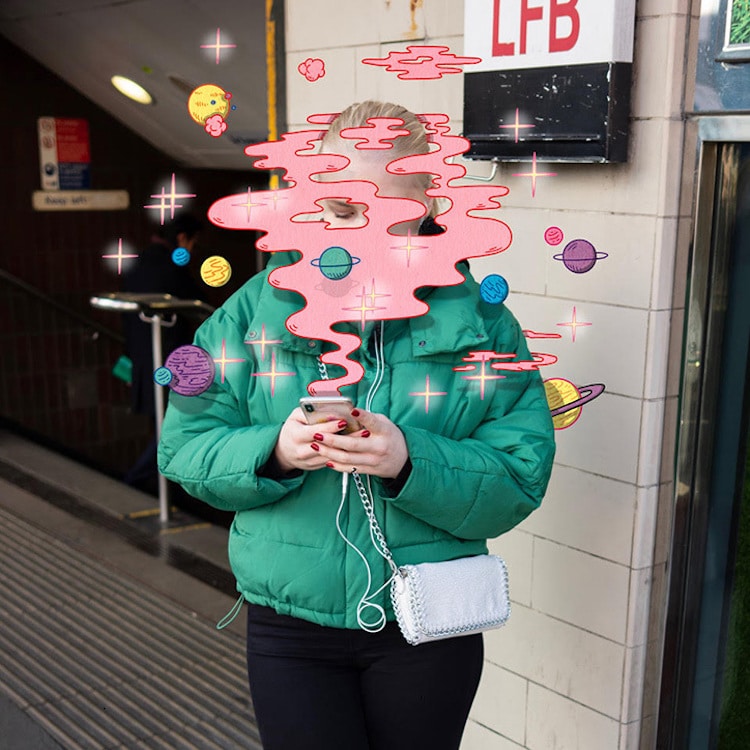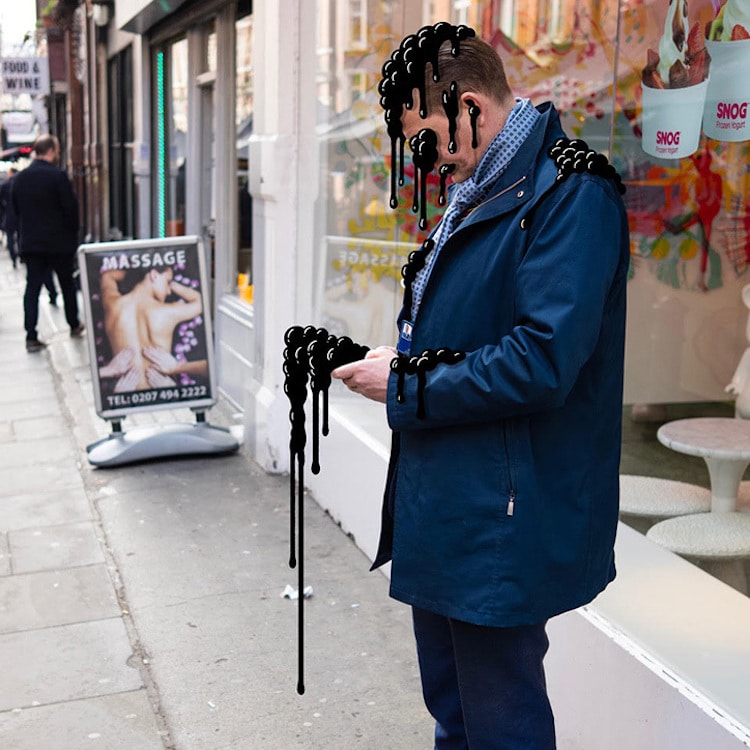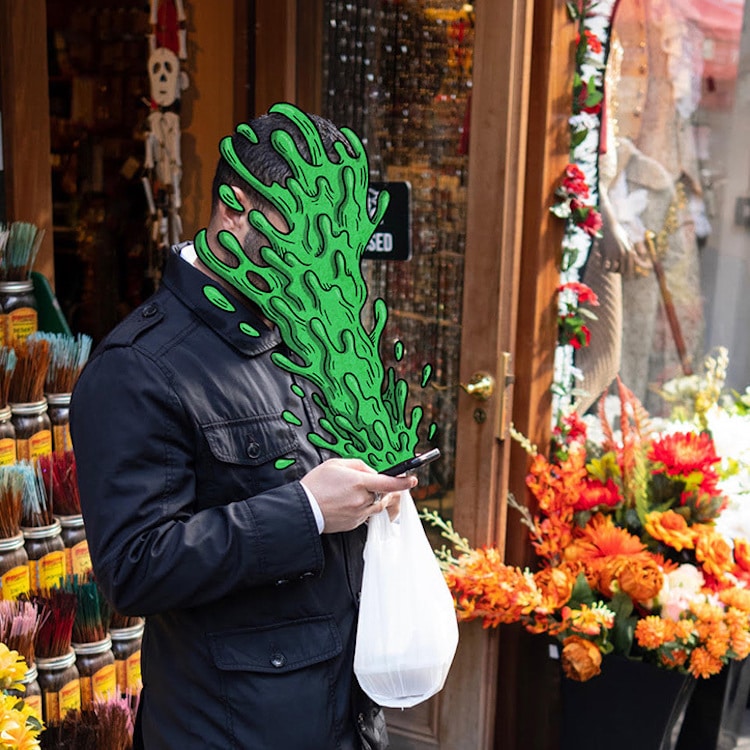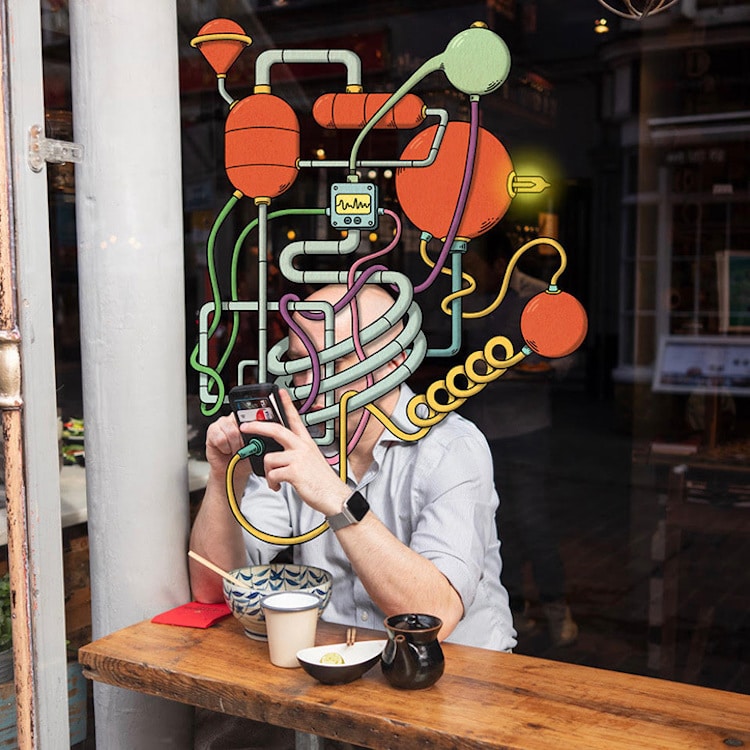 Andrew Rae: Website | Instagram | Tumblr
Ruskin Kyle: Website | Instagram | Twitter
My Modern Met granted permission to feature photos by Andrew Rae and Ruskin Kyle.
Related Articles:
Stunning Color Street Photography Captures the Spirit of Modern Tokyo
Brilliant Drawings Use Everyday Objects to Complete Imaginative Illustrations
Self-Taught Latte Artist Tops Coffee with Colorful Bird Illustrations