If you've ever watched a reality competition show, you know how exciting they can be. Seeing someone exercise their talents under immense pressure from other contestants—in addition to a crowd—is an amazing sight. But you don't have to turn on the TV to witness one of these events. You just need to find an Art Battle near you!
Art Battle is a live painting tournament that has more than 200 events a year in the United States and Canada as well as more in 60 cities around the world. Under a spotlight and in view of a cheering crowd, painters create their best work during 20-minute-long rounds. Once the time is up, the audience walks around the easels and votes on their favorite piece. The top four artists go head-to-head in the Final Round and produce new paintings on canvas. Once that concludes and the voting is done, an Art Battle winner is crowned.
We spoke with Simon Plashkes, the Co-Founder of Art Battle, about the exciting event and how you can get involved. Scroll down for My Modern Met's exclusive interview. Afterward, visit their events page to find an Art Battle and experience the art-making for yourself.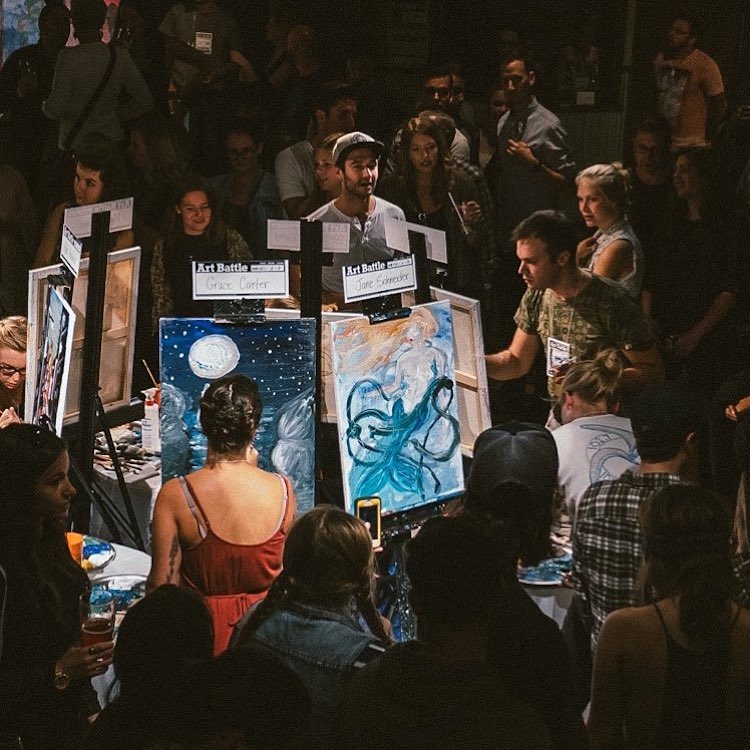 What was the inspiration for Art Battle?
It was a long time ago, the tournament as it is today took almost 20 years to realize.
In the beginning, we wanted to give the artists a direct path to share their process of creation and to let the PEOPLE decide which work they liked best (we had felt that the "ivory tower" system of the art world kept too many good artists down).
How many cities host Art Battles?
Art Battle has been hosted in over 150 cities worldwide.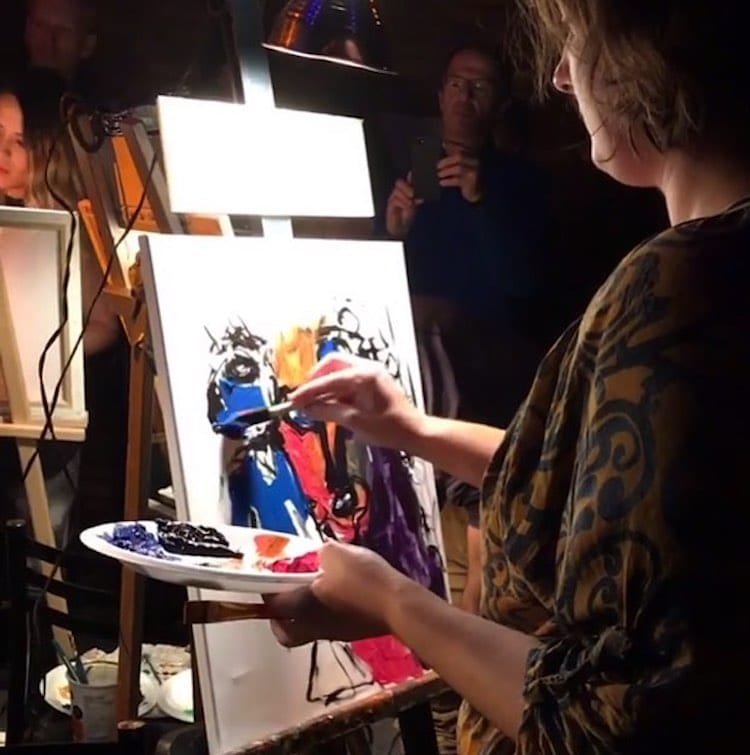 How has Art Battle changed over nearly two decades? How has it stayed the same?
The audience still votes, and has in every event we have ever had. We embrace technology more these days to help share the experience and the talent of the artists far and wide.
How would you describe the format of a tournament?
Each event is a one-night tournament of live art. Twelve artists compete in two groups (six & six) in two preliminary rounds. The audience votes for the winners of these rounds and the top four artists move on to the Final Round. All works are auctioned, and the vibe is electric with a slow tornado of art appreciation moving around the artists while DJs play and drinks are served.
How do you think the live element changes how artists paint?
For the best artists, each brushstroke is essential. The best art is created when the artist transcends some limits placed on them, our favorite Art Battle pieces reveal the essence of the artist's approach and their talent, so the artist must modify their style to be the most essential version of itself.
What's the most memorable Art Battle you've witnessed? What about it stands out?
The championships (National, World) are always incredible, but that seems like an easy answer. I think the one for me that I recall was around Art Battle #9 or #10 in the Canadian tournament series when artist Carlos Delgado (already a bit known by the community) stepped into the light as his name was called, brushes raised high, and the audience REALLY went wild. They knew him, they wanted to see what he would do and if any other artist had a chance to best him in fair competition. It was wild—true electric fandom. It was that night I knew we had to take Art Battle all across the world and share it with everyone and give all artists a chance to have that thrill.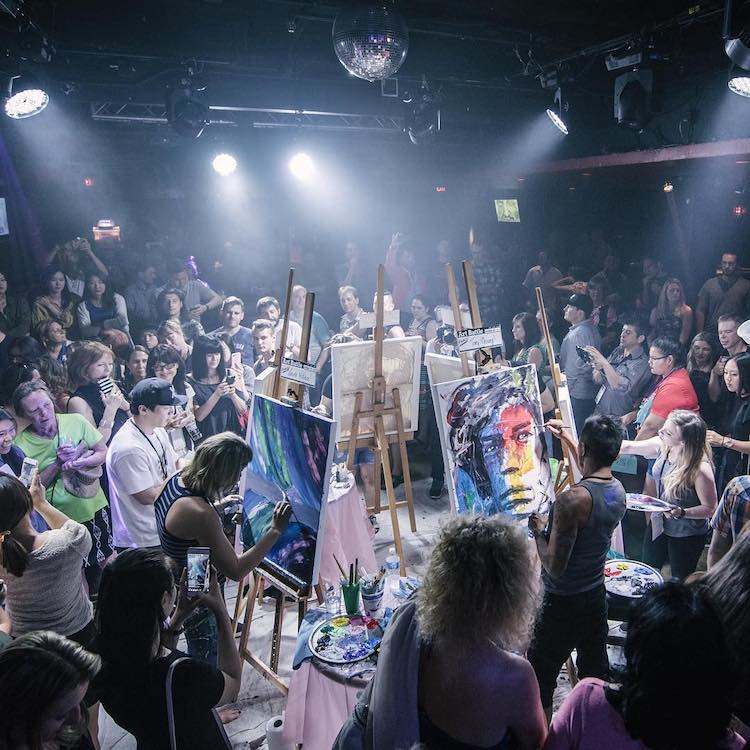 Can you describe the energy of the crowd during these events?
Art Battle in this format was built for an ADD generation. There is always something to watch, a different thing to focus on—from technique to body performance—so the crowd processes this as a sophisticated balance of fun and engagement and mirroring of the artists' energy. The kinetic nature of the event… with people moving all the time to see the works evolve is mirrored in all aspects of the event. It's a truly immersive art experience, and audiences get to enjoy it with friends as they decide who will be their Champion.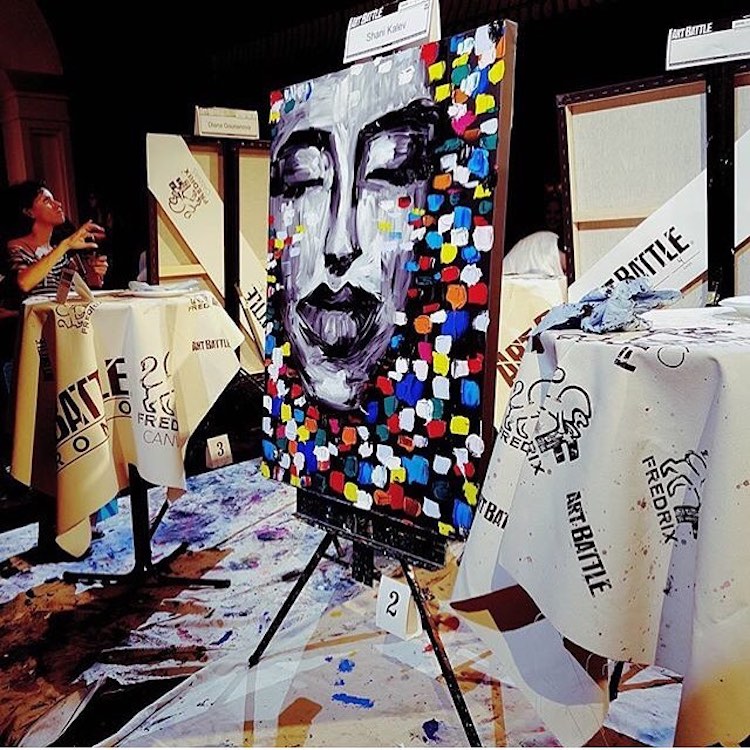 What kind of artist would you recommend to participate in Art Battle? How can they get involved?
We have recently started to open up beyond acrylic paint with new "open materials" rules—so that expands the field and kind of artists who can excel. Our competitions are essentially 2D as they are on canvas, but other than that, really any visual artist can find an essential expression of their style that can reveal some inner magic to audiences through the performance.
Watch Art Battle in action:
Art Battle: Website | Instagram | Facebook
My Modern Met granted permission to feature photos by Art Battle.
Related Articles:
Banksy's Largest Painting Is Up for Auction and Expected to Sell for Over $2 Million
Everything You Need to Know to Create Textured Paintings with Palette Knives
Interview: Finger Painting Artist Shares How She Creates Her Energetic Artwork for Solo Show