Florentine artist Sandro Botticelli is credited for his contributions to the Italian Renaissance. Widely considered one of the most prolific painters of the 15th century, he is known for his large-scale paintings of mythological subject matter, including Primavera, an allegorical celebration of spring.
This piece is one of the most important Early Renaissance works. Housed by Florence's famed Uffizi Gallery, it continues to attract viewers with its classical symbolism, elaborate composition, and delicate attention to detail.
In order to grasp its enduring significance, it's important to first understand the context in which it was commissioned and created.
Who Was Sandro Botticelli?
| | |
| --- | --- |
| | Alessandro di Mariano di Vanni Filipepi |
| | c. 1445 (Florence, Italy) |
| | May 17, 1510 (Florence, Italy) |
| | The Birth of Venus, Primavera |
| | |
| | |
Sandro Botticelli (c. 1445–1510) was a prominent Italian painter of the Quattrocento or Early Renaissance. Roughly seven years older than Leonardo da Vinci, he was one of the first artists of this era to depict humanist subject matter, such as scenes from classical mythology. Additionally, his many influential patrons, including members of the all-powerful Medici family, helped him produce an impressive oeuvre, including secular portraits and a range of religious paintings.
Commissioning Primavera
Botticelli painted Primavera around 1480. While its exact origins are debated, it is believed to have been commissioned by Lorenzo di Pierfrancesco de' Medici—a cousin of Florence's ruling family—as a gift for his new bride. During this time, art was typically commissioned for Catholic churches and civic buildings. However, Primavera was created for Di Pierfrancesco's private estate, the Villa di Castello, which was located just outside of Florence, Italy.
Along with The Birth of Venus (another larger-than-life painting), Botticelli painted Primavera after returning to Florence from Rome, where he was hired to create frescoes in the Sistine Chapel. During this time, he began to turn his attention away from Roman Catholic iconography and toward scenes from Greek and Roman mythology.
This humanist interest in ancient allegories culminated in The Birth of Venus and Primavera—two tempera paintings starring Venus and other significant mythological figures.
Analyzing Botticelli's Primavera
Venus, the goddess of love, is featured in the center of Primavera. She stands underneath an arch amidst an orange grove, clad in typical 15th-century Florence attire. Above her is Cupid, her son, who aims his bow and arrow toward the Three Graces. In mythology, this trio of sisters often represents pleasure, chastity, and beauty, though the specific identities of Botticelli's figures are not clear.
To the left of the Three Graces, Mercury—the Roman god of May—uses his caduceus, or staff, to nudge away a cluster of small, grey clouds. Known as the messenger of the gods, he is shown wearing his signature helmet and winged sandals.
On the right-hand side of the composition, Zephyr (or Zephyrus), the Greek god of the west wind, grabs Chloris, a nymph associated with flowers. In mythology, she transforms into Flora, the goddess of spring, who is depicted to the left of the pair.
Fittingly, this springtime scene is set in a mythical forest. Botticelli incorporated roughly 500 identifiable plant species in the scene, including nearly 200 types of flowers.
Primavera and The Birth of Venus
Though not intended as a diptych, Primavera and The Birth of Venus are typically viewed as a pair. Botticelli painted The Birth of Venus in 1486, a few years after Primavera's believed conception. In both cases, he employed tempera paint, a traditional medium that uses egg yolk as a binding medium. The paintings are also rendered in roughly the same scale: Primavera measures 6′ 8″ x 10′ 4″, while The Birth of Venus is 5′ 8″ x 9′ 2″.
The biggest similarity between the two pieces, however, is their subject matter. Both pieces feature Venus as the central subject. In Primavera, this figure is rendered in a relatively Gothic style; her posture is static, and she is clothed. In The Birth of Venus, however, she has adopted a move humanist position. She is also nude—an artistic characteristic Botticelli borrowed from classical painting and sculpture.
Botticelli also portrayed Zephyr and Chloris in both pieces. In Primavera, flowers spill from Chloris' mouth; in The Birth of Venus, blossoms and blooms float around the flying pair.
Flora, the goddess of spring, is depicted in both paintings as well. She is identifiable by her gown, which features a floral print and a wreath-like collar. In The Birth of Venus, she is shown covering the newly-born goddess in a red cloak similar to the one draped around her arm in Primavera.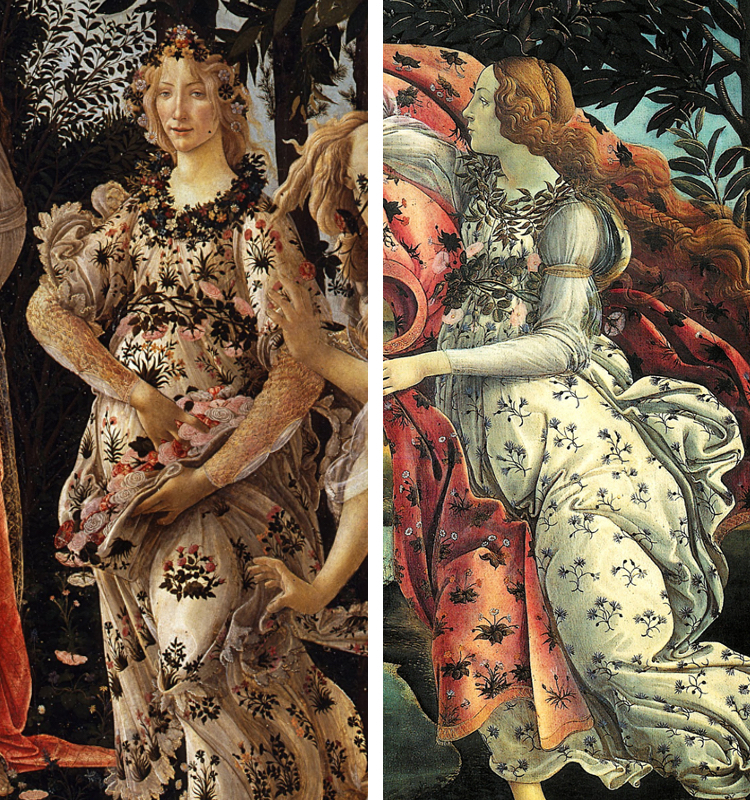 Legacy
Today, Primavera is viewed as an important work of Early Renaissance art. It remains a highlight of the Uffizi Gallery, where it has enchanted the public since it made its museum debut in 1919. Visitors to the esteemed institution can admire both Primavera and The Birth of Venus at once, as both have found a home in its famous Botticelli Room.
Books About Sandro Botticelli
This article has been edited and updated.
Related Articles:
9 Renaissance Artists Whose Work Transformed the Art World
The Mysterious History of the Marble 'Venus de Milo' Statue
The History and Legacy of Leonardo da Vinci's Mysterious "Mona Lisa"
The Story Behind the Sistine Chapel's Stunning Ceiling by Michelangelo
The Significance of Leonardo da Vinci's Famous "Vitruvian Man" Drawing