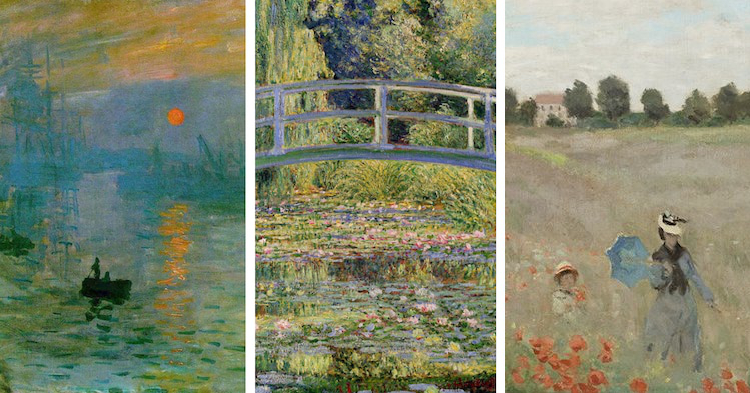 With a one-of-a-kind style and a pioneering approach to painting, Claude Monet is renowned as an influential Impressionist figure. Using distinctively dappled brushstrokes, a characteristically colorful range of tones, and a focus on light, the French artist created compositions that captured the essence of the movement, which first gained prominence in the 1870s.
Throughout his successful career as an artist, Monet created over 2,500 works. These pieces span various mediums, including paintings, pastels, and drawings. They also explore an array of subjects, from his picturesque garden in Giverny to idyllic landscapes in France. Today, these compositions are considered modern masterpieces. They're celebrated for their avant-garde departure from academic art, their experimental approach to light and color, and, of course, their aesthetic beauty.
Here, we explore some of Monet's most memorable paintings, from his earliest Impressionist encounters to pieces produced in his final years.
The Painting That Started it All
Impression, Sunrise
Painted in 1872, Impression, Sunrise depicts a harbor in Monet's hometown of Le Havre. With a focus on light and color, the piece portrays a hazy sunrise's effects on the water. The silhouettes of 2 rowboats are featured in the foreground, while the background is made up of ships' and smokestacks' vague silhouettes.
This iconic painting not only gave rise to the Impressionist style, it inspired the movement's now-household name. Impression, Sunrise was included in Exhibition of the Impressionists, an 1874 show that rejected the rules of the beaux-arts ("fine art") and instead independently showcased work by artists like Degas, Renoir, Pissarro, and Sisley. This exhibition provided a prominent platform for the movement and introduced the public to Impression, Sunrise.
Impressions of Giverny
The Japanese Bridge
From 1883 until his death in 1926, Monet lived in Giverny, an idyllic commune in Northern France. Here, he transformed the space surrounding his home into beautiful, oriental-inspired gardens, complete with colorful flowers and a pond adorned with a Japanese bridge.
This beautiful green footbridge is the subject of some of Monet's most well-known compositions, including The Japanese Bridge (The Water-Lily Pond) from 1899. In addition to capturing the simple elegance of the sunlit structure, the piece also places focus on his garden's foliage, including weeping willow trees, lush lavender, and floating water lilies.
Water Lilies Series
Monet's Water Lilies series is perhaps his most famous work. Composed of roughly 250 oil paintings, Monet created and compiled this collection during the last 30 years of his life. Often painted en plein air ("outside"), the pieces depict different scenes from his garden, with a focus on shifts in light, seasonal changes, and variation in color.
Given the artistic attention Monet gave to his water lilies, it is no surprise that, even above his most cherished canvases, he valued his flowers. "My garden," he famously said, "is my most beautiful masterpiece."
Studies of Light
Haystacks Series
As evident in his Water Lilies series, Monet was mesmerized by natural light and its effects. In his Haystacks series, the artist presents 25 studies of sunlight's aesthetic impact on bundles of cultivated wheat, oats, and barley.
The paintings were completed at numerous points throughout the day and year, and during different weather conditions. This deliberate range in context culminates in pieces that are similar in subject matter and composition but vary widely in color and tone.
Parliament Series
This attention to changing light is also apparent in Monet's paintings of Parliament. Inspired by trips to London from 1899 through 1901, the series of 25 paintings depicts the Palace of Westminster as seen from a second-floor terrace of St. Thomas Hospital.
In each piece, Parliament is portrayed as a shadowy silhouette. Rather than focus on the details of the palace itself, Monet opted to concentrate on the colors of the sky and its striking reflections on the River Thames. Perhaps it is this repetitive approach to tonality that prompted Monet to confess that color is his "day-long obsession, joy and torment."
Rouen Cathedral Series
Completed in the 1890s, Monet's Rouen Cathedral series showcases over 30 paintings of a gothic church in Rouen, France. The ornate reliefs featured on the cathedral's façade result in a rich network of shadows and highlights that undoubtedly attracted Monet.
Like his Haystacks and Parliament series, Monet's collection of cathedral studies conveys the artist's enduring interest in capturing changing impressions of light. Unlike his other depictions, however, his Rouen Cathedral studies place emphasis on the structure itself—not on natural features like the sky or bodies of water.
Everyday Life in France
Woman with a Parasol
A portrait of Madame Monet and the couple's young son, Woman with a Parasol (1875) was painted in Argenteuil, where the family lived from 1872 through 1878.
With animated brushstrokes and an energetic composition, the painting was likely completed outdoors. Though his wife—clad in a windswept gown and holding a pretty green parasol—is the focal point of the piece, her surroundings also play a prominent role in the composition. Monet's fascination with the natural world is particularly apparent in his treatment of the grass and flowers, which are meticulously dappled with sunlight and shadows. "The richness I achieve comes from nature," Monet explained, "the source of my inspiration."
Poppy Field
Like Woman with a Parasol, Poppy Field (1873) portrays Monet's wife and son as they explore the outdoors. This piece also showcases Monet's interest in nature, as evident in the prominent field of poppies and focus on the receding landscape.
Additionally, Poppy Field exhibits a colorful tendency toward including "pops" of red in a composition, which Impressionist artists often employed.
The Saint-Lazare Station
In 1877, Monet painted The Saint-Lazare Station, a piece that captures the hustle and bustle of a busy Parisian train station. Like most of his compositions, this work of art conveys a focus on light, though movement—particularly in the locomotives' billowing steam—also prominently features.
This painting marks a fascinating shift in the artist's career, as it introduced the urban landscape into his body of work and subsequently elevated the artist to a painter of modern life—a title he retained for the remainder of his career.
Related Articles:
20+ Brilliant Quotes About Art From Famous Artists and Great Creative Minds
Iconic Artists Who Have Immortalized Themselves Through Famous Self-Portraits