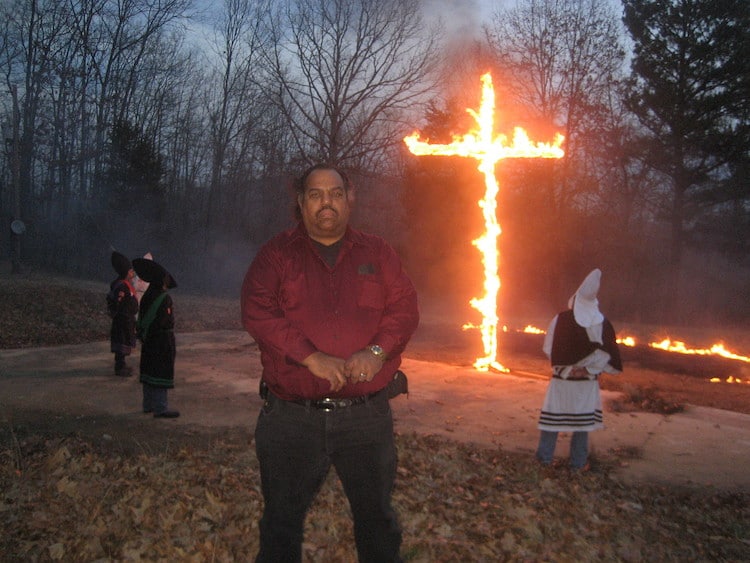 In a time when it seems like our differences are dividing us rather than uniting us, jazz musician Daryl Davis is taking a different stance. The accomplished musician has traveled the globe leading his group, The Daryl Davis Band, as well as performing with Chuck Berry, Sam Moore, Percy Sledge, Elvis Presley's Jordanaires, and more. And while he's performed alongside Jerry Lee Lewis and former President Bill Clinton, it's his work in race relations that has left his most inspiring mark.
Since the 1980s, Davis has been seeking out and befriending openly racist members of the KKK and neo-Nazi groups. Through the strength of his convictions and character, putting himself in a position few would dare, his friendship has caused more than 200 Klan members to leave the racist organization.
In 1998 Davis published his book, Klan-Destine Relationships, which documents his experiences as a Black man tackling racism one step at a time. An updated version of the book is in the works, and will be released in 2017. Davis' work reminds us that every individual can make a difference and impact their neighbors. Instead of running from hate, he has embraced it, and combatted it with informed, peaceful engagement to great success. We had the privilege of speaking with Davis about his incredible work and how he feels others can carry on this legacy.
Can you tell us a bit about your background as an activist?
Music is indeed the universal language and unites people. As a Black man, of course I have experienced racism. But I have seen how even racists enjoy music. Even those in my audience, including members of the Ku Klux Klan. So, I took it upon myself to get to know them and as a result, I stumbled upon a method of engagement that influenced many of these people to rethink their beliefs.
Ultimately, many of the ones I would encounter ended up leaving those movements after coming to know me. I would not say that I set out to convert them. I set out to learn about them and they ended up converting themselves. As I saw this happening more and more, I decided I owed it to my society and those who worked hard before me, to do what I could to help improve race relations. I then began seeking out more and more people with a racist mindset. Many of these people included KKK and neo-Nazi members.
What started you on this path?
There were several racist incidents in my life as a child that pushed me in this direction. Not one specific one, but several specific ones, from having rocks thrown at me while marching in a Scout parade, being told by the head of the American Nazi Party that he was going to ship me back to Africa, to racist encounters with police officers and the list goes on and on.
What role do you think music has in bridging racial gaps?
No doubt, you've heard the cliché, "Music soothes the savage beast." It is very true. As I stated, most people enjoy music. I have had KKK members approach me and compliment me on my musical performances. Later, they reveal they are Klan members and I engage with them.
Can you share a bit about the first time you ever spoke with a member and convinced him to leave?
In most of my encounters with Klan members, we would discuss reasons for why they were members in the first place. Then I would cite various facts about how the role of the organization throughout history has been a negative one, initially for others, but even for them.
As our relationship would grow, they would begin questioning their own belief system and eventually decide they were wrong to remain in the organization. I always treated them with respect. That is not to be confused that I respected what they stood for, but I respected them as human beings. I also proved that I knew a lot about their organization, on many occasions, I knew more than they did. That upped their respect for me.
Have you ever been physically harmed during your encounters?
While I have had some violent encounters, I have not personally been physically harmed. However, in some cases, to prevail, I have had to harm my attackers and have them arrested. I would prevail again in court when I would then bring charges against them.
How do you come across the members you engage with?
I pretty much know who they are or other people will tell me. In some cases, they have received publicity for something they have done, usually negative, and I seek them out.
What strategies have you developed through the years for dealing with people who may be openly hostile with you?
By treating them with respect as human beings despite the fact I may not respect their beliefs, but I am willing to listen. I have a vast knowledge of the subject and know it as well if not better than those with whom I engage. This causes them to also respect me for my knowledge regardless of the fact they disrespect me for the color of my skin. Over time, many began shedding their racial animus toward me and others who look like me.
Is there a particularly memorable incident you've had when convincing a member to abandon the group that you'd like to share?
There have been many memorable incidents when someone has decided to leave and I see the light bulb come on in their heads. As stated before, I don't try to convince them. I simply engage them and present an open honest environment. As they let down their defenses, they come to their own conclusion to renounce their beliefs. It is a pretty amazing thing to witness.
Have you found a common denominator in the members, in terms of where their beliefs come from?
A Klan member is not stamped from a standard cookie cutter. They come from all walks of life and various education levels and environmental situations which have led to their decision to join the Klan. The one common denominator that all share is lack of exposure to others who may not look like them or believe as they do. Those who will say they know Blacks or Jews, usually will cite a bad experience and stereotype the entire people. I break the stereotype and they are forced to confront that and question their beliefs.
Have you maintained contact with former members over the years? If so, what is your relationship?
Absolutely. When you make friends with me, you have a friend for life.
You've been doing this work since the 1980s. With the Black Lives Matter movement and continued violence against minorities, do you have any words of encouragement for the younger generation?
Yes, stop being hostile if that is the method you are using. Lead by example. Rather than talk "about" people and talk "at" people, try talking "with" people. If you spend 5 minutes with your worst enemy, you will find that you have something in common. If you spend 10 minutes, you will find even more in common. Start building on those commonalities and you will begin to see the things they have in contrast with you, will begin to no longer matter.
When two enemies are talking, they are not fighting. They may be disagreeing by yelling and screaming and pounding their fists on the table to make their point, but at least they are talking. It's when the talking ceases, that the ground becomes fertile for violence. So, keep the conversation going. As a younger generation, you have access to many more tools, information and knowledge than your predecessors. Use it rather than resort to violence and destruction.
Anything else you'd like to share with our readers?
I enjoy making friends and hope the readers of this article will be inspired to also take steps to better the society in which they reside and their personal relationships with those around them by trying some of my methods. Your readers are welcome to visit my website and feel free to contact me at [email protected]. Thank you for engaging and inspiring your readers.
Daryl Davis: Website
My Modern Met granted permission to use photos by Daryl Davis.