Cape Town-based photographer Johnny Miller shows the gap between the rich and the poor quite literally with his photo series Unequal Scenes. Captured using an Inspire 1 drone, Miller's images highlight the physical differences between the living situation of South African residents, where the picturesque homes and the tin shacks are separated by nothing more than a line down the middle. Although specific details are obscured from the aerial perspective he offers, the line of segregation and dramatic inequality remains strikingly clear.
Miller was first intrigued by his country's particular architectural development that occurred during apartheid, as buffer zones such as rivers and empty lands were established to keep racial groups completely separated. 22 years later, this split still exists, as extreme wealth and squalor persist side-by-side. After purchasing his drone, Miller had the idea to explore this concept from a novel perspective, investigating the complex social issues from way above. Through his work he aims to "disrupt that sense of complacency that [he feels] and that a lot of privileged people in Cape Town feel."
His series pinpoints the extreme poverty and stark differentiation between social classes, shining a light on the deplorable living conditions of millions of people throughout the country. Through his work, Miller hopes to strike up a peaceful yet constructive dialogue about the topic, while inspiring others to make use of their technology to find alternative ways to creatively share stories around the globe. In early August, Miller is set to have an exhibition of his images in Johannesburg; in the meantime, he is open to ideas of partnership and collaboration on his ongoing project.
Above: KYA SANDS / BLOUBOSRAND
HOUT BAY / IMIZAMO YETHU
MASIPHUMELELE / LAKE MICHELLE
PAPWA SEWGOLUM GOLF COURSE
STRAND / NOMZAMO
VUKUZENZELE / SWEET HOME
VUSIMUZI / MOOIFONTEIN CEMETERY
ALEXANDRA/SANDTON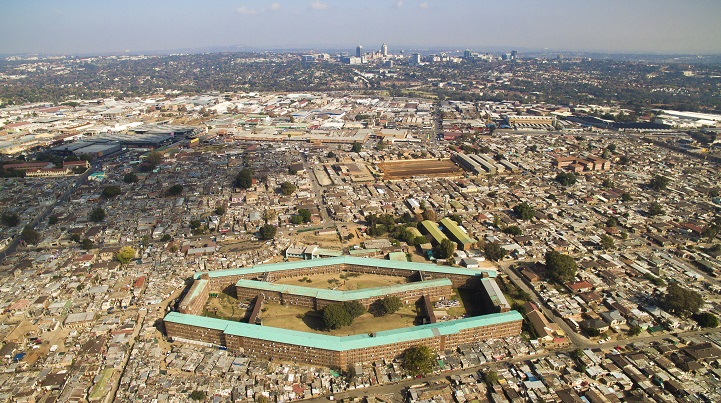 Johnny Miller/ Millefoto: Website | Facebook | Twitter | Youtube
My Modern Met granted permission to use photos by Johnny Miller.