Imagine the streets of New York City at the turn of the 20th century. Horse-drawn buggies share the road with brightly colored automobiles. Women, donning large bustles and matching millinery, amble beside their suited beaus as they make their way into department stores. Now you can see these historic scenes (and many more) brought to colorful life thanks to YouTuber Denis Shirayaev and his work spent restoring a short black-and-white film titled A Trip Through New York City.
Also known as New York 1911, the footage documents everyday life in the Big Apple as captured by the Swedish newsreel company Svenska Biografteatern. It was first restored and displayed by the Museum of Modern Art for a 2017 exhibition of Svenska's entire travelogue series.
Shiryaev edited the film even more by increasing its framerate to 60 frames per second, turning the resolution to 4K, and enhancing its sharpness. These tweaks make the film feel more representative of the real world, but it's his colorization that takes it to another level. To add the hues, Shiryaev used Deoldify, which is an open-source AI tool that takes black-and-white images and converts them to color.
Look for iconic sites like the Flatiron Building and Battery Park when you watch A Trip Through New York City below.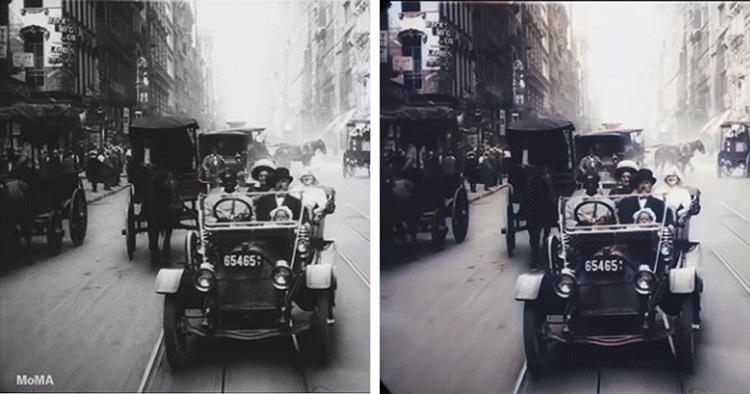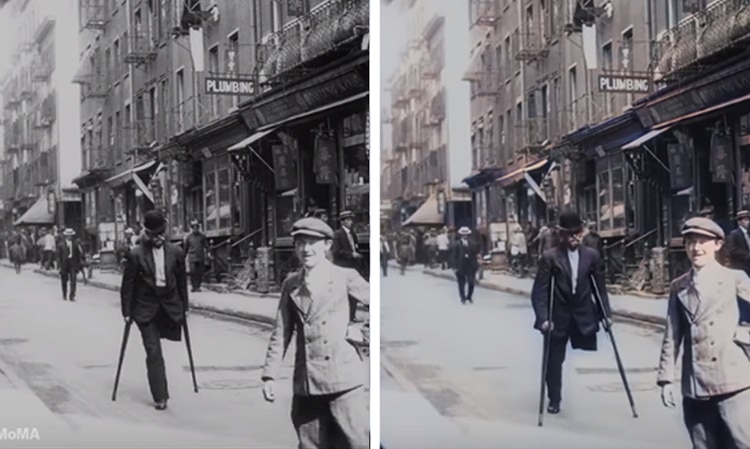 Here's the original New York 1911 footage restored by the MoMA…
… and Shriyaev's colorized updates.
Denis Shiryaev: Instagram | YouTube
h/t: [PetaPixel]
All images via YouTube.
Related Links:
100-Year-Old Color Photos Show a Rare Polychromatic Glimpse of World War 1
The Very First Color Photographs of the United States
History Comes to Life Through Beautiful Colorized Photographs
Colorized Photos Breathe New Life Into Famous Faces From History