Self-taught artist Katie Marks crafts ceramic coffee mugs that transcend their practical use and double as sculptural works of art. Saying that "the world inspires her," she adorns the vessels with layers of spectacular crystals and swirling galaxy glaze. Though her popular shop Silver Lining Ceramics, she dazzles her fans with her imagination and use of color—so it's no surprise that her work often sells out shortly after it's listed.
Marks' venture into a ceramics career seems almost destined. "I have always loved clay," she explains, "it has been my medium of choice since I was a little girl. Even though college wasn't an option for me I knew that I wanted to learn the art and craft of clay. I took one class as my local community college and I was hooked." After finding a pottery wheel on Craigslist, she taught herself how to throw. Eventually, she got a job as a studio assistant to a production potter, and it's here that she learned everything from glaze chemistry to kiln firing.
"I love the fact that I can take a lump of dirt and turn it into something unique and beautiful from my brain," Marks says. To create these pieces, she first throws a piece on the wheel and then spends hours "hand forming each crystal." The results are custom ceramic coffee mugs that are truly one of a kind.
You can elevate your everyday cup of coffee by visiting the Silver Lining Ceramics Etsy shop. To see what Marks is currently working on (and soon selling), follow her on Instagram.
Artist Katie Marks handcrafts custom ceramic coffee mugs that are inspired by the world at large. Much of her work features crystals…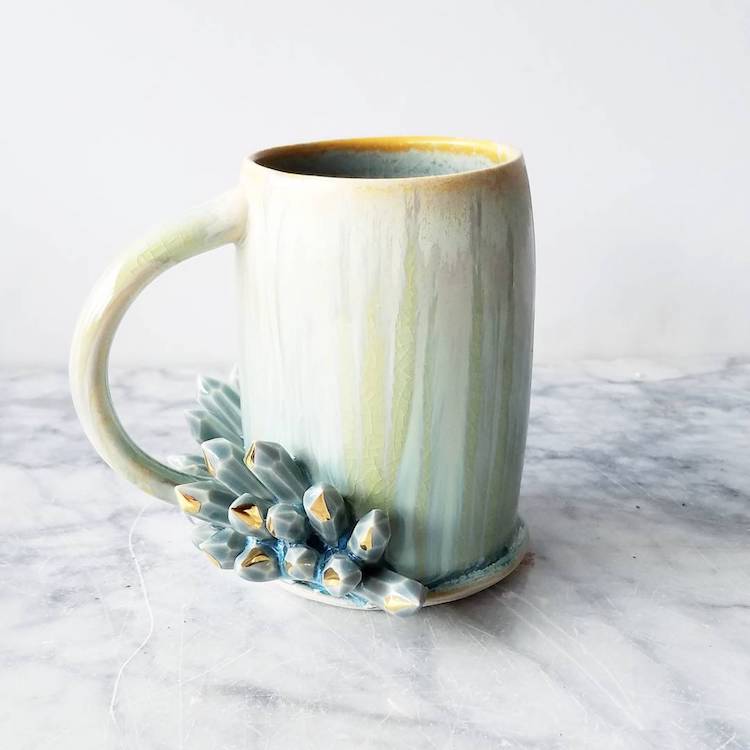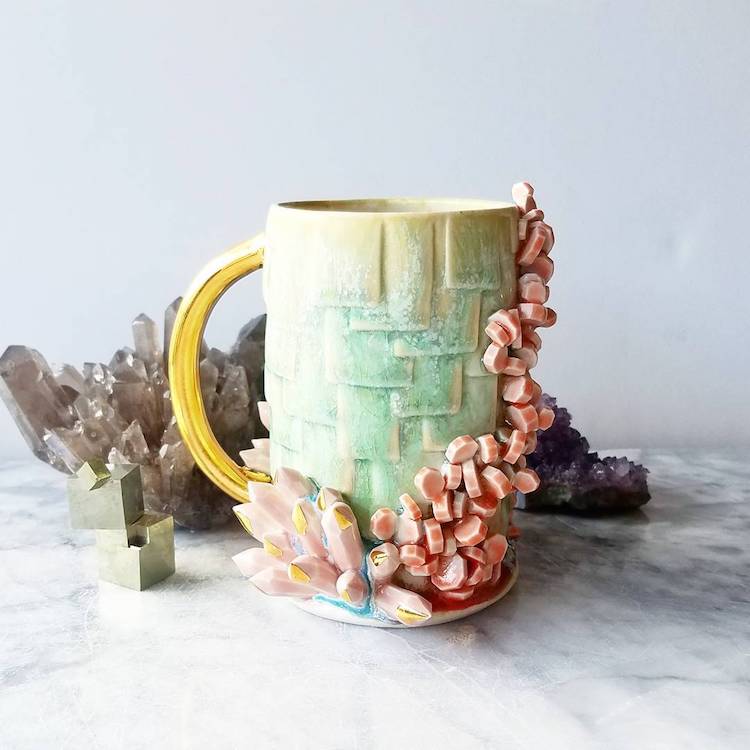 … as well as the brilliant swirls of the galaxy.
Silver Lining Ceramics: Etsy | Instagram
My Modern Met granted permission to use photos by Katie Marks.