The leader in drone technology, DJI, has unveiled not one, but two new models. As follow-ups to their popular Mavic Pro drone camera, the Mavic 2 Pro and Mavic 2 Zoom are serious improvements to their predecessor. Drone photographers and videographers will like what they see, as DJI has listened to consumers who asked for "a drone that feels like a DSLR in the sky."
More than a minor upgrade, the Mavic 2 models are a major overhaul. In the two years since the Mavic Pro was released, DJI set about improving the camera performance, flight time, noise level, and much more. The compact, foldable models are powerful drones that, while easy to use, deliver high performance.
While the Mavic 2 Pro is more geared for photographers and the Mavic 2 Zoom designed for videographers, they share many commonalities. Both have a maximum flight time of 31 minutes at top speed (44 mph), 10 sensors for obstacle avoidance, compatibility with DJI Goggles, and are able to shoot 4K video at 100Mbps.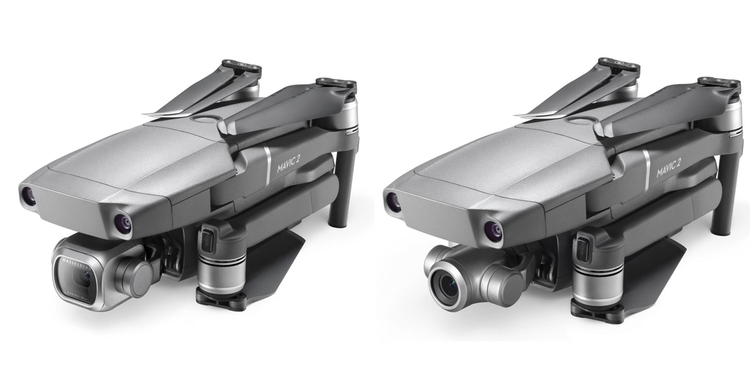 Additionally, both models include new features like enhanced HDR photos, a low-light setting called HyperLight, an H.256 codec for higher image quality in videos, and Hyperlapse, which automatically creates time-lapses from still images. The inclusion of a 3-axis gimbal ensures smooth, professional footage in even the toughest weather conditions.
The Mavic 2 Pro and Mavic 2 Zoom both use the new OcuSync 2.0 transmission system, which provides 1080p video transmission from up to 5 miles away. The system also allows you to edit and upload full high definition resolution footage directly to social media from the cache and original images from the flight can be saved to your phone without having to download them from the aircraft.
Now that we've gone over some of the shared features, let's break down each model individually.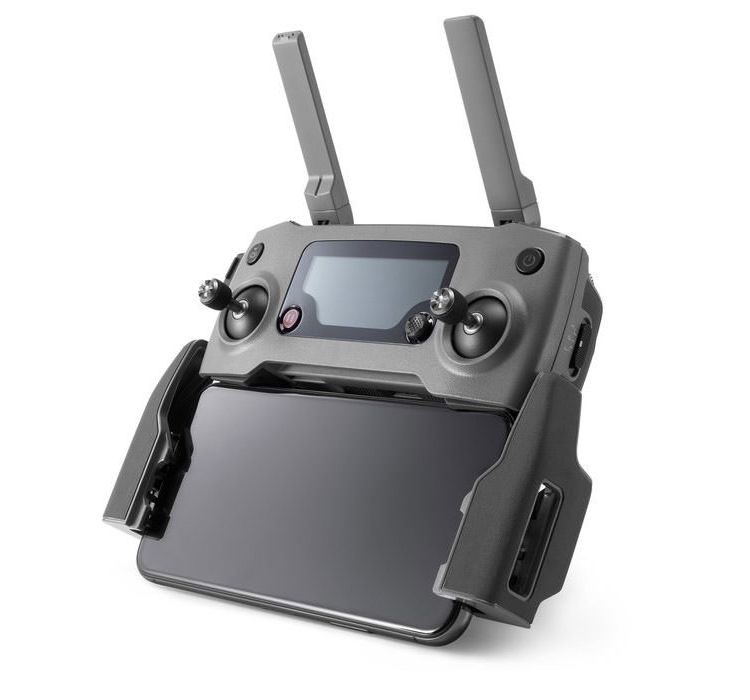 Mavic 2 Pro
The Mavic 2 Pro's main feature is its camera, which is the fruit of a two-year collaboration between DJI and Hasselblad. DJI is rumored to have bought a majority interest in the legendary Swedish camera maker in 2017. Now, the Mavic 2 Pro comes equipped with a Hasselblad L1D-20c camera that includes Hasselblad Natural Colour Solution (HNCS) technology. DJI states that this helps "capture gorgeous 20-megapixel aerial shots in stunning color detail."
Another major improvement is the image sensor, which has an active sensing area four times the size of the original Mavic Pro. The 1-inch CMOS sensor allows for better performance in low light areas and a great ISO flexibility. The drone's max ISO is now 12800, a major improvement over the 3200 max ISO of the previous model. Lastly, the adjustable f/2.8-f/11 aperture gives great flexibility for shooting in any lighting condition.
The Mavic 2 Pro retails for $1,449.
Mavic 2 Zoom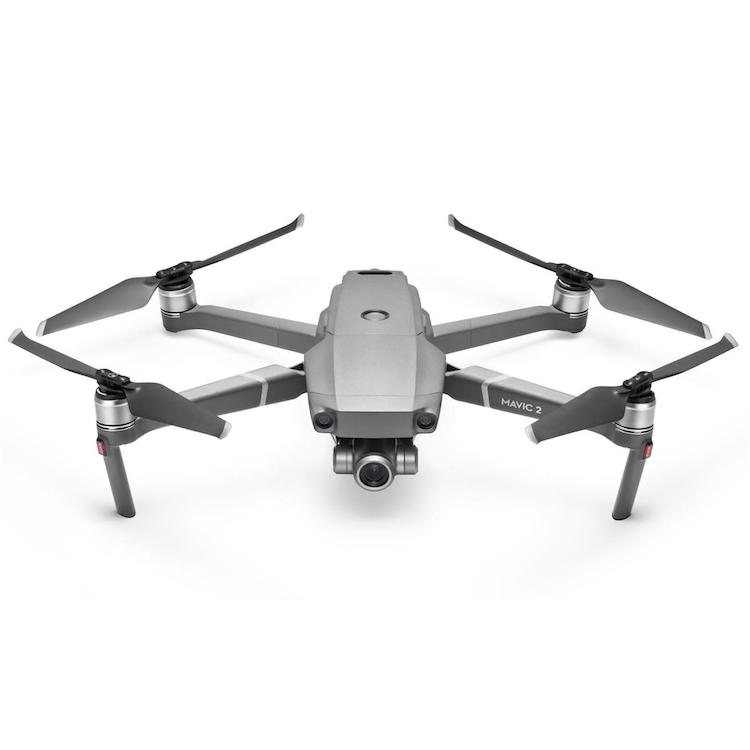 The Mavic 2 Zoom was designed to give dynamic perspectives. Its 24-48mm optical zoom camera arms operators with a wide range of creative options, from wide angle to mid-range shots. Powered by a 1/2.3-inch 12-megapixel sensor, the Mavic 2 Zoom also has 4x lossless zoom while shooting in full HD video. This allows videographers to maintain a safe distance from cars, animals, or people without sacrificing image quality.
Other fun features? The 48mm telephoto lens compresses perspective, creating an enhanced parallax effect for a cinematic touch. Dolly Zoom is a new Quickshot feature that automatically adjusts focus while flying, for even more creative effects. And, by patching together 9 images taken with a 24mm field of view, the Super Resolution feature creates one 48-megapixel photo. DJI boasts that "compared to ordinary panoramas, the super resolution photos retain the original look of the shooting targets with a more accurate composition."
The Mavic 2 Zoom retails for $1,249.
DJI: Website | Facebook | Instagram
h/t: [PetaPixel]
All images via DJI except where noted.
Related Articles

:

Nikon Unveils Its Long-Awaited Line of Full Frame Mirrorless Cameras

The Leica M10-P Is the Iconic Brand's Quietest Camera Ever

Shocking Aerial Photos Highlight Wealth Inequality in Cities Worldwide

Stunning Aerial Photos Showcase the Dazzling Buddhist Temples of Myanmar