The day has finally arrived. After years of anticipation, Nikon revealed not one, but two, full frame mirrorless cameras. The highly anticipated Z Series is Nikon's entry into the field, as it looks to take back part of the market Sony is currently dominating. During a global launch event, the Japanese firm announced the Nikon Z7 and Nikon Z6 cameras, as well as three lenses and a lens adapter.
"Welcome to a new era of Nikon imaging. A system born from our unending quest for perfection. A system that opens a new dimension of possibilities," says Nikon. "A system inspired by our past but designed for tomorrow." The Z Series features a new, larger diameter lens mount that will unlock future possibilities in lens design and increase optical performance. Nikon hopes that these new tools will help creatives reach new heights in their work. It is a strong statement that the company is ready to invest in the mirrorless market.
The Z7 is billed as Nikon's flagship model, with 45.7 effective megapixels and an ISO range of 64-25600. But the Z6 is no slouch either, with 24.5 effective megapixels, an ISO range of 100-51200, and 4K UHD movie recording with full pixel readout. Each model is equipped with backside illumination and a hybrid AF system that covers 90% of the imaging area.
Other interesting features that cross both models are in-camera vibration reduction and a silent photography function that eliminates shake and noise caused by the shutter. In terms of lenses, the Z mount as a 55 mm inner diameter and a 16 mm flange focal range that allow for apertures up to f/0.95. Photographers can invest in one of three new lenses, a standard zoom (Nikkor Z 24-70mm f/4 S), a wide angle prime (Nikkor Z 35mm f/1.8 S), or a standard prime (Nikkor Z 50mm f/1.8 S). Nikkor F mount lenses can also be used with the system via the new Mount Adapter FTZ.
Nikon doesn't look to be holding back when it comes to lens development. They are already working on their next release, which they are billing as the fastest lens in Nikon's history. Currently called the Nikkor Z 58mm f/0.95 S Noct, the lens will be a large aperture standard 58 mm prime focal-length offering positioned at the top of the S line. The timeline has its release set for 2019, with five other S line lenses to follow throughout the year.
Both models and all lenses are available for pre-order. The Z7 ($3,400) will be released on September 27, while the Z6 ($1,996) will arrive in stores late November. The Nikkor Z 24-70mm f/4 S ($1,000) and 35mm f/1.8 S ($850) will also hit stores on September 27, with the 50mm f/1.8 S ($600) available in late October. Finally, the Nikon Mount Adapter FTZ will be released on September 27 for $250.
For those in the New York City area, Adorama will be holding a launch event on August 27, 2018 from 6 pm to 8 pm EST at its 42 W 18th St location. Nikon staff will be on hand with the new cameras, lenses, and mount adapters for the public to try out. And if you can't make it, there will be a virtual panel discussion with Nikon Ambassadors on August 26 from 6 pm to 7 pm EST. Professional photographers Dixie Dixon and Jerry Ghionis will go over their experience using the new full frame Z7.
Nikon Z Series Full Frame Mirrorless Cameras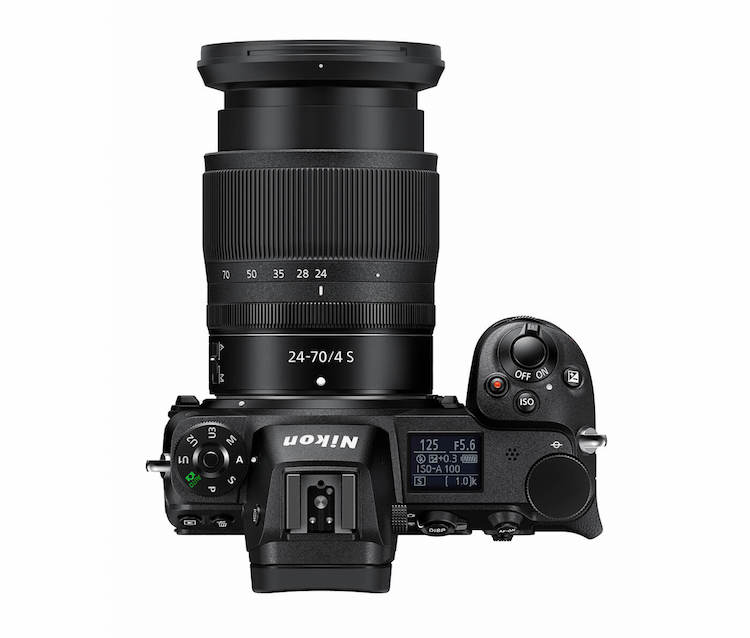 Before we look at the differences between Nikon's two full frame mirrorless cameras, let's talk about their similarities—there are a lot of them. Both use Nikon's quick EXPEED 6 for image processing and are built with large grips that should please some professionals who complain about Sony's models feeling too small in their hands.
The electronic viewfinders have 3.69 million-dot resolution, for a crystal clear view and minimal blackout during fast shooting. Photographers can pull up a menu and adjust settings like ISO and AF-area mode while looking through the EVF. Below is a tiltable touchscreen that can be used to focus and even fire the shutter.
They have a single slot for XQD memory cards instead of the more common SD cards and use the standard Nikon EL15 battery. Both cameras also have Nikon's first in-camera vibration reduction system, can shoot 4K Ultra HD footage, are compatible with Nikon DSLR accessories, have an intervalometer for time lapses, and built-in WiFi.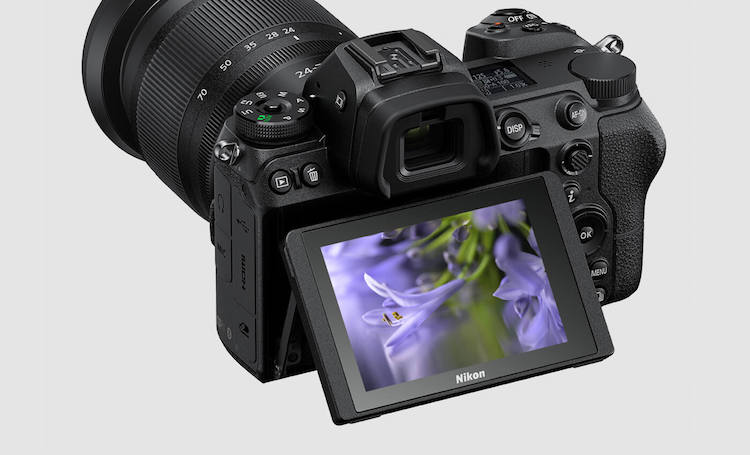 Nikon Z7
The Nikon Z7 is the company's flagship model, boasting a 493-point autofocus system and a whopping 45.7-megapixel full-frame sensor. Engadget notes that if you're primarily using it for video, the Z6 may be for you, as the "Z7 records 4K at an APS-C crop instead of using the full frame without binning, like the Z6."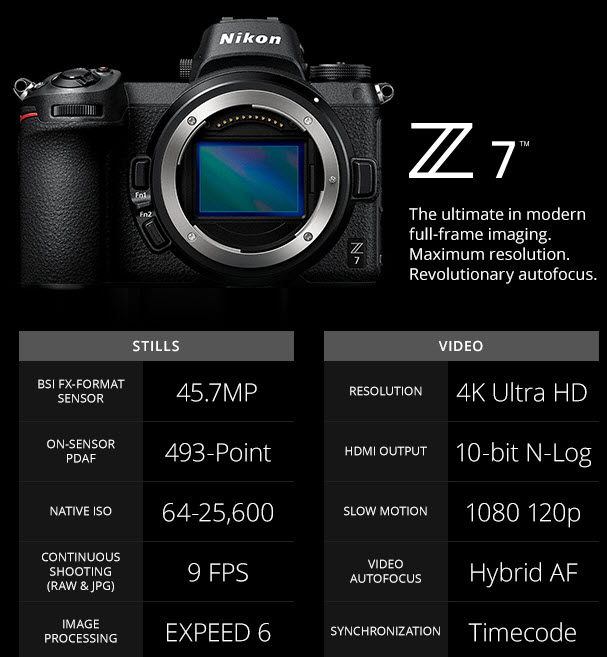 Nikon Z6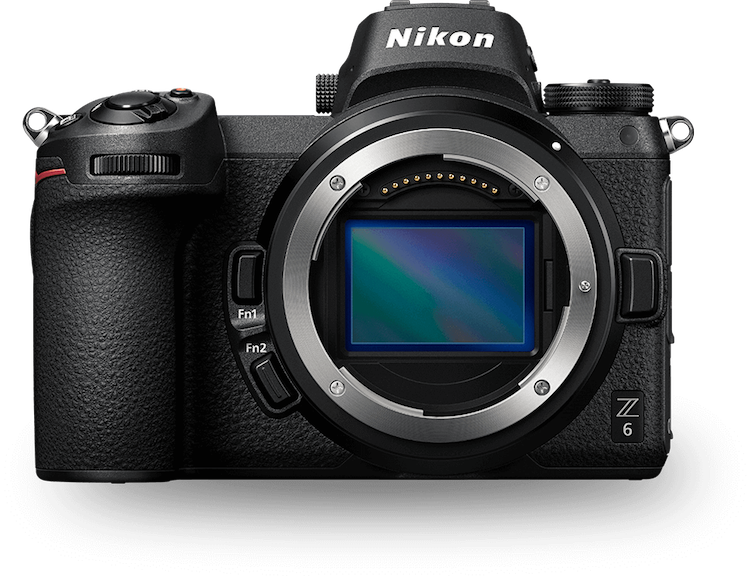 The Nikon Z6 is the more affordable mirrorless option, but retains many of the features of the Z7. The Z6 has a 24.5-megapixel sensor and a 273-point autofocus system.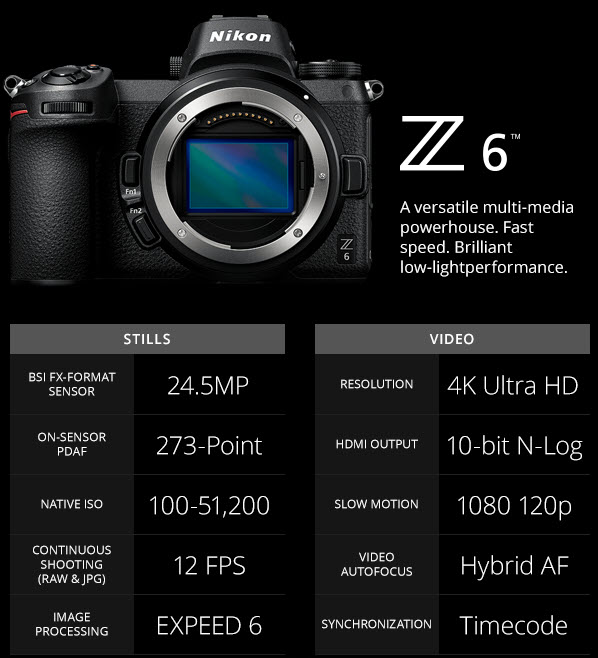 Want to know more? Check out DPReview's first impressions of the Z7.
All images via Nikon.
Related Articles

:

The Leica M10-P Is the Iconic Brand's Quietest Camera Ever

Sony's Mirrorless Cameras Winning Over Pro Photographers

New Website Lets You Easily Find the Best Prices on Used Camera Gear