June 8 marks World Oceans Day—a global celebration of the lungs of our planet, and all the creatures who inhabit it. The worldwide movement aims to raise awareness of the importance of ocean conservation and sustainable actions to counteract the effects of global warming and pollution.
Many people around the world are doing their part to save our seas, including contemporary artists. Through their art, they create powerful visualizations that pay homage to the beauty of the ocean, but also showcase the devastating effects of human impact. From textile art and ceramics to painting and paper sculptures, read on to discover the work of 6 artists who promote ocean conservation.
Artists Who Raise Awareness About Environmental Issues with Their Art
Vanessa Barragão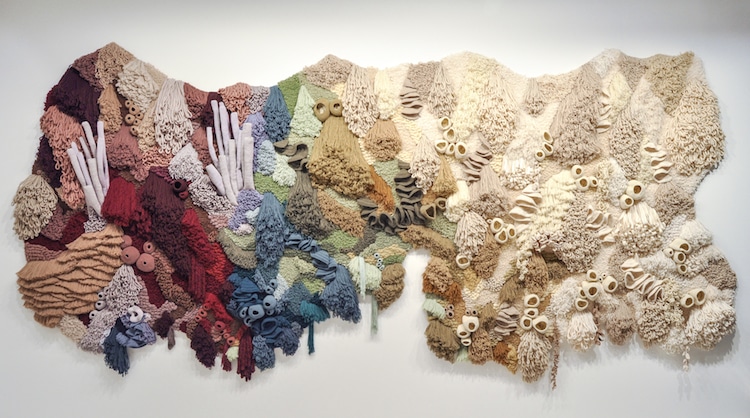 Portuguese artist Vanessa Barragão creates textile rugs, large-scale tapestries, and wall hangings that address the huge scale at which the textile industry pollutes the ocean. Every piece is handmade using discarded textile waste and a variety of techniques, including crochet, latch hook, hand-tufting, embroidery, felting, and knitting. She transforms colorful yarn into stunning textile forms that mimic textured coral structures found in the sea. In one piece in particular, titled Coral Garden, Barragão visualizes the effects of coral bleaching—a phenomenon that starves and eventually kills coral. The plush wall hanging gradually changes from rich hues on one side to a white, muted palette on the other.
"These living and complex natural organisms [coral reefs] are the heart of an immense habitat of marine species which depend on one another to survive," she says. "Without this pilar, a major part of sea life can become close to extinction which will ultimately affect us and many other living species."
Aude Bourgine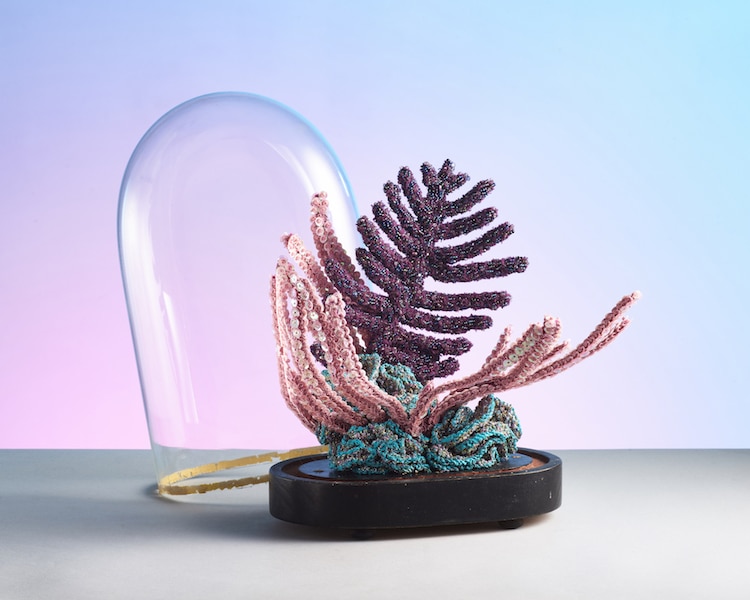 French artist Aude Bourgine crafts multimedia coral sculptures within bell jars that highlight the fragility of marine plant life. Her series, Poumons des océans ("Lungs of the Oceans"), is beautifully rendered with colorful embroidery and glittering embellishments such as beads and sequins. Each piece showcases the dazzling textures and diverse forms of coral, but they also visualize how vulnerable our reefs are. "If we do not rapidly change our relationship with our environment, oceans will be dead by 2050," says Bourgine. "Their disappearance will entail a disastrous imbalance on all ecological, climate, and human levels."
Courtney Mattison

Courtney Mattison creates ceramic sculptures that promote the "protection of our blue planet." Her ongoing Our Changing Seas series explores the diversity of coral reefs, but also how many of these once-vibrant ecosystems are now dying. One large-scale work, called Confluence, features a spiral of wall-mounted porcelain sculptures that mimic colorful corals, delicate anemones, and textured sea sponges. While the central pieces appear colorful and abundant, the outer elements are sparse and white, visualizing the long-term effects of coral bleaching.
Mattison explains on her website, "Toward the edges and tail of the swirling constellation corals sicken and bleach, exposing their sterile white skeletons—a specter of what could be lost from climate change."
Marie Antuanelle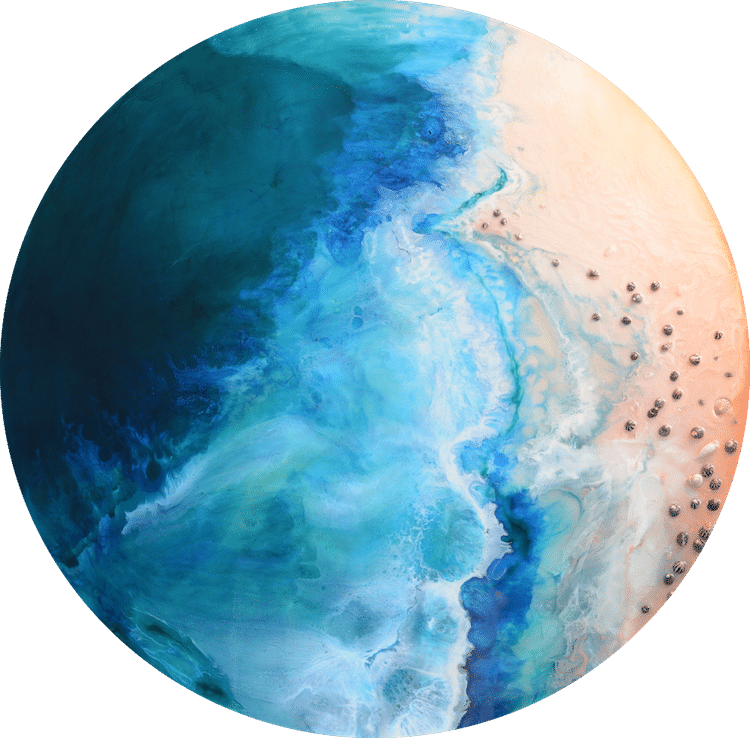 Sydney-based artist Marie Antuanelle captures the beauty of the unspoiled oceans in her swirling epoxy resin art. But the talented artist's work is more than just pretty pictures—they're intended to connect viewers with tranquil beaches and "spark conversations about the importance of marine conservation." Through incorporating real natural objects such as gemstones and seashells within her paintings, she "highlights how precious natural beauty is to humanity" by "erasing any traces of human presence to impart the feeling of a completely free and pure world."
Mat Miller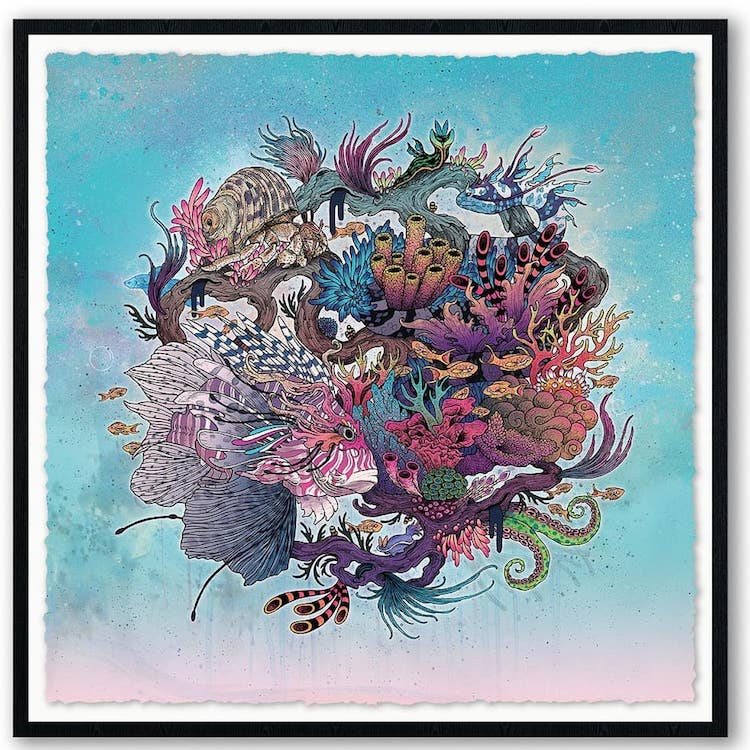 British illustrator Mat Miller's piece, titled Equilibrium, highlights the rapid extinction of sea creatures and the vulnerability of their precious ecosystems. Rendered using fineliners, watercolor paint, and acrylic ink, the talented artist captures a vibrant underwater habitat that's bursting with life. From tropical fish to colorful coral, each hand-drawn motif plays a vital part in the overall picture, just like every creature in the ocean has an important part to play. Miller explains, "If you were to take away one element, then the composition would be off in just the same way as taking away one element completely in a real-life sense would have huge repercussions for the rest of the ecosystem"
Equilibrium is available as part of Pangeaseed Foundation's In Peril print collection, a company that showcases ocean-inspired contemporary art in a bid to raise awareness of marine conservation.
Mlle Hipolyte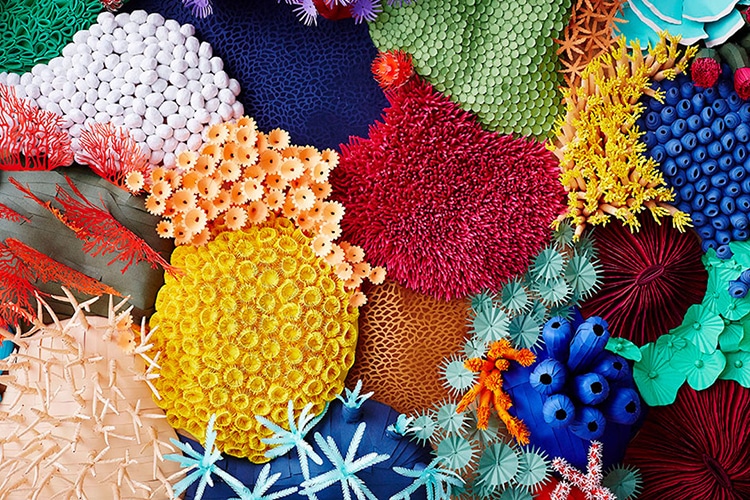 French artist Mlle Hipolyte sculpts vibrant, three-dimensional structures from colored paper that mimic the diverse range of forms in coral reefs. Her artwork, titled Coralium, is made entirely from hand using various paper craft techniques, including quilling, scoring, and 3D modeling. From fringing reefs to stoney barnacles, the stunning wall-mounted artwork brims with a multitude of lush textures, just like its real-life counterpart (if healthy). Hipolyte's choice of medium allows her to express the fragility of the underwater ecosystem, which is sadly in danger due to coral mining, pollution, and warming temperatures.
Related Articles:
15+ Enchanting Products for People Who Love the Ocean
Embroidered and Embellished Coral Sculptures Creatively Promote Ocean Conservation
Colossal Ceramic Installation Reflects the Fragility of the Coral Reef
Ocean-Inspired Illustration Raises Awareness of Rapid Marine Life Extinction
Colorful Paper-Cut Sculpture Captures the Diversity of a Coral Reef