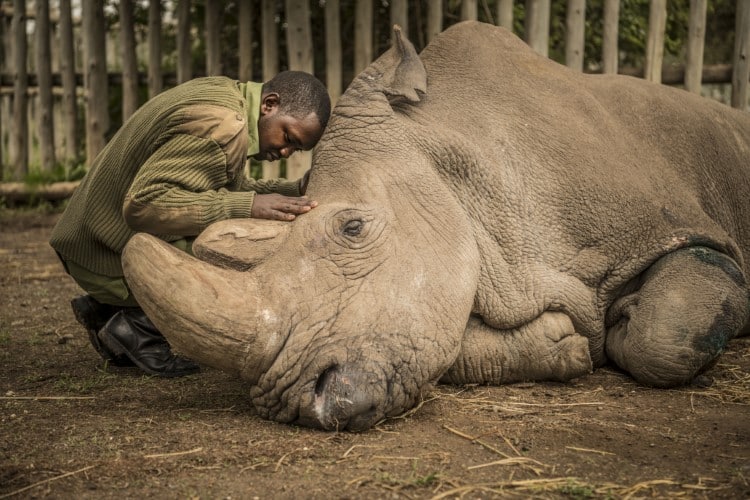 Five years ago, the last male northern white rhino—Sudan—passed away. With his death, the fate of the species seemed sealed. There are only two females still living, so how could the endangered species possibly find a way to survive? The answer may be technology. Thanks to the work of a consortium of scientists known as BioRescue, there is still hope that the northern white rhino can make a comeback. Using in-vitro fertilization and stem-cell science, BioRescue has created 24 viable embryos using the eggs of the last two females alive and the frozen sperm of deceased male northern white rhinos.
Acclaimed photographer and filmmaker Ami Vitale has been following the story closely, starting with the day in 2009 that Sudan made his way from a zoo in the Czech Republic back to Kenya. She was also there for his last breath, with her photographs bringing international attention to this wildlife crisis. Since 2018, when Sudan passed, she's been actively working with BioRescue to make a miracle happen.
In her new short film, Remembering Sudan, Vitale traces the plight of the northern white rhino. Using the voice of the people who know the rhinos best—their caretakers—it's an incredible look at loss and hope. The film highlights the work of Zacharia Mutai, a keeper at northern Kenya's Ol Pejeta Conservancy, where Sudan lived. Mutai shares his connections to these animals and his memories of Sudan. As head rhino keeper, he has an intimate bond with these animals and gave comfort to Sudan in his last moments.
Now, he's also a witness to a new possibility for the species thanks to advanced technology. Vitale's film pushes us to mourn the loss of these animals, while also allowing us to marvel at the innovations that could give them a chance to survive. If BioRescue is able to successfully implant the embryos in female southern white rhinos, who will act as surrogates, it could change what we know about extinction. And it could mean a different fate for the more than 14,000 endangered species on our planet today.
Remembering Sudan is currently available for rental online, with all proceeds going directly to the Ol Pejeta Conservancy. On April 24 at 12 p.m. EDT (5 p.m. GMT), Vitale will be hosting a global viewing event online, after which the filmmaker will chat with Mutai about his work with the northern white rhino. It's a rare opportunity to participate in a Q&A to learn more about the future of the species. To gain access to the online event, please donate to the Ol Pejeta Conservancy online.
Remembering Sudan is a short film about the fate of the northern white rhino.
With only two females—and no males—still living, scientists are using in-vitro fertilization to create embryos in the hopes of reviving the species.
Filmmaker Ami Vitale is hosting a global viewing of the film to raise awareness about the situation.
Ami Vitale: Website | Instagram | Facebook
My Modern Met granted permission to feature photos by Ami Vitale.
Related Articles

:

Photographer Ami Vitale on Following Your Heart and Documenting Stories of Hope

Wildlife Photographers Unite in New Book To Highlight Beauty of Endangered Animals

Photographer Shares How a Community in Kenya Came Together to Help Orphaned Elephants

Photographer Documents Bond Between Last Two Northern White Rhinos and Their Caretakers