UK-based photographer Thom Atkinson's series Soldiers' Inventories is an incredibly extensive photographic survey of the military kits carried by British soldiers from 1066 to 2014. With the goal of exploring what he describes as "the mythology surrounding Britain's relationship with war," Atkinson enlisted the help of reenactment groups, collectors, historians, and serving soldiers in order to assemble the components of each inventory. With each kit marking a landmark battle in the last millennium, the series is an eye-opening look at what a soldier's material world is reduced to during times of war.
Atkinson's project shows the remarkable similarities and differences between military kits separated by decades and even centuries. Swords became guns; notepads became iPads; 18th-century bowls became mess tins. While tools have evolved considerably, the heart of the necessities–uniforms, weapons, equipment, and especially personal items–remain the same. No matter what time period it is, all soldiers seem to rely on objects like playing cards, portable chess boards, and cherished letters to get through their challenging service.
According to Atkinson, the 9-month-long project was an educational experience. "I've never been a soldier," he says. "It's difficult to look in on a subject like this and completely understand it. I wanted it to be about people. Watching everything unfold, I begin to feel that we really are the same creatures with the same fundamental needs."
For a more detailed look at what went in each kit, check out Atkinson's full list of the items displayed in each photo.
Above: Private Soldier, Battle of the Somme, 1916
Huscarl, Battle of Hastings, 1066
Mounted Knight, Siege of Jerusalem, 1244
Fighting Archer, Battle of Agincourt, 1415
Yorkist Man at Arms, Battle of Bosworth, 1485
Trained Band Caliverman, Tilbury, 1588
New Model Army Musketeer, Battle of Naseby, 1645
Private Sentinel, Battle of Malplaquet, 1709
Private Soldier, Battle of Waterloo, 1815
Private Soldier, Rifle Brigade, Battle of the Alma, 1854
Lance Corporal, Parachute Brigade, Battle of Arnhem, 1944
Royal Marine Commando, Falklands Conflict, 1982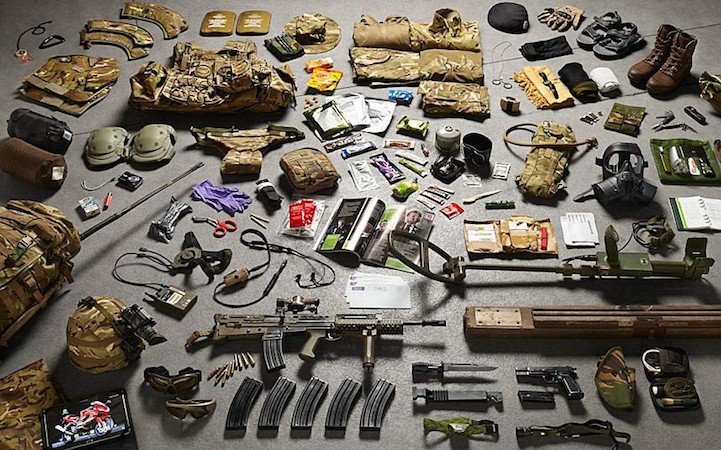 Close Support Sapper, Royal Engineers, Helmand Province, 2014
Thom Atkinson's website
via [Laughing Squid], [The Telegraph]