With unpredictable weather conditions and improvised workspaces, street art isn't that easy to do. In fact, it's extremely difficult, and that's precisely why these street artists deserve so much respect.
Over the last couple of years, we've featured many great street artists here at the MET. All of them have different styles and approaches, but they all share one thing in common – their art has left a lasting impression. In this post, we pay tribute to these incredibly talented urban street artists.
Our list of 10 street art mavericks you should know.
1.) Banksy
Banksy is the gold standard when it comes to urban street art. His legendary reputation has only grown since the 2010 release of his intriguing movie, Exit Through the Gift Shop.
Three years later, in NYC, the mysterious British street artist took the city by storm with his unexpected Better In Than Out project. Installations sprung up across Manhattan, taking the world by surprise and creating a frenzy has the world waited to see what piece would pop up next.
More recently, Bansky has focused his work around world crisis. From his powerful works in at a refugee camp in Calais, France to his participation in the #WithSyria campaign, the iconic street artist shows no signs of slowing down.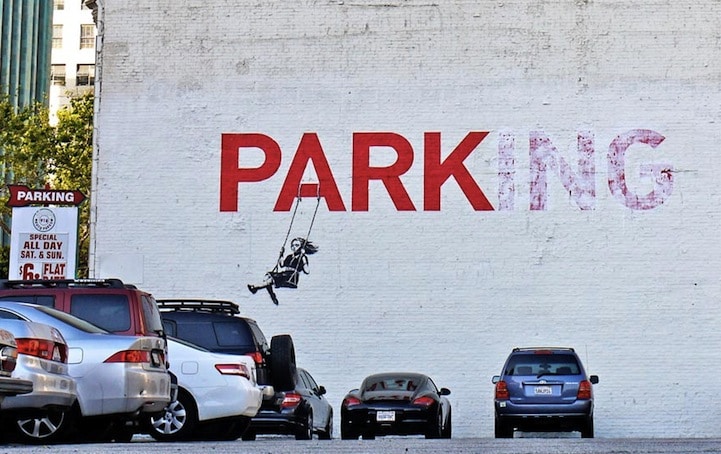 2.) Vhils
Portuguese-born Alexandre Farto aka Vhils is an amazing, super-talented street artist. Using tools like a power drill, chisel, and different types of paint, Vhils literally scratches off the surface of buildings to create his masterpieces.
His explosive viral video, in which small explosives set off a chain reaction, carving the image into the wall, helped catapult him to international success. In 2014, he was one of 11 artists invited by the band U2 to create music videos for their album Films of Innocence.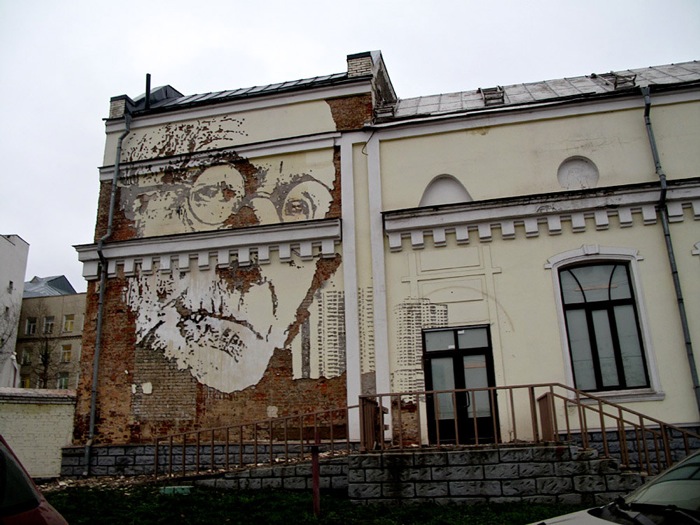 3.) Above (Tavar Zawacki)

Originally from the United States, Above is now based out of Berlin, where he continues to crank out innovative urban street art.
Regarding the above piece, the artist says: "When I was in Lisbon, Portugal three months ago, I would walk by this homeless lady who was begging for money everyday. I found it sadly ironic that just six feet away there was an ATM machine where people were literally lining up to withdraw money. With an obvious visual clash of 'Rich' and 'Poor' being in such a close proximity evoked me to make this stencil, Stealing from the Rich, and Giving to the Poor."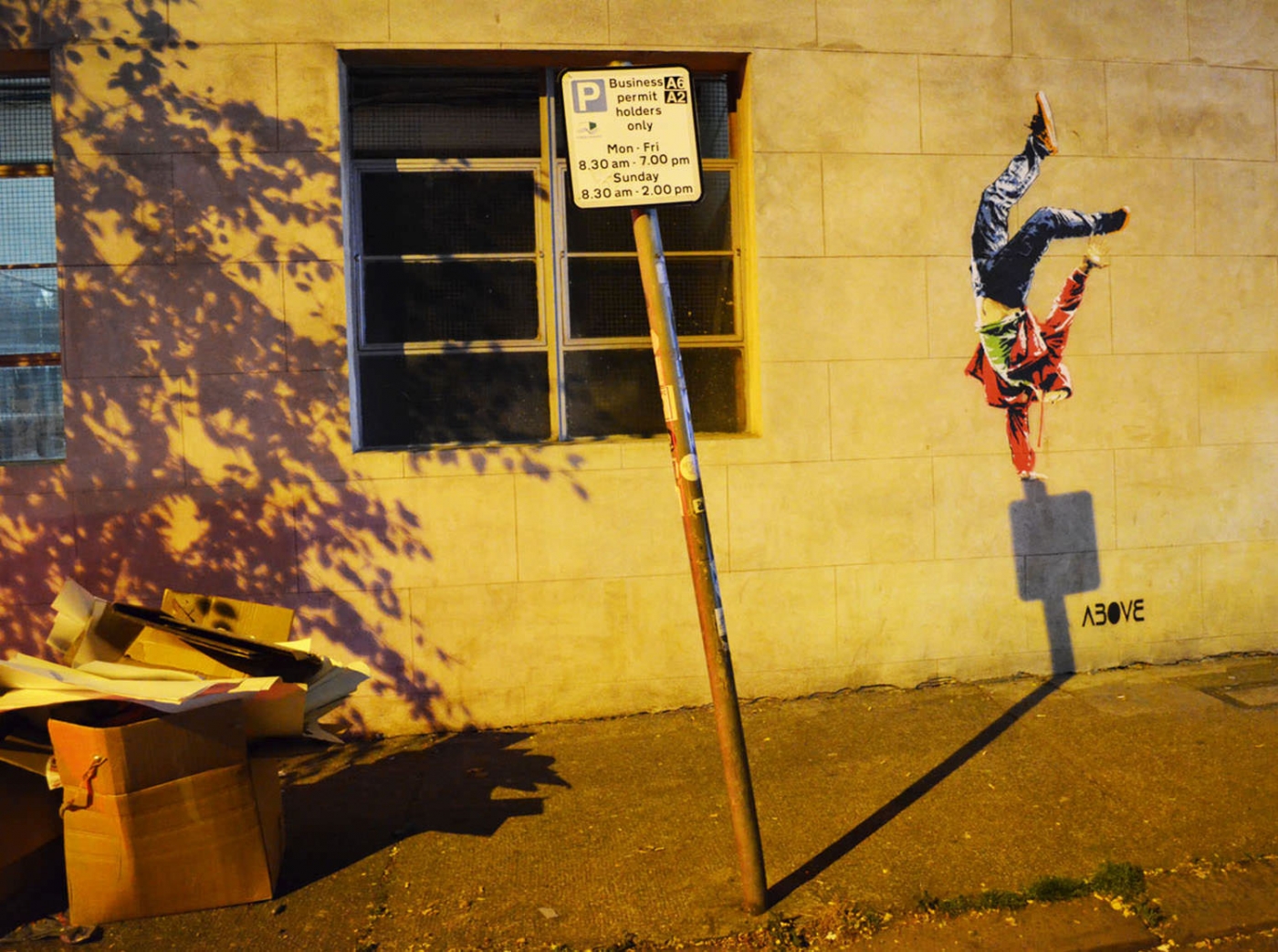 4.) Roa
I think it's fair to say that street artist Roa is on top of his game. What really separates him from the rest of the field is the way he adds different layers into a piece, giving his viewers multiples perspectives of the biology behind his animal subjects. It's almost like we have x-ray vision.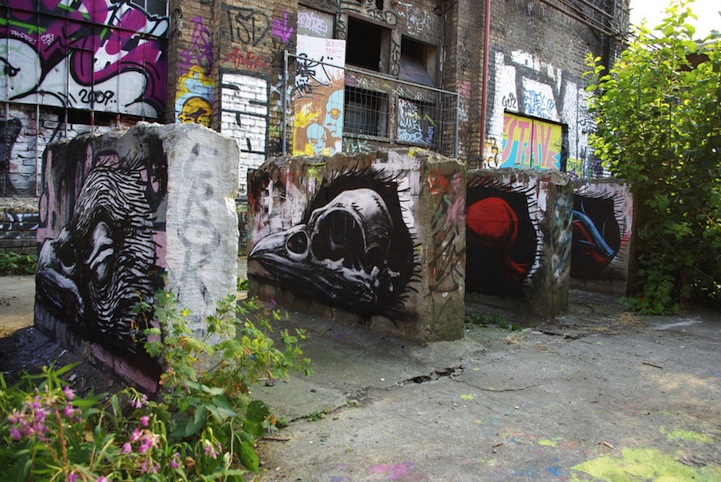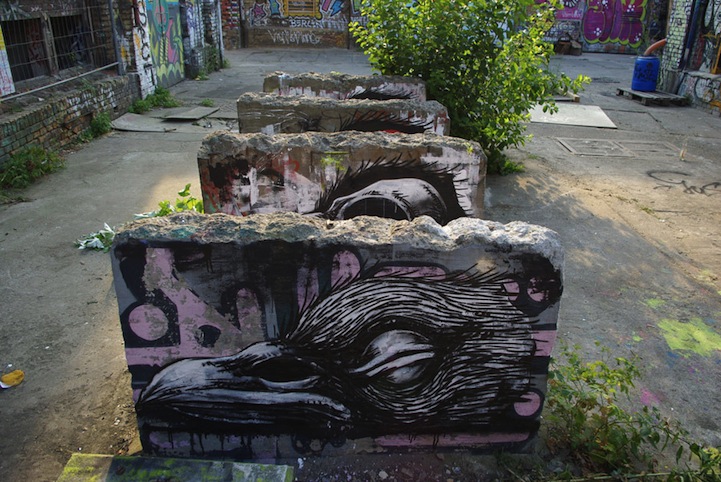 5.) C215
French street artist Christian Guemy aka C215 travels around the world beautifying the streets. He usually paints local faces because, in his words, "faces reflect the personality" of a city. Another continuing theme through his stencil art are portraits of his daughter Nina, who we've seen evolve from a little girl to a young woman.
Through the years his work has become a symbol of stencil art. He exhibits his work widely in France and abroad, also portraying local heroes to support social causes.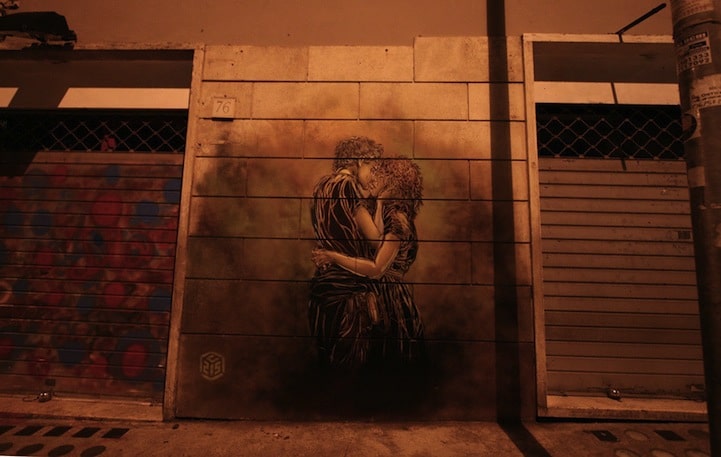 6.) Mentalgassi
You have to stand at the perfect angle to see this piece by Mentalgassi. Spotted in Berlin, their pieces are sometimes wheat pasted in places you'd probably never look – like on the side bars of metal fences. In the past, they've paired with Amnesty International, using this technique to bring attention to social causes.
7.) Hyuro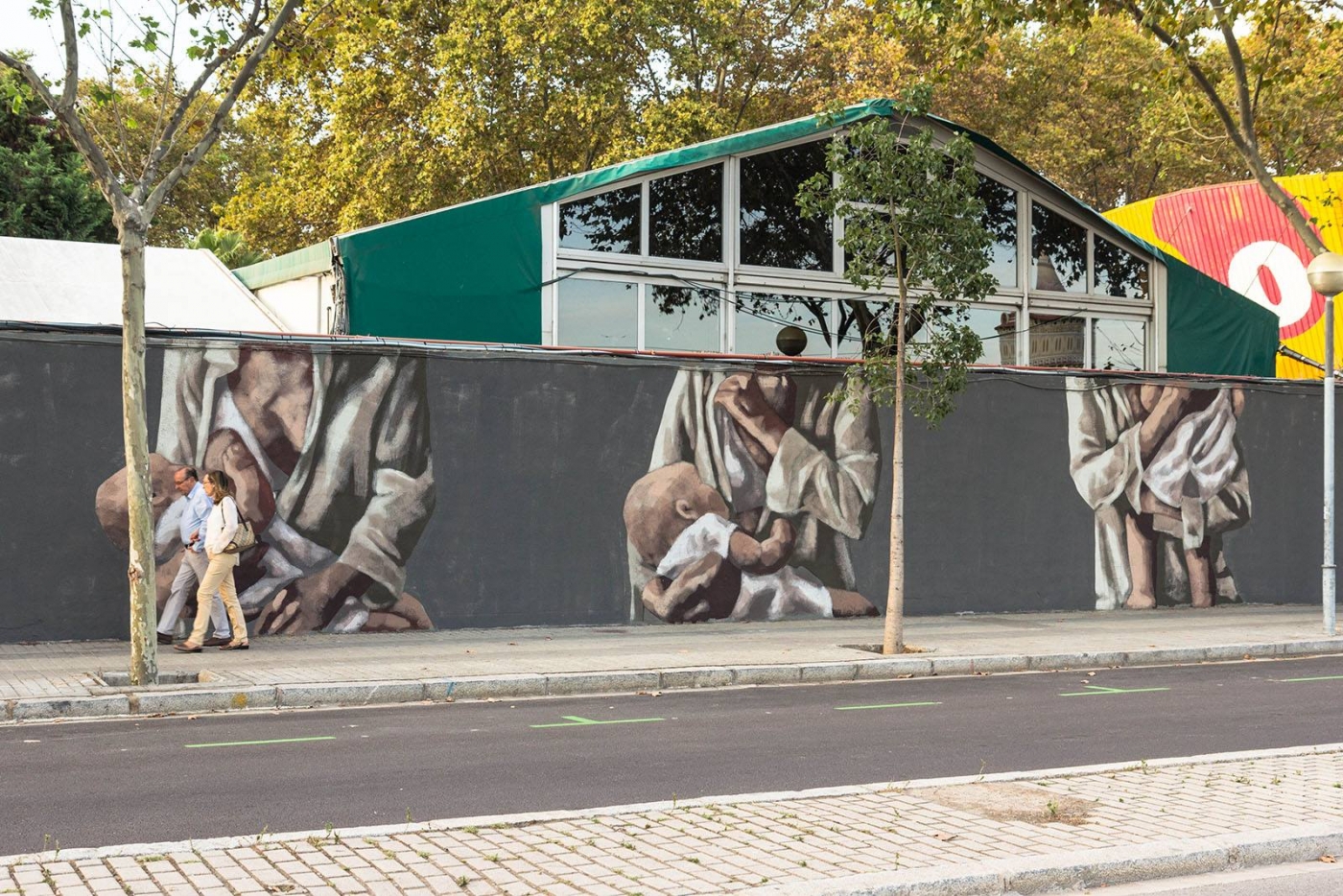 Hyuro is an Argentinian-born street artist that is currently based out of Valencia, Spain. Her works are full of movement, like animations that unfold directly on the wall. She often deals in themes of motherhood and her work from a female perspective is refreshing on the male dominated scene. Simply stunning!
8.) Titi Freak
Hamilton Yokota, aka Titi Freak, is a São Paulo native with Japanese ancestry whose art combines his cultural backgrounds. After making his way over to Japan, he kept himself busy by painting the streets of Osaka for three whole months. Seamlessly coinciding with Japanese culture and landscape, his brightly colored koi fish really sets the bar for other street artists.
9.) SpY
Hailing from Madrid, SpY is a famous urban artist that uses many different mediums. His work consists of playful reappropriation of urban elements, that he replicates or transforms, and then installs on the streets. SpY's pieces are meant to shake up the equilibrium of an urban dweller. His work is full of irony and a positive sense of humor, seeking to inspire a smile and a thought.
10.) Laguna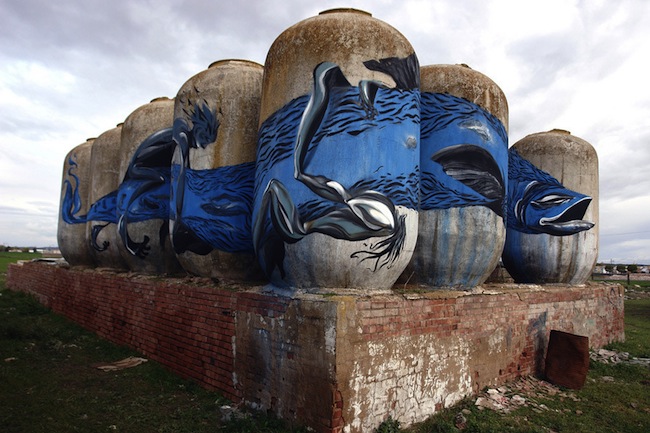 This piece by Laguna is one of the most incredible pieces I've seen. Completed in Almagro, Spain, a couple of men are seen riding a gargantuan fish, reminiscent of an epic tale. Viewers must stand in the perfect spot to see all the individual pieces connect.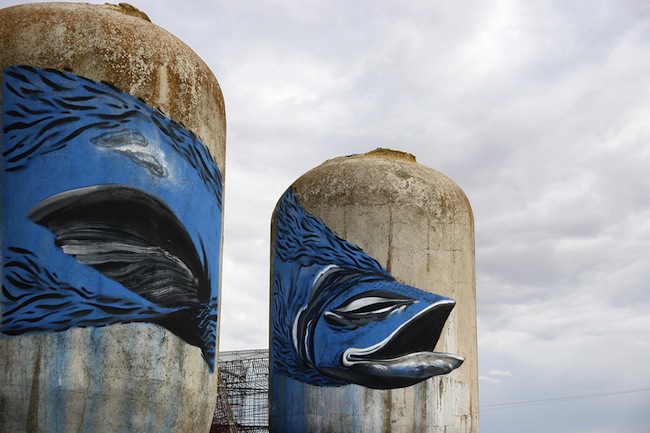 *BONUS* 11.) Blu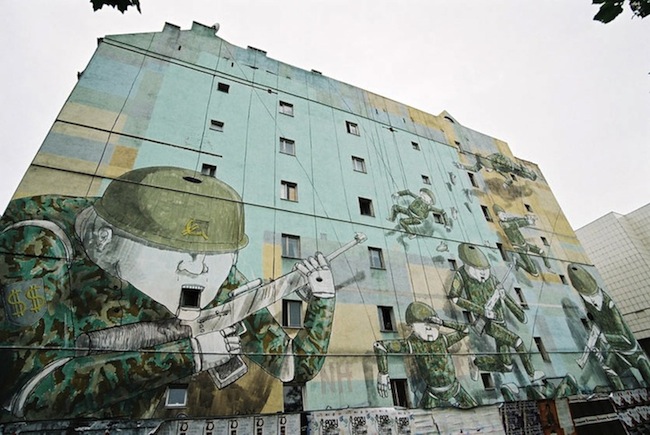 Blu completed these amazing large scale murals in Europe. Using the facade of high-rise buildings as his canvas, Blu sends very relevant political messages through his works. If you look at "War" closely, you'll notice that the soldiers are being controlled by puppet strings and their badges flash dollar signs. "Global Warming" is extremely clever and features a melting iceberg in an hourglass, which is dripping water into a flooding city below.
This post has been updated.
(*Please find photo sources through the artists' links.)