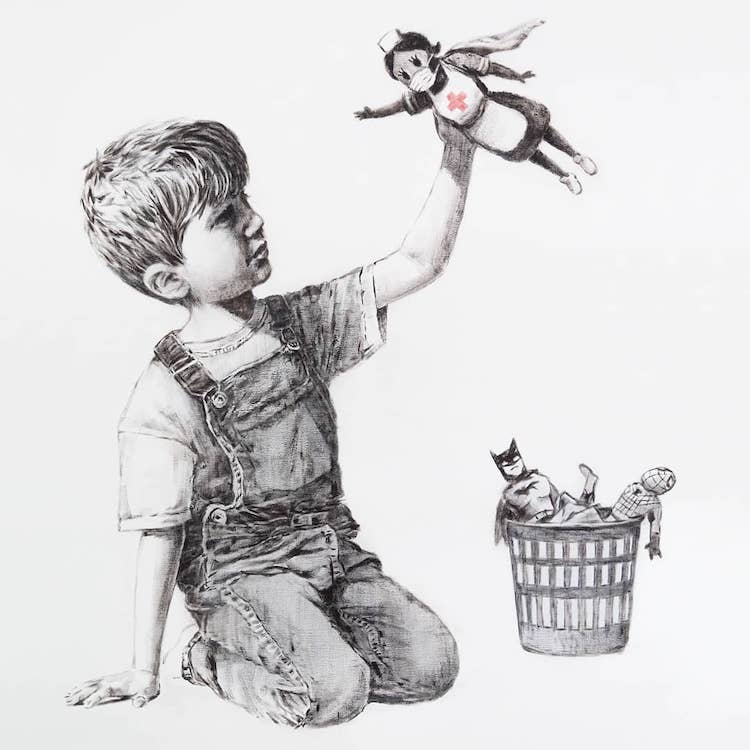 Legendary street artist Banksy hasn't let quarantine slow him down. First, he transformed his bathroom into an art installation and now he's paying tribute to healthcare workers with a gift to a UK hospital. His newest work, which shows a young boy kneeling down as he plays with a doll dressed as a nurse—complete with face mask—shows how these vital workers should be celebrated as heroes. This is reinforced by the fact that fictional heroes like Batman and Spiderman sit in a basket, as the boy prefers to play with his new role model.
The work is almost entirely monochromatic except for the Red Cross symbol on the nurse's apron. Posted to Banksy's Instagram with the title Game Changers, the artwork was donated by the artist to Southampton General Hospital. Accompanying the artwork was a note that said, "Thanks for all you're doing. I hope this brightens the place up a bit, even if it's only black and white."
It's a beautiful tribute to the NHS workers that are helping those in their time of need across the UK. Now on display at the hospital for patients and workers, it's certainly a morale boost at a time when the UK's healthcare system is seeing its limits tested. The piece will remain on view until the fall, and then will be auctioned off to benefit the NHS. With Banksy's work consistently fetch over $1 million at auction, this is a huge boon for the struggling NHS.
For their part, the staff at Southampton General is thrilled by Banksy's generosity. "The fact that Banksy has chosen us to recognize the outstanding contribution everyone in and with the NHS is making, in unprecedented times, is a huge honor," shares Paula Head, CEO of the University Hospital Southampton NHS Foundation Trust. "It will be really valued by everyone in the hospital, as people get a moment in their busy lives to pause, reflect, and appreciate this piece of art. It will no doubt also be a massive boost to morale for everyone who works and is cared for at our hospital."
Banksy's latest work shows a young child playing with a doll dressed like an NHS nurse.
Instead, fictional superheroes like Batman and Spiderman are left behind in a basket.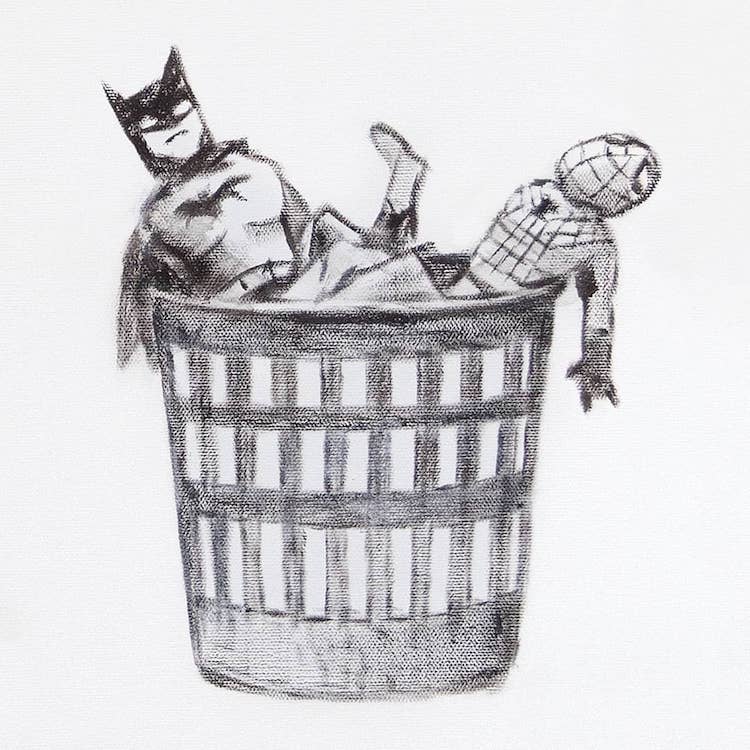 Check out the staff's reaction to Banksy's beautiful tribute to NHS healthcare workers.
Bansky: Website | Instagram
h/t: [BBC]
All images via Banksy.
Related Articles

:

Banksy Opens His Own Homewares Store in London

Banksy Opens Hotel in Bethlehem Within Site of Separation Barrier

Powerful New Banksy Provides Perspective on Migration Through Steve Jobs' Life

Banksy Goes Undercover in Gaza, Releases New Works and Eye-Opening Video