Photo credit: Peter Rockwell

Three years ago, we brought you the phenomenon known as Sleeveface, which involves taking the sleeve of a vinyl record and extending the image outside of its confined frame through photography. Since then the project has grown, inspiring others to create their own image. While some are wholly accurate renditions, still others playfully cross race and gender boundaries. What was once simply the feminine visage of a young Debbie Harry, now reveals the hairy torso of a man (inb4: Debbie Hairy).
It's really fascinating to see how experimental people get with this ongoing, public project. The creative choices in each image are endless. Which artist and album cover to choose, what to wear, how to pose, where to put one's hands – these are all just a few of the questions that one must address to successfully produce a seamless visual. Of course, it isn't always about aligning or color-matching the sleeves to the real world. Sometimes it's the extra prop, like a bloodied napkin accompanying Andrew W.K.'s Party Hard album cover, that makes the entire image come to life.
We've compiled some of our favorites from 2011, but you can keep up with the project on Sleeveface.com.

Photo credit: Gretchen Avery, Susannah Cleveland, and Liz Tousey from BGSU library

Photo credit: Aaron Twa

Photo credit: Birgit Veigel, Johannes Veigel, ThomasVeigel

Photo credit: Paul Span, Meike, and Douwe

Photo credit: Chris Maliwat / Gilt Groupe

Photo credit: Nicolas Lincy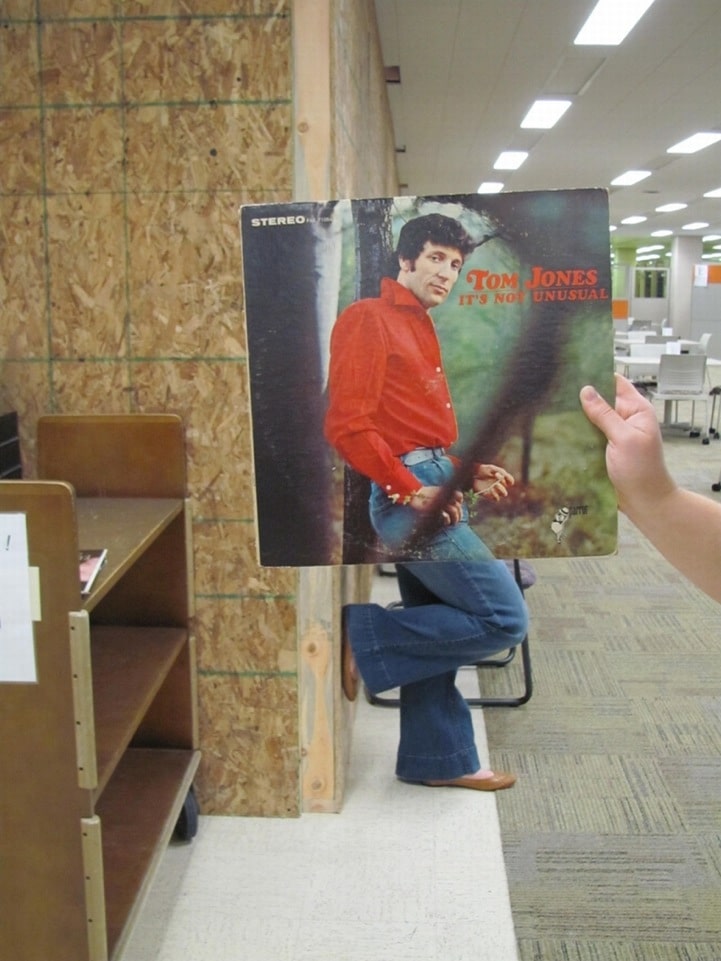 Photo credit: Gretchen Avery, Susannah Cleveland, and Liz Tousey from BGSU library

Photo credit: Emma Stubbs, Stubbs, and Stubbs

Photo credit: Sioux Skylightning

Photo credit: Elien & Johan Copermans

Photo credit: Lea Ermuth

Photo credit: Elien & Johan Copermans

Photo credit: Birgit Veigel, Johannes Veigel, Thomas Veigel

Photo credit: Gretchen Avery, Susannah Cleveland, and Liz Tousey from BGSU library

Photo credit: Thays Hungria

Photo credit: Jake, Anika, James, and Jamie

Photo credit: Till Hogrefe / Tanja Brinker

Photo credit: Anthony from Paris

Photo credit: Tania Demayo

Photo credit: Liz Tousey / Bowling Green State University
Sleeveface website
via [thaeger]