On March 13, 2020, 26-year-old EMT Breonna Taylor was shot and killed in her home by police officers in Louisville, Kentucky during the execution of a no-knock search warrant—this type of warrant allows officers to forcefully enter a home without any prior warning. Taylor was shot by officers eight times and pronounced dead at the scene. There has been great public outcry to arrest the officers responsible for her murder, particularly in the aftermath of the George Floyd killing.
Now, one non-profit organization is doing its part to ensure that Taylor's life is not forgotten. Though police violence against women of color isn't as often discussed, it is just as insidious as issues of police brutality against Black men. That's why Future History Now wanted to take a stand and use its visual arts mission to commemorate Taylor.
Over the Fourth of July weekend, 630 miles from Louisville, a large group of artists and youth volunteers painted a mural in her honor. The 7,000-square-foot portrait of Breonna Taylor was painted on a basketball court in a historically Black neighborhood of Annapolis, Maryland. The statement-making piece beautifully captures Taylor's spirit and puts the message that Black Live Matter in full view.
Future History Now is no stranger to this type of work. They've been working on collaborative mural projects with youth from underserved communities for years. And shortly prior to the Breonna Taylor project, two of the non-profit's teachers painted a mural tribute to George Floyd at the behest of Annapolis mayor Gavin Buckley.
We had the chance to speak with Future History Now's co-founders, husband and wife Jeff Huntington and Julia Gibb, about their work within the community and why honoring Breonna Taylor was important. Read on for My Modern Met's exclusive interview.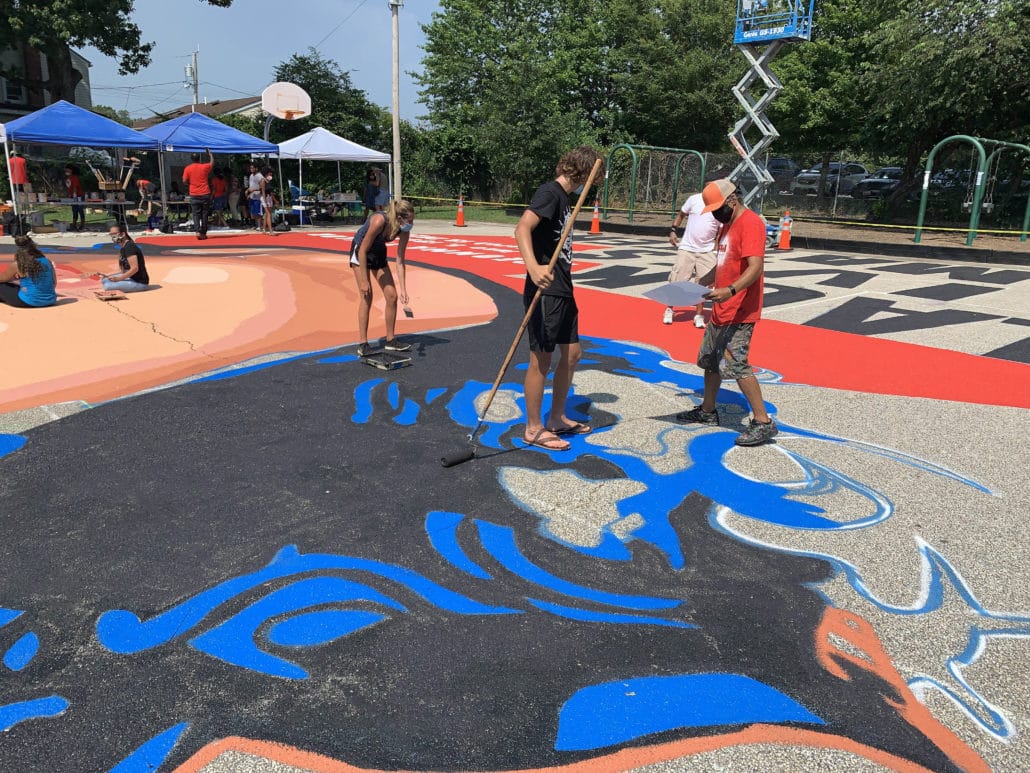 Can you tell us a little about Future History Now's mission and how it started?
Future History Now rose from the ashes of a peaceful protest against a proposed bill from the City of Annapolis that would have greatly expanded the power and overreach of the city's already quite powerful Chief of Historic Preservation and the Historic Preservation Commission. FHN held a "mural funeral," an event intended to draw attention to the city's overly rigid rules about the rights of private property owners to display art on their already-painted buildings within the overlapping Arts District.
Speakers, musicians, and local artists united to paint over a mural that was in dispute within the city's popular arts hub. A local brass band performed a New Orleans-style Second Line. The event was joyful, defiant, and sad all at once. What we hadn't anticipated, however, was the amount of residents in attendance who brought their children.
Participation in this call to action was infectious. Many youths engaged in the re-painting process. As we pondered a way forward following the event, we resolved to focus our energy on creative collaborations with local youth that educate the next generations about art and history and to inform them that the city belongs to and serves them as well.
How do you think that art has a way of helping young people tackle their problems?
Our projects often include lessons about history or current events that are relevant to our participants' neighborhoods or communities. Young people get to interact with FHN Teaching Artists, mentor figures, elected officials, and other kids and adults at every project. Youth get to literally leave a mark in their own town, encouraging a sense of pride and agency. They also learn to work and collaborate with others to make something happen that's larger than themselves.
How did the idea come about to commemorate Breonna Taylor?
There is a sense of urgency at this moment in our history. We hope that the country has reached a true tipping point, and we want to maintain a strong momentum toward positive change. We wanted to draw attention to the fact that women too are victims of police brutality.
What was the vibe of the volunteers and kids that came to work on the mural?
With local DJs and musicians providing an uplifting soundtrack for the event, the overall vibe during the mural production was overwhelmingly positive. It felt as though all present were ready to take action in this creative and peaceful way. Many engaged in interviews and played a part in the documentaries being created.
Was the location a purposeful choice? How did it come about?
Because we wanted this particular project to happen as quickly as possible, we ended up looking into several locations at once. It was a bit of a roller coaster ride, as getting permission for something like this can be tricky.
Chambers Park, located in a historically Black neighborhood, was an ideal location. The park is home to a summer concert series, making it a growing cultural hub in the community. The Greater Parole Community Association was quick to embrace and support the project proposal.
Why do you think Breonna's murder got less attention than George Floyd, and how can we change that?
George Floyd's death was so highly visible, so disturbing, that it made people sit up and take notice. We are used to hearing police say they "feared for their lives." The video shows no such fear or panic. Floyd was already restrained and did not pose a threat to the officers involved.
The video and images from his death are undeniably horrifying for a broad range of people. That said, there tends to be more of a media focus on police violence toward African American men. While we hope FHN's art helps keep attention focused on justice for Breonna Taylor, it seems like the nation, in general, is ready to look back at cases like Taylor and more closely examine why they happened, and how to ensure such senseless acts become a thing of the past.
What type of message do you hope this work sends to youths, particularly those of color who might be facing discrimination at the hands of law enforcement?
There was such an outpouring of support from the community, the city, and various sponsors. We hope that the youths who collaborated in this work feel the support that is there for them. We also hope that by working on something of this scale, they feel a sense of agency—that by working together we can achieve great things, whether it's a monumental piece of art, or working along with others to affect change by having their voices heard by elected officials on a local and national level.
How do you hope this piece of art can enact change?
We hope that our elected officials, local police, and the community at large take this piece of art as a symbol of the community's investment in working together and toward change.
What's next for Future History Now?
FHN is wrapping up a multi-canvas mural project called "Captain Compassion," a tribute to the heroic work of medical professionals during this time of COVID-19. The mural is made of 20 individual canvases each accompanied with an art kit, distributed to collaborating youths, created in observance of social distancing. There are plans for the finished work to be presented to and installed at a local medical center. Other opportunities include requests for future large-scale ground paintings in Annapolis as well as other Maryland cities.
My Modern Met granted permission to feature photos by Future History Now.
Related Articles

: