We come into contact with textile art every day. From the clothes we wear to the objects that decorate our home, it's an art that can be simultaneously beautiful and useful. But it should come as no surprise that this field occupies these two categories. At the beginning of its long history, textiles were seen as a utility rather than something that serves no discernible function aside from aesthetics. And while this is still the case today, visionary creatives have helped the art continually reinvent itself.
History of Textile Art
Prehistoric Roots
Textile art is one of the oldest forms of art in human civilization. At its inception, it was not focused on looks, but for practical purposes—such as clothing or blankets to keep warm. This dates all the way back to prehistoric times, and anthropologists estimate that this is between 100,000 to 500,000 years ago. These goods were made from animal skins, furs, leaves, and more.
As time wore on and the neolithic cultures settled, textiles become increasingly complex. Many early pieces were made with felting, which agitates animal fibers (like wool) to interlock them in a strong bond. Beyond that, though, humans also spun fibers to create strands of thread. They were woven together and resemble more of what we're used to today.
Creating clothing and other textiles was laborious—everything had to be done by hand. This included gathering fibers from plants or animals and then twisting them to make them into yarn. In addition to being a tedious process, making an article of clothing was expensive; tailors and seamstresses altered garments to ensure that they lasted a long time. Depending on how wealthy someone was, they could get imported fabrics and colorful dyes. The Silk Road trade routes brought Chinese silk to India, Africa, and Europe. While clothing was still the dominant type of fiber art, the aristocracy could also afford to decorate the walls, floors, and furniture of their palaces in lush and vibrant pieces.
Industrial Revolution
The Industrial Revolution was a turning point for textiles. With the invention of the cotton gin, spinning jenny, and power loom, creating fabric was now automated and could be produced on a massive scale. Textiles were not just for the wealthy anymore; as prices dropped, they were available to more of society. It also meant that these materials were not as precious, and creative people could experiment with them in previously unseen ways.
Modern Era
The rich history of textiles has laid the groundwork for contemporary creatives. In modern times, the terms fiber art or textile art generally describe textile-based objects that have no intended use. Although this realm has previously been seen as "women's work," artists—particularly female artists in the 1960s and 70s—started to reclaim the field and elevate it into high art.
Popular Techniques in Textile Art
Textile art is a broad term that can encompass many types of approaches.
Weaving
Weaving is one of the earliest techniques. Here, threads are laced together on a loom at intersecting angles to form cloth. This is commonly seen in garments, but weavings can also be made into display artwork. These are often displayed as wall hangings, and modern weavers like Genevieve Griffiths are experimenting with yarn weight and stitch length to create highly textured works.
Embroidery
Embroidery is another popular form, in which artists use thread to stitch decorative designs onto fabric. Often referred to as hoop art, the images mostly stay within the confines of the circular frame. But contemporary embroidery has no rules, so it's not unusual to see fabric and thread spill from the hoop. Ana Teresa Barboza is a great example of this method of practice. In her artwork, she creates landscapes that extend well beyond the hoop and flow toward the floor.
Knitting and Crocheting
Knitting and crocheting are two other techniques for working with textiles. In both, large needles are used—double and single, respectively—to twist thread into different stitches, which in turn create larger patterns. These approaches are extremely common in your favorite sweater or blanket, but artists have co-opted them as a means of expression. Joana Vasconcelos uses crochet to cloak animal statues in colorful patterns. Likewise, the artist Olek "yarn bombs" buildings—including covering an entire home in bright pink crochet.
While many textile artists use traditional techniques as a starting point for their work, other artists deconstruct these established practices to create minimalist art that's nonetheless impactful. Gabriel Dawe is a fantastic example of this. His site-specific installations use razor-thin strands of colorful thread that stretch across rooms. The result brings shining rays of rainbow light indoors.
Contemporary Textile Artists
With its myriad of visual possibilities and rich history, it's no surprise that contemporary textile artists showcase the vast differences that are possible when dealing with fabric, thread, and yarn.
Pi Williams
Artist Pi Williams works across disciplines to create art that celebrates the natural world. Based in New South Wales, Australia, she looks to her surrounding coastal environment as an inspiration for her textile pieces. The works on stretched fabric feature punch needle embroidery, appliqué, and stitching with yarn to produce abstract pieces that mimic florals, leaves, and other organic shapes.
Pi Williams: Website | Instagram
Joana Vasconcelos
Synonymous with the 1960s, the term "flower power" became a slogan of the peaceful, anti-war movement of the time. Portuguese artist Joana Vasconcelos' newest artwork, named after the movement, celebrates the colorful aesthetic of the era. Her Flower Power textile art was created by wrapping a Fender Stratocaster electric guitar in a cotton crochet pattern.
Joana Vasconcelos: Website | Facebook | Instagram | YouTube
Faig Ahmed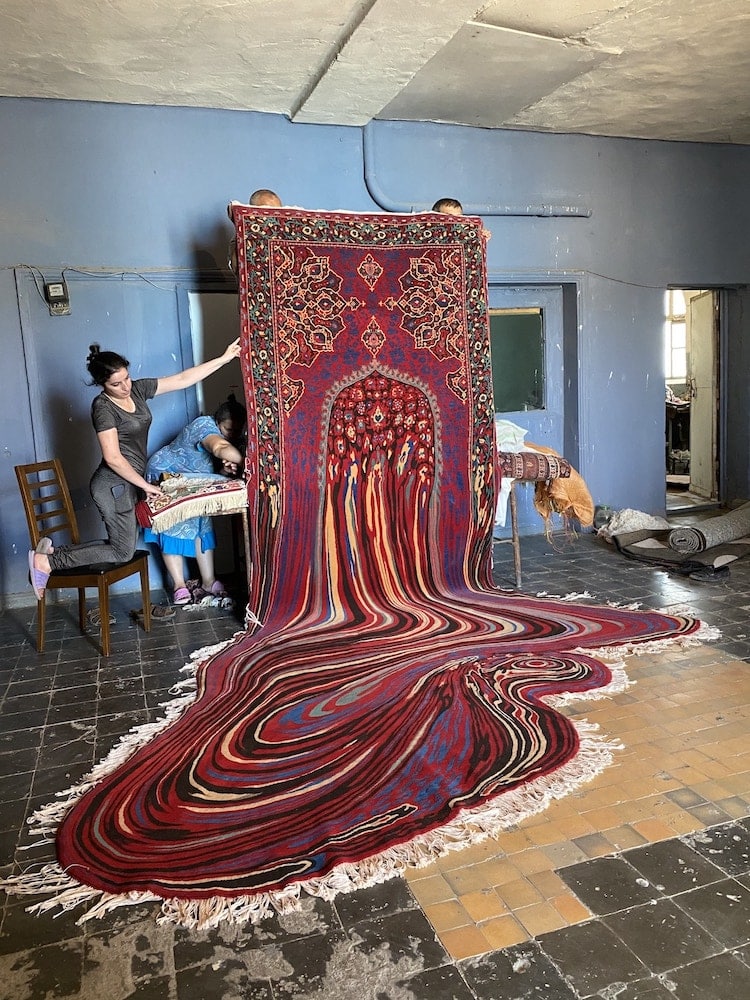 In the world of textile art, rugs have been around for a long time. The term first came into existence back in the 13th century, and they're still as popular as ever today. Artist Faig Ahmed puts a contemporary spin on carpets by adding computer-style glitches to the otherwise traditional motifs.
Textile artist Alexandra Kehayoglou
Textile artist Alexandra Kehayoglou brings the beauty of the Argentinian landscape indoors with her incredible wool rug designs. Each functional work of art features hand-tufted woolen textures that represent her country's grasslands and rivers. The artist's attraction to nature is not only for aesthetics, but part of a personal dedication to raise awareness for preserving the natural landscapes of her homeland.
Alexandra Kehayoglou: Website | Facebook | Instagram
Yumi Okita
It's not uncommon for someone to dislike insects, but it's hard to resist the charming allure of Yumi Okita's textile moths and butterflies. Crafted from fabric, wire, embroidery thread, and faux fur, these bug sculptures can fit in the palm of your hand.
If you want to get your hands on one of these cute critters, Okita sells her textile moths and butterflies through her Etsy shop.
Yumi Okita: Etsy
Sergio Roger
When we think of three-dimensional fine art, we usually imagine statues in gleaming marble. Well, one artist is challenging our perception of "ideal" fine art with a series of plush sculptures. Barcelona-based artist Sergio Roger creates unique textile art inspired by classical art and architecture. From stately Roman busts to fragmented Greek columns, each of these pieces echoes the ancient past with a "soft" twist.
Sergio Roger: Website | Instagram
Contemporary Embroidery Artists
Embroidery has had a resurgence over the past few years, and artists are continually pushing it in new directions.
Ana Teresa Barboza
Peru-based textile artist Ana Teresa Barboza creates colorful embroidery art that depicts natural forms found in plant life and landscapes. Her three-dimensional work often spills out from the confines of the embroidery hoop or canvas she's working on, illustrating the sprawling growth of the organic subjects. Barboza's latest work continues to push the boundaries of embroidery by incorporating different disciplines, such as illustration and photography.
Ana Teresa Barboza: Website | Instagram
Danielle Clough
We typically expect embroidery to be stitched in a hoop, but artist Danielle Clough defies convention with her fiber art. For years, she has been stitching plants onto vintage tennis rackets and has transformed the sports equipment into handheld works of art.
Danielle Clough: Website | Instagram | Skillshare
Sarah K. Benning
Based in New Hampshire, Sarah K. Benning was trained in fine art before discovering a passion for embroidery. Through inspiration and determined hard work, Benning's hobby soon developed into a full-time career. Her acute focus on drawing and composition produces pieces that resemble full-fledged illustrations. In this way, Benning's aesthetic is instantly recognizable. Her love of botany, interior design, and antique textiles all feature themselves in her miniature, hand-stitched "paintings."
Sarah K. Benning: Website | Instagram | Facebook | Pinterest
Gabriel Dawe
As fiber art has evolved, its materials are the basis for sculpture.
Artist Gabriel Dawe uses thread to construct rainbow-like rays indoors. His incredible site-specific Plexus installations—some in art galleries and others in places like airports—feature a rainbow array of thread-spanning architectural elements. The visually impactful pieces encourage us to be in the moment and to marvel at their glistening beauty.
Gabriel Dawe: Website | Instagram | Facebook
Textile Art in Modern Fashion
Textiles aren't completely divorced from their roots. Its humble beginnings continue to thrive in the fashion world. Although many articles of clothing are still made for purely utilitarian purposes, avant-garde designers imagine garments as spectacular pieces of fabric art.
Sylvie Facon
French designer Sylvie Facon creates custom-made dresses that are fit for a fairytale. Her specialty practice involves embellishing delicate silk gowns with embroidery, beading, and even painting. One of her most recent creations features a romantic depiction of a bucolic, European landscape framed by a leafy border.
Sylvie Facon: Website | Facebook | Instagram
Red Dress Project
The Red Dress is a project conceived by British artist Kirstie Macleod that explores identity, culture, and tradition through textiles and embroidery. After passing through the hands of 343 embroiders across 46 countries, the final piece was assembled into a lovingly made and intricately designed floor-length gown.
The Red Dress: Website | Instagram
Viktor & Rolf
Dutch fashion designers Viktor & Rolf transformed intricately framed paintings into avant-garde gowns during their most recent show in Paris. Initially, the wearable art adorned the catwalk's back wall, but was instantly altered the moment the models appeared. Both Viktor and Rolf unhooked their Baroque-style "paintings" from the wall and reshaped them onto their subjects. This process interestingly mirrors the spontaneity of action painting, especially since the entire metamorphosis was performed right in front of the audience.
Designers Viktor & Rolf take this idea literally with dresses that resemble framed paintings.
Viktor & Rolf: Website
Coperni
Bella Hadid closing Coperni ss23! They "made" a dress live on the runway! pic.twitter.com/14a6yESX3A

— linda (@itgirlenergy) September 30, 2022
Fashion history was made when Bella Hadid walked on the Coperni Spring Summer 2023 fashion show and had a white dress spray-painted on her mid-runway. She stepped out onto the runway to close the event, wearing only her underwear and a strappy pair of heels. Then, a team of painters appeared from the sidelines and went to work on spraying her body with Fabrican—a type of synthetic fiber material that can be delivered through a spray gun device. After a few mesmerizing minutes of watching the material solidify before the audience's eyes, Hadid was covered in a white, midi-length dress that looked as though it were sewn on.
Coperni: Website
How to Make Your Own Textile Art
It's easy to get started making your own textile art. For embroidery enthusiasts, Etsy sellers like Kiriki Press have created kits that'll teach you embroidery stitches as you construct a playful stuffed animal toy. And Sarah K. Benning doesn't keep her great patterns all to herself. Once a month, she releases a new pattern for you to stitch on your own.
Online Classes
If you prefer video instruction, there are a myriad of creative online classes that'll show you different fiber art techniques. My Modern Met Academy is home to several video courses you can purchase:
Intermediate Embroidery: Getting Creative with Printed Fabrics: Push your embroidery to new heights by using printed fabrics. In this course, you'll learn how to create your own images, print them on fabric, and embroider hair and clothing for a unique final project.
Crochet Crash Course: Fiesta Fringe Bag: Have some crafty fun when you fashion this fringy bag. New to crochet? No problem! You'll learn how to create the bag from start to finish.
This article has been edited and updated.
Related Articles

:

Textile Artist Creates Travel Snapshots by Embroidering with Needle and Thread

Photographer Shines a Light on the Hidden World of America's Textile Industry

Crochet Artist Wraps Yarn Around Homeless Shelter in India to Raise Awareness

Exclusive Interview: The Beautiful Textile Insects and Animals by Mister Finch

Former Architect Shows Untold Beauty Inside America's Textile Industry

Yarn-Bombed Four-Car Locomotive Explodes with Color

Side by Side Images Reveal How Much High Fashion is Inspired by Architecture