With Halloween just around the corner, talented artists and crafters are again showing us that pumpkin carving is an art all its own. Many achieve incredible detail and transform these tough orange exteriors into unconventional sculptures—it's nothing short of impressive. Veterinarian Andy Manoloff has recently completed a "dog o'lantern" of his beloved Pomeranian, Sophie. Paired side-by-side, the pumpkin is a spitting image of the fuzzy pup.
Manoloff records his artistic process in a mesmerizing time lapse video. He started by drawing the portrait directly on the pumpkin from a reference photograph. Then, using an X-ACTO knife, he cut and extracted the largest shapes in his design. He didn't slice all the way through the rind, however, and instead made some cuts that were deeper than others. When illuminated, the inner light permeates through the layers differently and gives the flattened image a three dimensional appearance.
Manoloff shared his finished dog pumpkin carving on Reddit, and it was received with flying colors. Impressed by the technique, one Redditor commented on just how alike the two look: "Somehow [the pumpkin] is more detailed and realistic than your actual dog."
Andy Manoloff competed a realistic dog pumpkin carving of his Pomeranian, Sophie.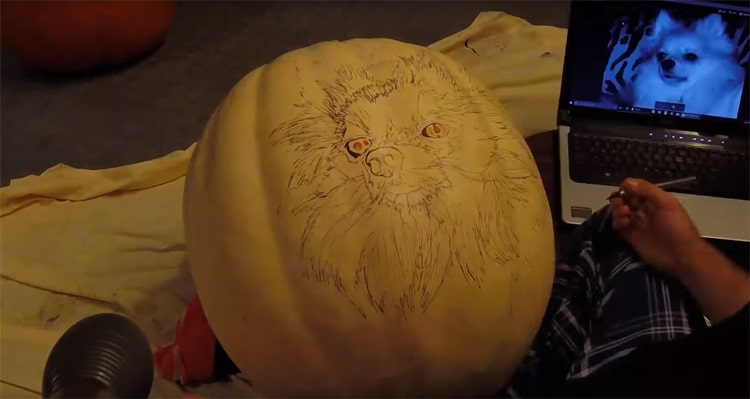 After drawing Sophie on the pumpkin, Manoloff used an X-ACTO knife to extract the large shapes.
He never cut through the rind, however, and varied the depth of his slicing. The result gives his work a three dimensional feel.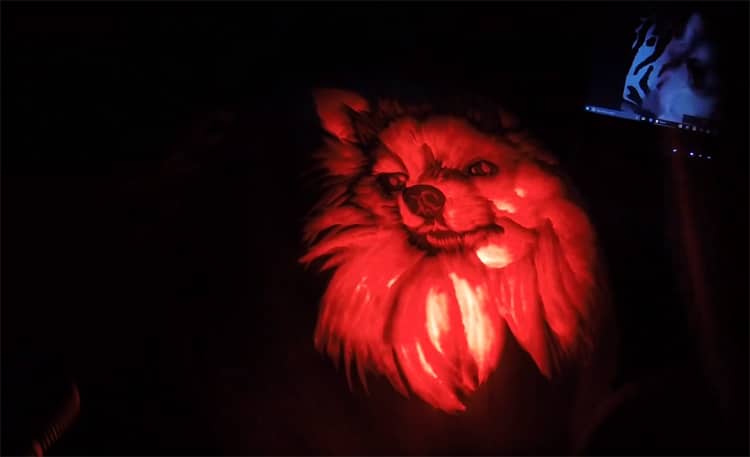 Here's the finished result.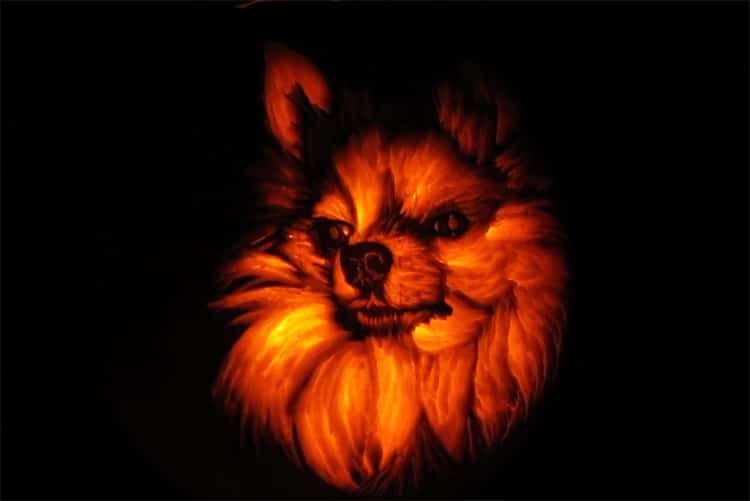 Watch the entire thing in this mesmerizing time lapse…
… and that's just what Manoloff has done this year. In the past, he's created pumpkin carvings of comic book characters.
Andy Manoloff: Reddit | Instructables | YouTube
h/t: [Reddit]
All images via Andy Manoloff.
Related Articles:
Most Expressive Pumpkin Faces Ever!
Pumpkin Sculpting Master Turns Ordinary Gourds Into an Expressive Cast of Characters