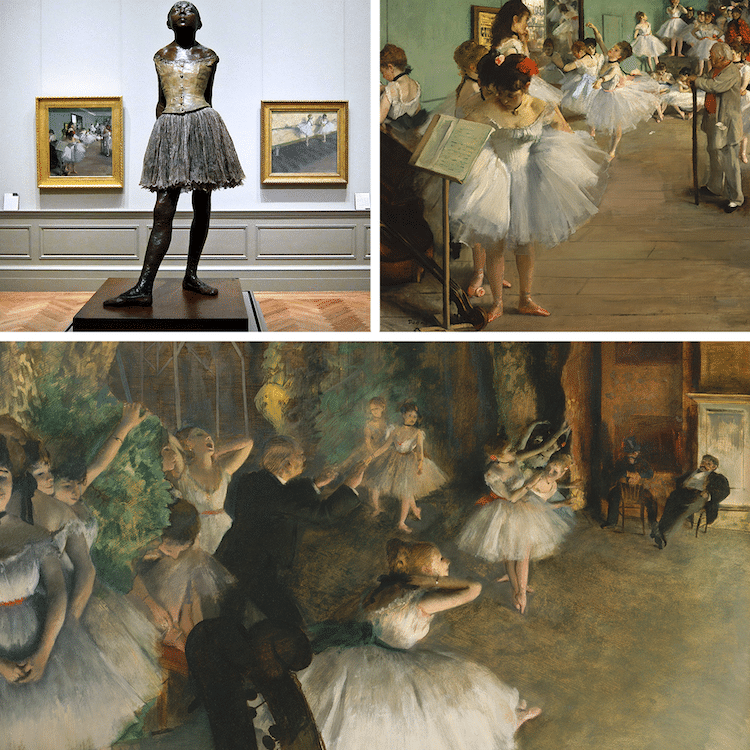 No matter how many muses inspired them, certain Impressionist artists are associated with a single, signature subject. From Claude Monet's Water Lilies to the mother-daughter relationships captured by Mary Cassatt, each theme offers viewers a glimpse into the artist's interests, influences, and experiences.
While most Impressionists opted to explore their favorite subjects only in oils, French artist Edgar Degas took it a step further, rendering his beloved ballerinas in paint, pastel, pencil, ink, and even wax.
Background
In the 1870s, Degas helped pioneer Impressionism. Like his fellow French artists, he employed quick brushstrokes and used vivid color in his paintings. Unlike other Impressionists, however, Degas was not preoccupied with light and nature. Instead, he was fascinated by movement and people—making ballerinas his ideal subject.
"People call me the painter of dancing girls," Degas told Parisian art dealer Ambroise Vollard. "It has never occurred to them that my chief interest in dancers lies in rendering movement and painting pretty clothes."
With a sketchbook in hand, Degas regularly visited the Palais Garnier, Paris' premier opera house, to observe ballet classes and watch rehearsals. He also invited ballet dancers to pose in his studio, allowing him to document their pirouettes and pliés with unprecedented precision.
Throughout his career, he produced approximately 1,500 depictions of dancers, culminating in a collection of paintings, pastels, and sculptures that comprise over half of his entire oeuvre. Many of these pieces were created after 1880, when his eyesight was failing and he opted to work almost exclusively on studies of ballerinas and similarly voyeuristic Japanese-inspired portraits of women bathing.
Drawings
Degas' pastel drawings of dancers are among his most well-known works. Many of the pieces, including The Star (1878), capture the spectacle of the ballet through idealized compositions, frenzied sketches, and backdrops spotlit with saturated color.
Similarly, some pastel studies, like Dancers at the Barre (1900), show the ballerinas as they warm up.
As a draughtsman, Degas often experimented with different mediums, blending planes of pastel and watercolor washes with bold, black ink. This avant-garde hybrid of drawing and monotype printmaking is evident in many of his works, including Two Dancers Entering the Stage (c. 1877-1878), a piece defined by dramatic contrasts in color, texture, and line.
Paintings
Unlike his pastels, Degas' oil paintings of dancers do not typically showcase on-stage performances. Instead, pieces like The Dance Class (1874) and The Dance Lesson (1879) offer a realistic glimpse into what goes on behind the curtain, featuring the girls as they quietly stretch, calmly rest, and listlessly listen to their instructor.
These pieces are often cropped like candid photographs, enabling them to serve as snapshots of everyday life. This is especially evident in The Rehearsal (1874), a painting that seemingly places as much emphasis on its spiral staircase as its star dancers.
Sculpture
Unlike pastel drawings and paintings on canvas, Degas did not produce a comprehensive collection of ballerina-inspired sculptures. However, the one that he did create—Little Dancer, Aged Fourteen—has become one of his most famous dancer depictions.
Degas sculpted the wax figurine in 1880 and exhibited it at the sixth Impressionist exhibition the following year. The 40-inch sculpture is modeled after Marie van Goethem, a French ballet student. With emphasis on authenticity, Degas originally depicted her in a classical pose and dressed her in an authentic tutu and a wig of real hair.
Following his death in 1917, 28 bronze replicas were cast from the wax model. Today, they remain a highlight of some of the world's most famous museums, illustrating the timeless charm and enduring legacy of Degas' dancers.
Related Articles:
20,000 Artworks Available for Free Download on LACMA's Robust Digital Archive
Misty Copeland Elegantly Recreates the Iconic Ballet Paintings of Edgar Degas
How Flowers Blossomed Into One of Art History's Most Popular Subjects
Why Post-Impressionist Painter Paul Cézanne Is Known as the "Father of Modern Art"