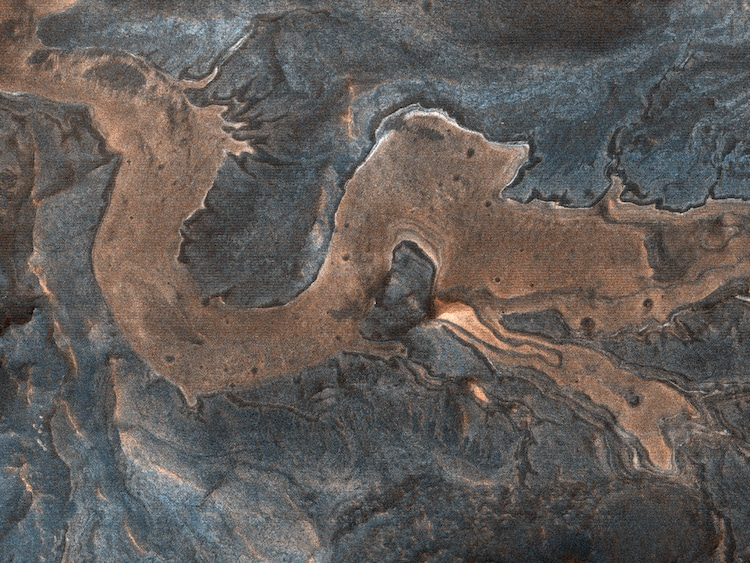 Since 2006, the University of Arizona's HiRISE (High Resolution Imaging Science Experiment) has been exploring the surface of Mars. Specifically, it's spent a lot of time in the Melas Chasma, a canyon located in the planet's enormous Valles Marineris. One image, in particular, of the canyon floor conjures up a familiar sight. It's almost as if a dragon landed on Mars.
Taken 160 miles (258 km) above the southwestern part of the Melas Chasma, the image was captured in 2007 and shows some wall rock and the canyon floor. The incredibly detailed view of the surface is only possible due to HiRISE's powerful capabilities. As the most powerful camera ever sent to another planet, it sits alongside five other instruments on the Mars Reconnaissance Orbiter.
HiRISE is capable of imaging up to 11.8 inches (30 cm) per pixel, which accounts for its high-resolution output. During its time on Mars, it's photographed 2.4% of the planet and has given particular focus to the Melas Chasma. As the widest part of the Valles Marineris, there is growing evidence that it once held a lake.
So what are we looking at in this "dragon" photo? Dr. Cathy Weitz, co-investigator on the HiRISE camera and senior scientist at the Planetary Science Institute, describes what we're seeing on the canyon floor as "an unusual blocky deposit composed of light-toned blocks in a darker matrix." She further points out that some of the light-toned blocks reveal layers that are only a few meters thick.
These blocks vary in size but are mainly 328 feet to 1,640 feet (100 to 500 m) in diameter. Weitz believes that the shape of the blocks suggest ductile deformation, which occurs when rocks bend or flow. There are even windblown ripples visible in the darker rock, which should come as no surprise given the volatile winds and storms that occur on Mars.
HiRISE's work has led to incredible discoveries about Mars' environment and has been fundamental for understanding volcanic landforms, channels, and valleys, as well as former lakes and oceans. If you want to get involved, help HiRISE decide what to photograph next by enrolling in HiWish. This program allows the public to give suggestions about what places on Mars to photograph.
Check out more incredible photographs of Mars taken by HiRISE.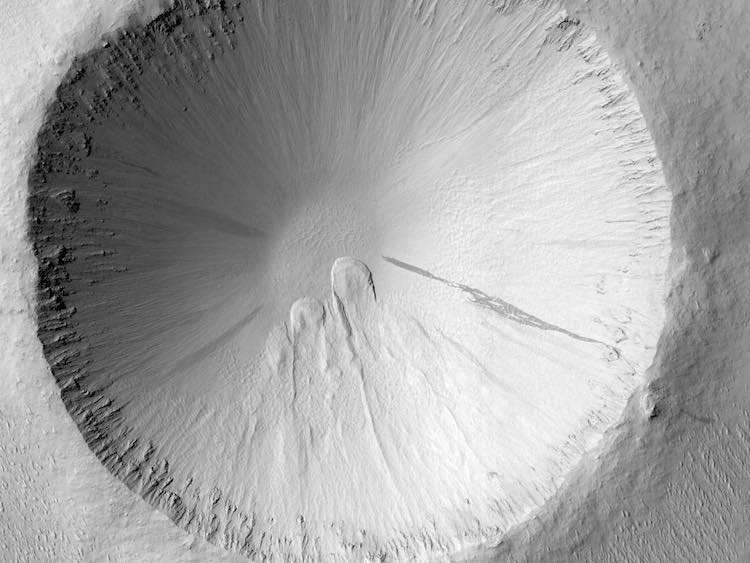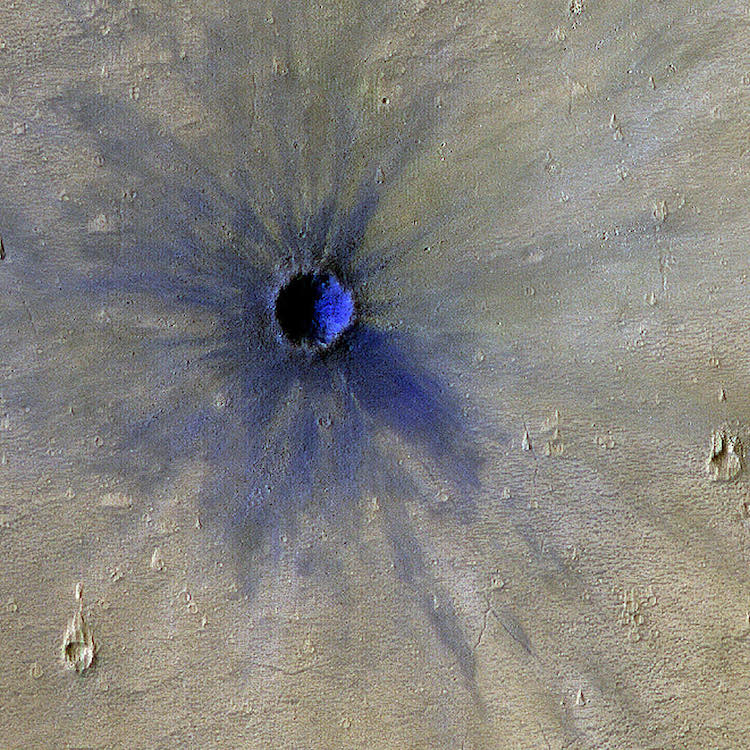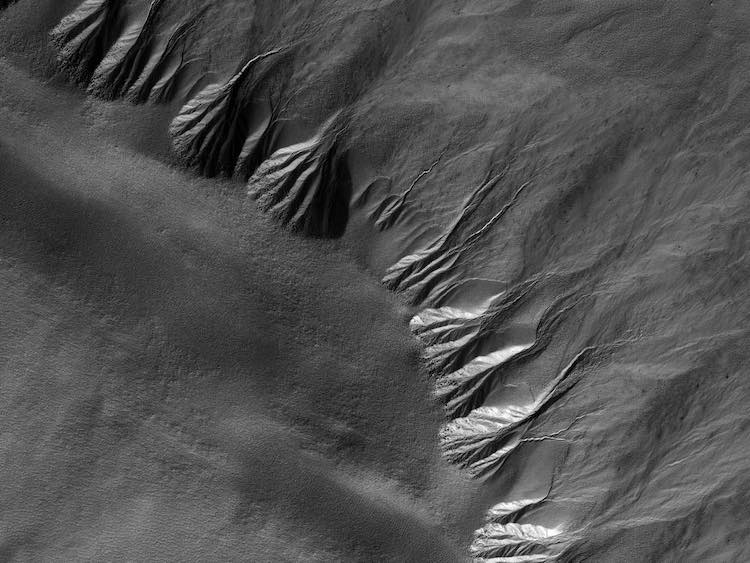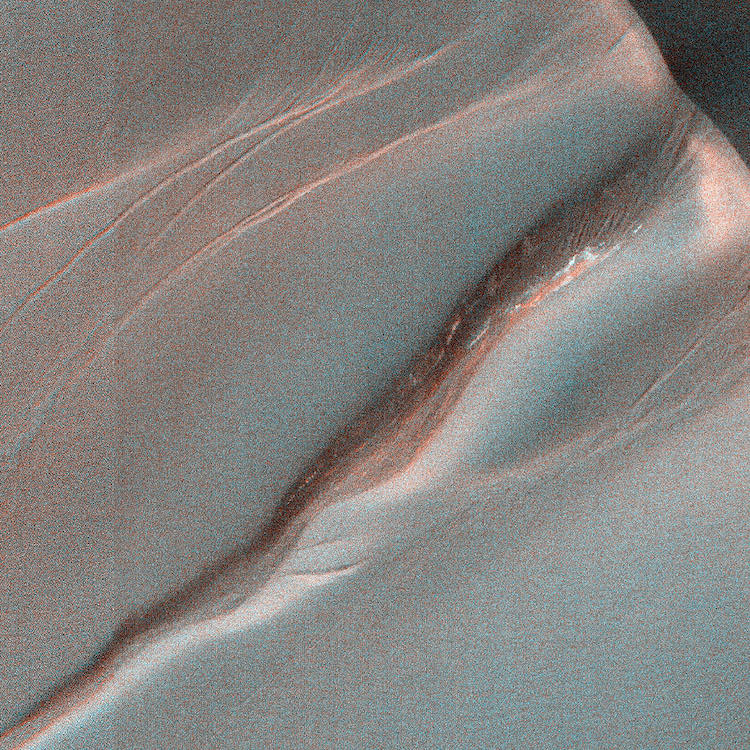 HiRISE: Website | Instagram | Twitter | Flickr
h/t: [IFLScience!]
All images via NASA/JPL/UArizona.
Related Articles

:

NASA's Photo Shows Mars' Grand Canyon in Spectacular Detail

Amazing Photos Reveal Water Ice Found on Mars in a "Cold Trap" Crater

NASA's Curiosity Rover Took a 1.8-Billion-Pixel Panorama Photo of Mars

Take a Peek at Another Dimension in NASA's Stunning 'Pillars of Creation' Photo