When you really love a TV show, chances are that you know the characters' living rooms as well as your own. Well, now you can do more than admire them from afar. Thanks to a clever ad campaign from IKEA in the United Arab Emirates, having your home resemble The Simpsons, Friends, and Stranger Things is easier than you think. Created by the agency Publicis Spain, the "IKEA Real Life" series recreates these places using furniture and decor from the Swedish design store.
It took two months and 3D design software to construct these memorable rooms. The IKEA team and Publicis Spain were meticulous and sorted through hundreds of objects to find pieces that, together, recall the television shows. You'll have no doubt of the reference. In the apartment that Monica and Rachel shared in Friends, for example, IKEA has matched the color of the couches, throw pillows, and even hung similar wall decor.
Even if you don't want to live like these characters—we're not interested in being visited by the Upside Down—the campaign proves that you can channel their design aesthetic in an easy and affordable way. Visit the "IKEA Real Life" site to get a better look at all of the items featured in the campaign and to purchase them for your home.
This is the best IKEA ad for people that love pop culture—using furniture and decor, Publicis Span has recreated the rooms of iconic television shows.
Friends
Stranger Things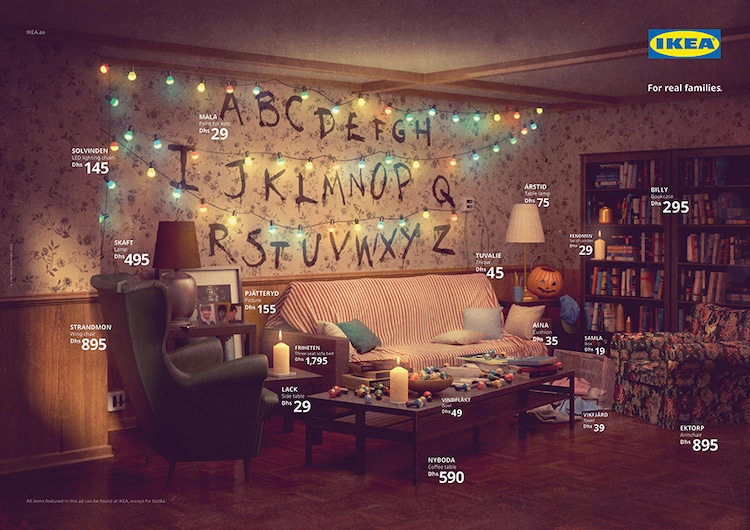 The Simpsons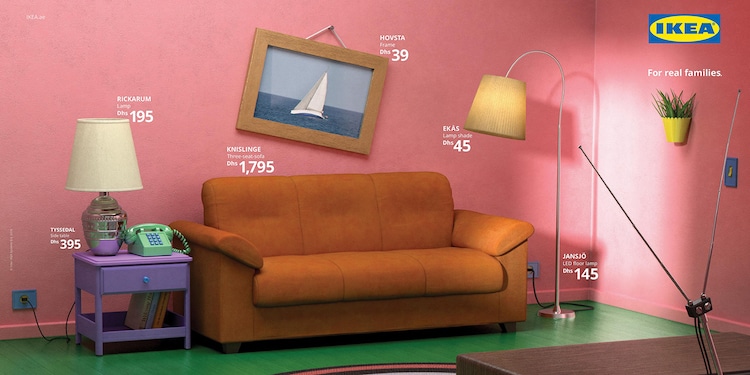 Publicis Spain: Website
h/t: [Adweek]
All images via IKEA unless otherwise noted.
Related Articles:
IKEA Ad for Baby Crib Doubles as a Pregnancy Test That Women Can Actually Use
Interview: People Are "Hacking" IKEA Products into One-Of-A-Kind Decor
IKEA Renames Furniture as Solutions to Relationship Problems