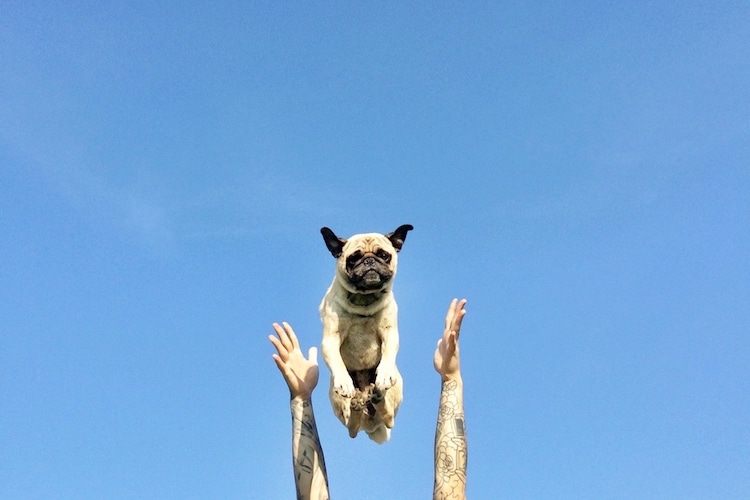 Washington-based photographer Jeremy Veach delightfully demonstrates that dog is man's best friend. While Veach specializes in weddings, portraiture, and commercial work, his main muse and model is Norm, his adorable little pug. His popular Instagram page is filled with photos of his furry friend as he dons comical costumes, strikes humorous human-like poses (including obligatory social media selfies), and joins Veach on countless adventures.
Veach adopted Norm in 2012 when the tiny pup was just 8-weeks-old. The duo quickly became inseparable, and Veach decided to document their daily escapades for his Instagram account. Unsurprisingly, the personality-filled pug was a hit, and, four years later, he has nearly 340,000 loyal followers.
Veach now works as a professional photographer, but his dog days are not over; he still regularly updates his Instagram with shots of Norm, sharing photos of his little travel buddy everywhere he goes—from laundromat trips and coffee runs to seaside treks and scenic hikes. Though the pint-sized pug is clearly an avid adventurer, he still enjoys his days at home, whether he's snuggled in bed, lounging on the couch, or trying on quirky accessories.
Visit Veach's Instagram or scroll through his professional portfolio—available on the website for his adorably named company, Norm & Co.—for more photos of his four-legged best friend!
Meet Norm the pug.
Norm gets himself into some silly situations.
He's also an avid traveler.
No matter where Norm goes, he's got his best human by his side.
Jeremy Veach: Website | Instagram | Tumblr | VSCO
via [Hello Giggles]
All images via Jeremy Veach.