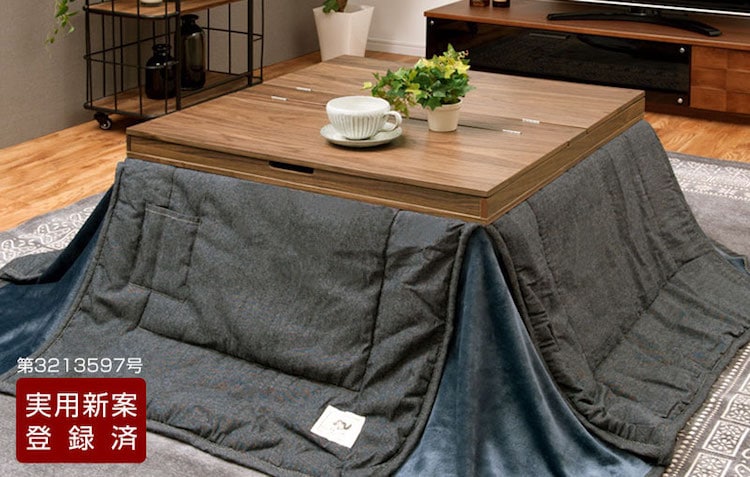 For small spaces, multifunctional furniture is an ingenious way to save valuable square footage. A prime example of this is a Japanese table called kotatsu. This ultra-cozy product is simultaneously a storage bin, eating surface, and heating source all rolled into one.
Kotatsu has a long tradition in Japanese culture. It has been around since the 14th century, and it evolved from a cooking hearth to what we see today. This particular piece, sold by Japanese retailer Rakuten, is made from wood in a minimalist style. Its table top has two hinged compartments that are large enough to hold things like electronics or magazines. If you're planning on dining at this table, this feature ensures that it's quick and easy to make the switch from entertainment to eatery.
You can keep the blankets off and away from the table, but let's face it—this is the best thing about the piece of furniture in the first place. They are sandwiched between the top and the legs, so when you sit with your body underneath, the covering will trap heat and warm you up. You'll never want to leave!
The Japanese heated table is available through Rakuten's website.
A Japanese heated table, also called a kotatsu, is a storage bin, eating surface, and cozy space all rolled into one.
You can use it to store electrontics and magazines…
… enjoy a cup of tea while you warm your feet…
… or even take a nap!
Kotatsu Table: Rakuten
h/t: [RocketNews24]
All images via Rakuten.
Related Articles:
Amazon Launches Affordable Furniture Collection with Stylish Small Spaces in Mind
Artist "Fixes" Broken Wooden Furniture With Modern Translucent Materials
Playful Furniture Design Looks Like a Giant Comfortable Birdsnest
Whimsical Rocket Coffee Table Uses Playful Design for Functional Furniture