After a two-week search, a baby donkey named Moon was finally returned to her mother. She was reported missing from her home at Miller's Ark Animals in the UK on May 15. Since then, the Hampshire community had been working hard to collect any information about possible sightings of the foal. Fortunately, the police were able to find the culprits responsible for her capture and return Moon to the farm.
The tearful reunion of Moon being hugged by one of her owners was caught on video, and it's clear how emotional the separation was for both the foal and the farm. "We are beyond thrilled and Mum and foal are finally back together," Miller's Ark writes. "Moon appears to be in good health, thank heaven, and we will make sure that Moon and her mum Astra get lots of love and care as they re-discover each other."
Pamela Jessopp of Miller's Ark Animals credits the public for helping spread the word and share Moon's picture. "It is because of all of you, amazing people, who have supported Moon, Astra, and the team at Miller's Ark, sharing this story far and wide—and now you have brought her home," the post continues. "A huge thank you to all streams of the media who spread the story further, Thames Valley Police for their quick response, and Surrey and Hampshire Police for their work behind the scenes."
We are relieved to see Moon happily reunited with her mother and wish them all the best!
A two-month-old donkey named Moon was stolen from his farm at Miller's Ark Animals in the UK.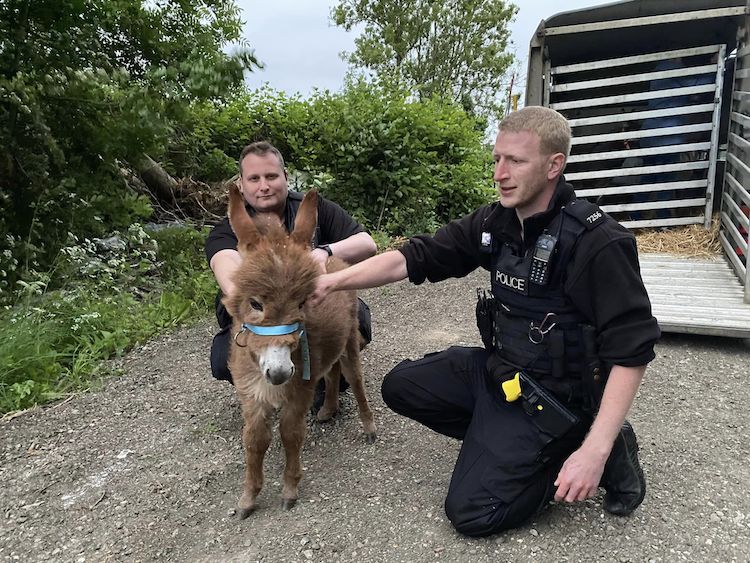 After two weeks of searching, the foal was finally found and returned to its family.
Miller's Ark Animals: Website | Facebook
h/t: [LADbible, Sky News]
All images via Miller's Ark Animals.
Related Articles:
Adorable Photos of Little Donkeys That Break Their Stubborn Stereotypes
Donkey Can't Stop Smiling After Being Rescued from Rising Floodwaters