What originated as an artistic experiment in Kiev continues to grow in quantity and popularity. Alexey Kondakov's Napoli Project—in which classical characters are superimposed onto modern-day scenes—has expanded under the new title, Daily Life of Gods, and features the artist's latest brilliant creations. Kondakov has taken up shop in Italy to cultivate a cohesive line of collage works. There, in the home of the Renaissance, Kondakov juxtaposes dreamy paintings with the photographic backdrops of contemporary Italian life.
As an art director, Kondakov employs masterful instincts and technique to place oil-rendered characters in mundane city streets. The result of his photo manipulations is not only stunning but surprisingly whimsical. Among the creations, Kondakov features feminine belles from the Pre-Raphaelite works of Bouguereau, Waterhouse, Leighton, as well as other romantic characters from Renaissance, Baroque, and Neoclassical art. These muses, either dressed in flowing robes or not dressed at all, receive new storylines in Kondakov's collages. By placing these antiquated characters inside clothing shops and riding public transportation, Kondakov breathes fresh life into old paintings.
Although the Daily Life of Gods project is primarily based in Italy, Kondakov superimposes paintings onto other European sites as well, including Berlin and London. To see more of his innovative collages as they happen, you can follow the artistically inclined photo manipulator on Instagram.
Past meets present in the dynamic collage work of Alexey Kondakov, where he superimposes classical painting figures onto scenes of modern-day Italy.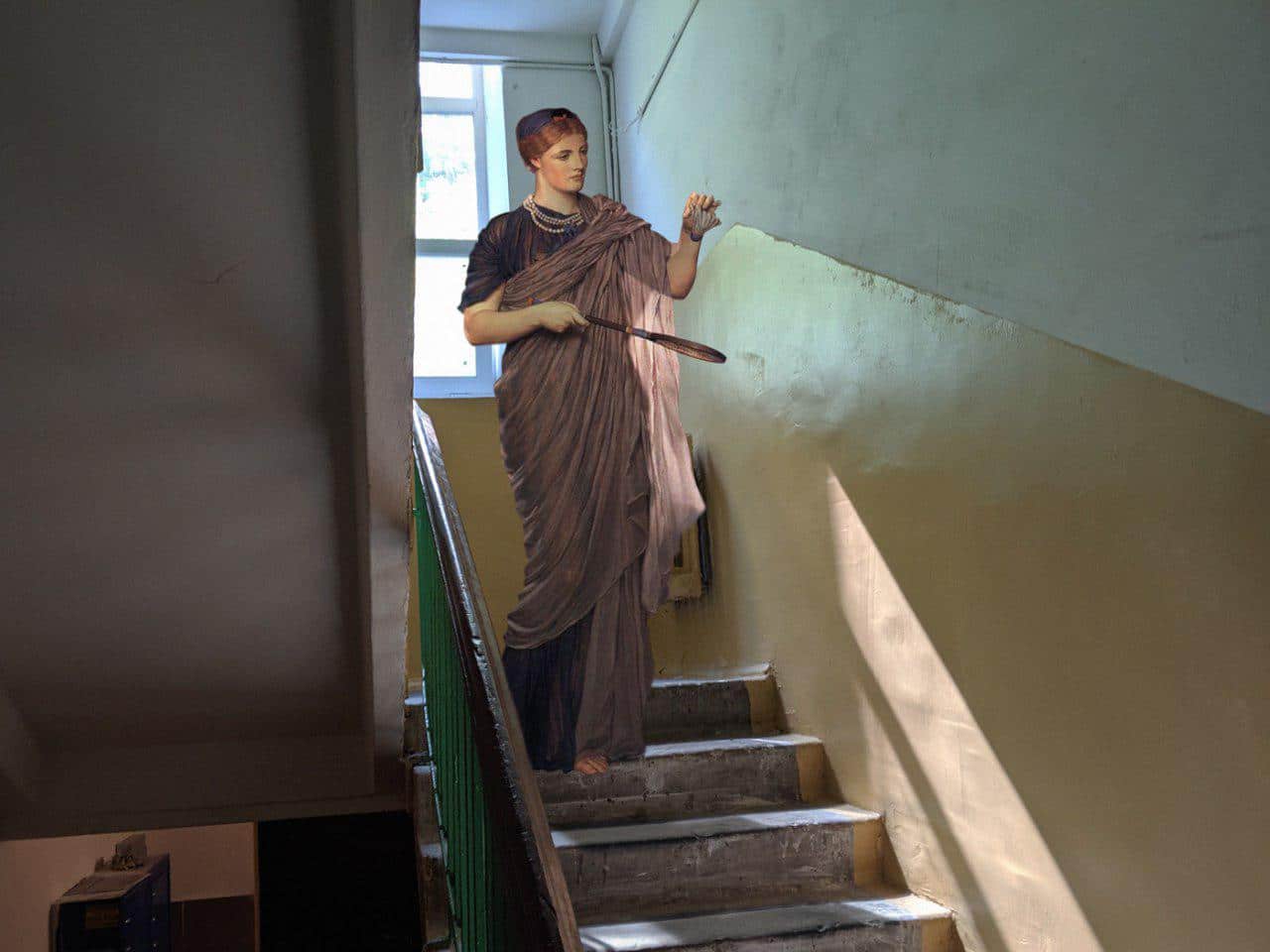 Alexey Kondakov: Facebook | Instagram
My Modern Met granted permission to feature photos by Alexey Kondakov.
Related Articles:
Classical Paintings Seamlessly Interact With Modern-Day Italy
Exploring Michelangelo's 'Pietà,' a Masterpiece of Renaissance Sculpture
Life-Sized Female Sculptures Inspired by the Graceful Beauty of Renaissance Art