With his new series Mimesis, Italian artist Nunzio Paci continues his exploration into the natural world. Instead of combining the human body with nature, his anatomical art takes a new form, intertwining animals with delicately executed floral motifs.
Working in oil and pencil, Paci's new work is based on Plato and Aristotle's theories on reality and imitation. "In Mimesis, flora and fauna not only copy one another, they enmesh themselves in each other's existence forming a cohesive organism, in an attempt to take shelter from the totality of the outside world," Paci shares via email.
The pale flowers embed into the muscles and skeletons of Paci's animals, transforming them into a symbiotic being where one is reliant on the other. The pastel coloration differs from Paci's previous work, which typically takes on dark, rich tones. The change in palette was influenced by his residency in the Philippines, where he executed the work for an exhibition at the Galerie Stephanie in Manila.
The flora on each canvas is heavily influenced by species he discovered while in the Philippines, soaking in the country's total influence and using it to inform his art. Conversely, the animals bleed over from other experiences, such as the deer he discovered during a previous stint in Norway.
"In Mimesis, Nunzio Paci takes the typically clinical study of human and animal anatomy, removes it from coldly laid out textbooks and neatly-labeled diagrams and reintroduces discomfort, imbuing it with context surpassing the lived experience of the once living and breathing human being," writes Kara de Guzman
Nunzio Paci combines flora and fauna into one organism for a unique take on anatomical art.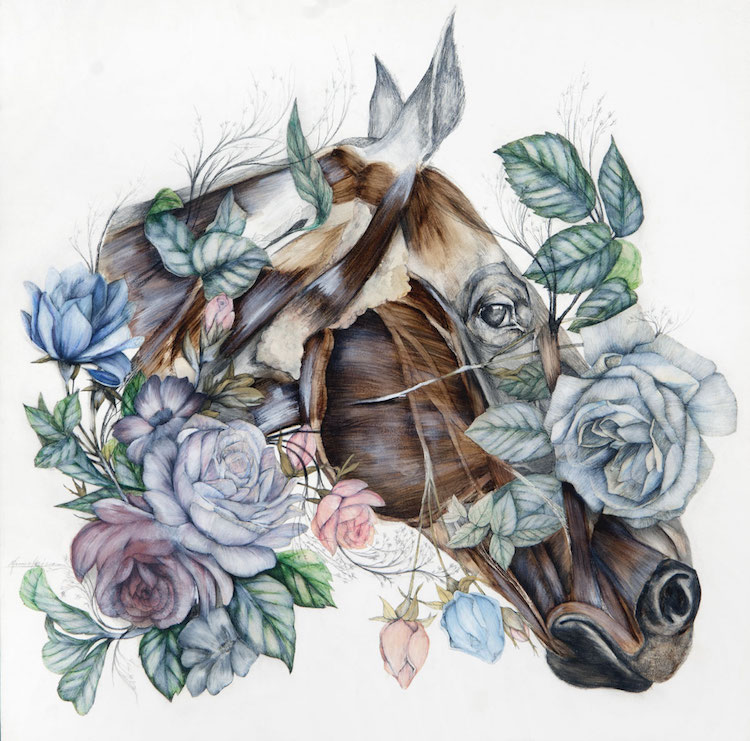 Nunzio Paci: Website | Facebook | Instagram
My Modern Met granted permission to use photos by Nunzio Paci.
Related Articles

:

Gorgeous Drawings Combine the Human Body with Nature

Beautiful Floral Anatomy Illustrations Give New Life to Discarded Pages of Old Books

Meticulously Detailed Drawings of Surreal Human Anatomy

Amazing Paper Bird Sculptures Reveal Their Internal Anatomy

Beautiful Anatomical Illustrations Intertwine the Human Body with Nature